Hi! I'm Ashley, and I'm a second semester junior majoring in journalism and minoring in multimedia at Point Park University in Pittsburgh, Pa. This is my second semester as co-features editor at the student newspaper – The Globe. This is my first venture overseas, and it's a much anticipated one. With over four years of Spanish under my belt, I am beyond excited to experience the culture and be a part of their world for two weeks.
Adios a Estados Unidos de America, hola Espana!
Day One (May 12): Finding my way
Three last minute Wal-Mart trips, eight hours of flight time and 3,870 miles later, the bright Spanish sun gleamed through the plane windows as I finally touched down in Madrid. A much anticipated and long-awaited touch down.
After realizing the whole class was randomly seated all throughout the cross-Atlantic flight, my stomach churned. The immediate shock that I'd be taking on this seven hour excursion alone without any familiar faces to be seen for rows and rows was a little nerve-wracking. We had no idea we'd be so far apart.
I sat in the second seat in a row of four: an older woman to my left, who took multiple bags of pills throughout the duration of the flight and fell asleep before we even left Philadelphia, and two English sisters who were part of a tour group from Texas to my right. I read a quarter of the book I brought and watched two and half movies before landing.
Starving and relying on a 20 minute nap, we navigated our way through the maze that is the Madrid airport. After clearing customs, gathering everyone and their luggage we boarded a tour bus and headed out for a tour of the city with our guide for the day Olga (we'd meet our real tour guide later that day).
We went on a quick tour of Madrid via bus and got off to get sandwiches for lunch at a convenient store/grab-and-go food, VIPS, and went to Retiro Park to eat. Then we were off to meet our tour guide Mauricio at Madrid's Royal Palace for a tour.
We checked into Hotel Sterling around 3pm, 8am Eastern Standard Time back home. Exhausted and thinking about nothing but sleeping my life away, my room unpacked and got settled in before heading out to dinner. A well worth it dinner.
Jamón, goat cheese, Spanish egg omelets, potatoes and fried calamari came to our table in a big room in the downstairs of a tapas restaurant. Nearly 5 courses of delicious appetizer-like dishes accompanied the baskets of perfectly baked baguettes. Spain is known for their jamón and now I know why. It's cured for about a year and is delicately sliced into thin pieces. It can best be compared to a gourmet Christmas ham. It's much more savory than traditional ham that we eat in the U.S.
Stuffed and ready to hit the pillow, we headed back to the hotel to rest up for a full day of events tomorrow.
Buenos noches!
Day Two (May 13): Monday Media day in Madrid
The first morning waking up in Madrid was a groggy one, but I was really looking forward to the media visits. First stop: Universidad de Navarra to speak to Professor Gustavo Garcia-Mansilla.
Today was my day to be the first one to rattle off some questions and present our gift of University-featured cards to the professor, who was a very intelligent man who could probably qualify as an expert on the business aspect of Spanish media. We took a quick tour of the University, the most prestigious University in Spain. The classroom the lecture was held in was white-walled and double stacked green chalk boards stole your attention as you walked in the room. Although the points he made and discussions we held together were very informational, after two hours of lecture, food was stealing my attention.
We stopped at a sit-down restaurant a few blocks down from the Universidad called ZIPS, also connected in a chain with the convenient store we stopped at for sandwiches yesterday. There I had a ham and grilled cheese with las papas fritas (French fries.) The meal was cheaper, so I opted for the more expensive drink: freshly squeezed OJ. It was so sweet and so tart. It was delicious. There was no mistaking that it was fresh.
As soon as we were seated and the one waitress/hostess realized we didn't speak Spanish, she traded our menus for ones printed in English. Spain accommodates a lot more things for English-speaking people here than we do for Spanish-speaking people in the US. Mainstream music from the States was being played in stores in English. We'd probably never hear a popular Spanish song in an American store. More owners and workers here know English better as a second language than Americans known Spanish as their second language. Spain is very tourist-driven and they thrive off of that profit. With a 30% unemployment rate in the country, any little bit helps.
Back to ZIPS. The best way to explain this chain of convenient store/pre-made food/sit down restaurant, is to compare it to a CVS that also has a restaurant of an Eat N'Park level. They're scattered all throughout the city of Madrid. Walking down the street, you may pass one that has only a restaurant, or you may pass one that is both a convenient store and sit-down restaurant. They're more populated than McDonalds. I can say I only passed two of those in my travels the past day and a half here. And my travels were about to get even better.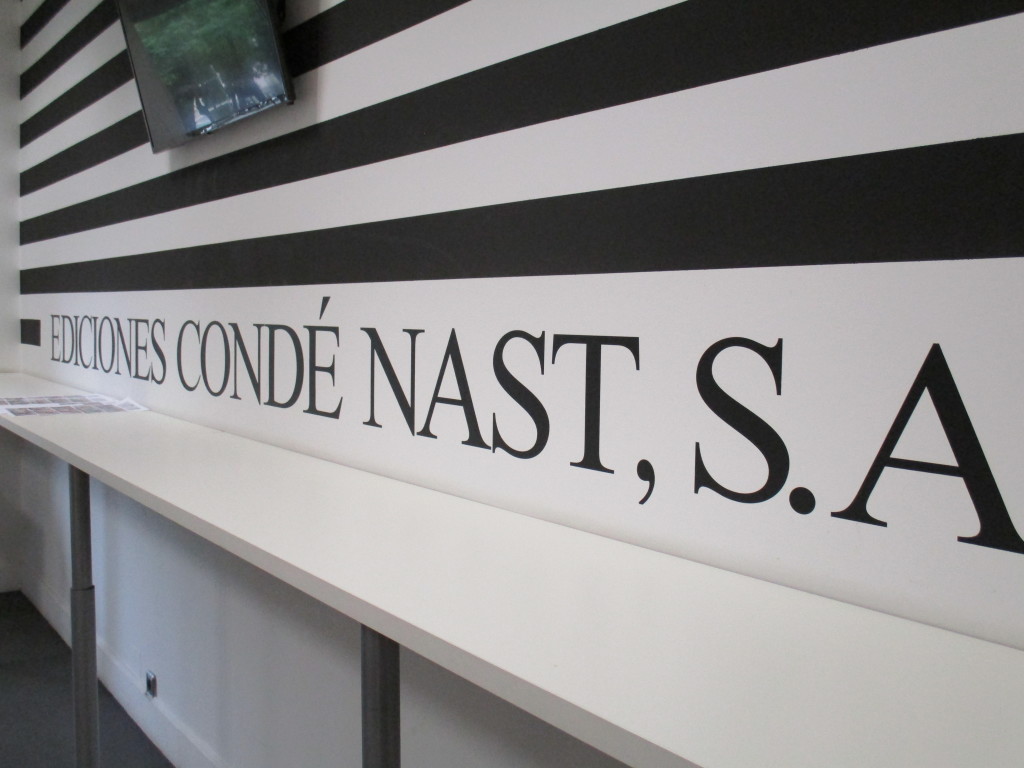 Condé Nast Spain, the company that publishes publication titles such as Vogue, Vanity Fair, GQ and Glamour for example. It was everything you'd think a high-end fashion magazine office would be: classic black and white walls, employee desks cluttered with computers and stacks of scattered papers and, of course, the population of well-dressed workers. It was a scene right out of The Devil Wears Prada.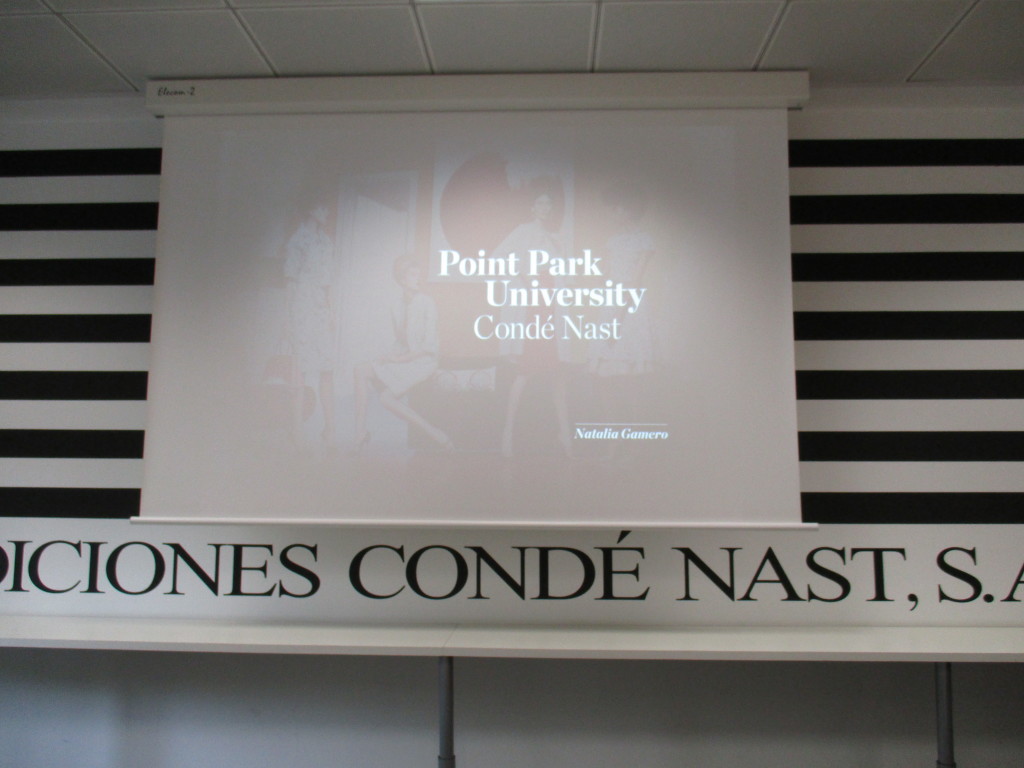 Natalia Gamero del Castillo, the VP of Corporate Development at Condé Nast introduced us to the brands and what their goals are. We were given presentations by an editor at Vogue, a photo edition manager at Vanity Fair and the Deputy VP for Business Development at Condé Nast, but the one who I admired the most was Marta del Riego, the managing editor. I would take her job in a heartbeat. To be able to work for such a prestigious and well-respected company like Condé Nast, would be a once in a lifetime opportunity. She spoke to us about decisions about cover photos and the importance of the brands maintaining high-quality content for its readers. Because the company has been family-owned since 1950, the employees know how important it is to keep up the momentum of the tradition by setting high standards for its stories and photos.
Natalia made a point at the end of the lectures that really resonated with me, and that is adaptation is key. Being in the communications industry, change is constant and if you don't roll with it, it'll take you down. I, myself, am not a person to adapt to change well. But if it's passion-driven, you'll do anything for what you love to do. Innovation is the key to the growth of tomorrow. We must innovate at the risk of failing. We are much bigger than we see ourselves as, and carry more potential than we think. On that note, it's time to dream big…while fast asleep.
Buenos noches!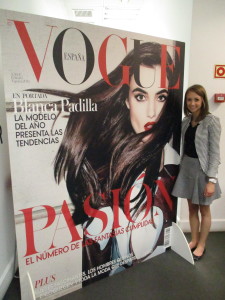 Day Three (May 14): Fighting the z's
After a day filled with two media visits beginning at 9am and running on five hours of sleep, I have never craved a nap more in my life than I did today.
We visited Ketchum Spain and met with many important people ranging from the Director of the digital department to the CEO of the Spain branch, Teresa García Cisneros. They talked to us about the different case studies they each experienced with a certain brands. For example, senior account executive Guabaaupe did a case study involving the effects of Botox, Allergan, to cure chronic migraines. They set up tents where patients could come in and talk to the doctor before seeing the neurologist to see if treatment was right for them. A massive sculpture of a head was painted with activities that those sufferers would no longer miss out on if their chronic migraines were cured.
Another example was the advertising of Ariel laundry detergent pods by creating a pop-up clothing exchange. It's said that we don't wear 80% of our wardrobe, and this event was used to allow those to give up those clothes and find ones they like. Instructors were there teaching people how to give a second life to their old clothing by making necklaces or broaches out of old t-shirts.
Their office had a couple glass cases that housed the products that they were in charge of marketing, which was a great way to highlight their successes. After a tour of the office space we came back and got ready for a night out free to ourselves.
By this point, we've walked 10 to 15 minutes from our hotel multiple times. There are certain landmarks we use as guides: a sock shop with 20 leg mannequins in the windows, a neon white sign that flashes "Palace" and a chocolate shop that's tucked into one of the side streets that displays a "Chocolate" sign outside. Tonight I realized that I know how to get around better here than I do in the streets of Downtown Pittsburgh. Emily and I walked out of hotel with confidence on how to get to the market tonight.
We contemplated a few restaurants in passing for tapas, but found a cute outdoor café on our way to the market called Dehesa Santa Maria. At first, we had no clue how to order or how to be seated. After seeing a couple sit down at an empty table we followed. We were then quickly given menus with tapas, rationes (rations) and main dishes. After ooh-ing and ah-ing over multiple creations, we both agreed on two different pork plates: I got a potato pie with pork shoulder, and Emily ordered a pork filet with roasted jalapeño peppers and caramelized onions. Still craving some jamón from the other day, we order jamón y queso tapas. Best decision we've ever made. We each ordered refreshing classic mojitos to accompany our dinner. Muddled mint and all. It felt so good to have an actual dinner and not just a grab-and-go sandwich. For the first time, I actually felt full and not stuffed. It was one of the best dishes I've ever ordered.
Our waiter, who was also waiting on the entire outside area, was very patient and really quick. He struck up a conversation with us as he ran the credit card through his handheld machine. A very fluent Spanish speaker, he asked us where we were from, and it wasn't until the fourth time he asked did I fully understood his question. "Soy de Estados Unidos." I told him. (The United States.) He then told us that he's originally from Peru. We paid and wished him a good night. We walked away feeling refreshed and almost back to normal, finally feeling content with being adjusted to the different meal times.
We strolled back into Hotel Sterling in an attempt to make it to bed well before 3am. And we succeeded.
Buenos Noches!
Day Four(May 16): Put a foot in your mouth 
Regret number one: wearing gladiator sandals instead of tennis shoes on a mountain walking tour.
Regret number two: not bringing a light jacket.
Regret number three: not bringing my favorite pair of skinny jeans.
But it was all worth it after we stood atop the Valley of the Fallen, a memorial for the fallen Spanish soldiers during the Civil War. Up where the mountains are covered with snow, we looked down at the beautiful city below before entering a place of worship. One of, if not the most elegant and ornate churches I had ever seen. The length is comparable to a church in England, but the sacramental area doesn't start until after the lobby to not impede on the impressive length of England's.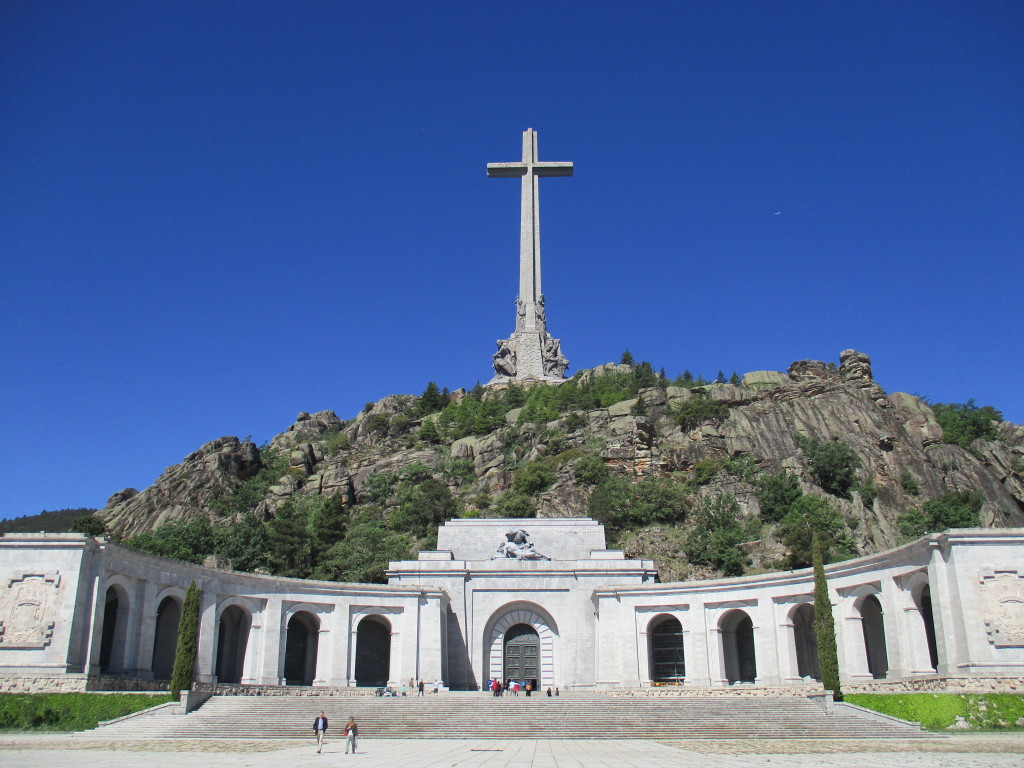 Large tapestries and ornate sculptures filled the dimly lit space. A group of nuns from out of town were also taking photos and preparing for a service.
With cold fingers and toes, colder than usual, we hopped on the bus & headed down to the medieval town of Segovia. This town was exactly how I pictured España. Cobblestone and brick streets, outdoor cafés and a celebratory event similar to our carnivals, with games and a merry-go-round for kids. A huge walk-through tent was set up to walk through to sample and buy cheeses, wines, breads and meats. Emily and I strolled around the charming town soaking in the sights with scooped gelato in hand. Mint chocolate chip cone for lunch as part of a balanced diet? Yes, because dinner was going to be one to remember.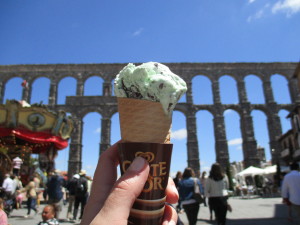 At first I thought suckling pig was just the way that it was prepared, not the age at which the pig is cooked. Suckling = baby piglet.
Our first course was a soup that I hope to never see, smell or taste again. It was concocted with egg, pig, bread and paprika mixed in a ham broth. Sounds delicious, but it wasn't for my taste buds, but the next course was.
The traditional "ceremony" took place, but only because the pig was cooked well and is only conducted when the pig cooperates during the cooking process. The cook takes a plate to cut the pig to show its delicacy and is then plated. They came around and paired the pig with a light and fresh salad tossed in oil.
I was one of the four lucky ones. I was served a piglet leg. Its charred little foot sat on the edge of my plate while I seemingly dug into its thigh. The meat was unexplainably delicious. And the crisp skin was a bonus.
Full, but still able to make some room for dessert, our plates were cleared and we were served a slice of what seemed to be nutmeg spice cake a la mode with a raspberry sauce. The perfect ending to a trip to Madrid.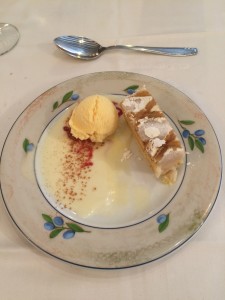 Now, time to finish packing up our room and enjoy the rest of the night here. And apparently so are the screaming people in the street outside our hotel.
Buenos Noches!
Day Five (May 16): Holy Toledo
Packed up and barely awake, we filed into the motor coach at 8am and said farewell to Madrid. Our next stop was in Toledo, a town known for its historical buildings, bridges and castles beginning in the Roman era, as well as their skilled artistry in damascene.
We watched as a sword smith took the red hot piece of metal out of the coals to pound a curved design out of it. The woman then led us into a room where two artisans were creating the crest or design that would be placed on the handle. They were intricately weaving thin wires of gold and silver into the design with a sharp tool to press it down with. Definitely a very skilled craft.
Learning about the history and the historical events that were prominent in the same area in which we were standing was a once-in-a-lifetime experience. Standing on bridges that were constructed hundreds of years ago, and seeing a castle that was around during ancient times was astounding.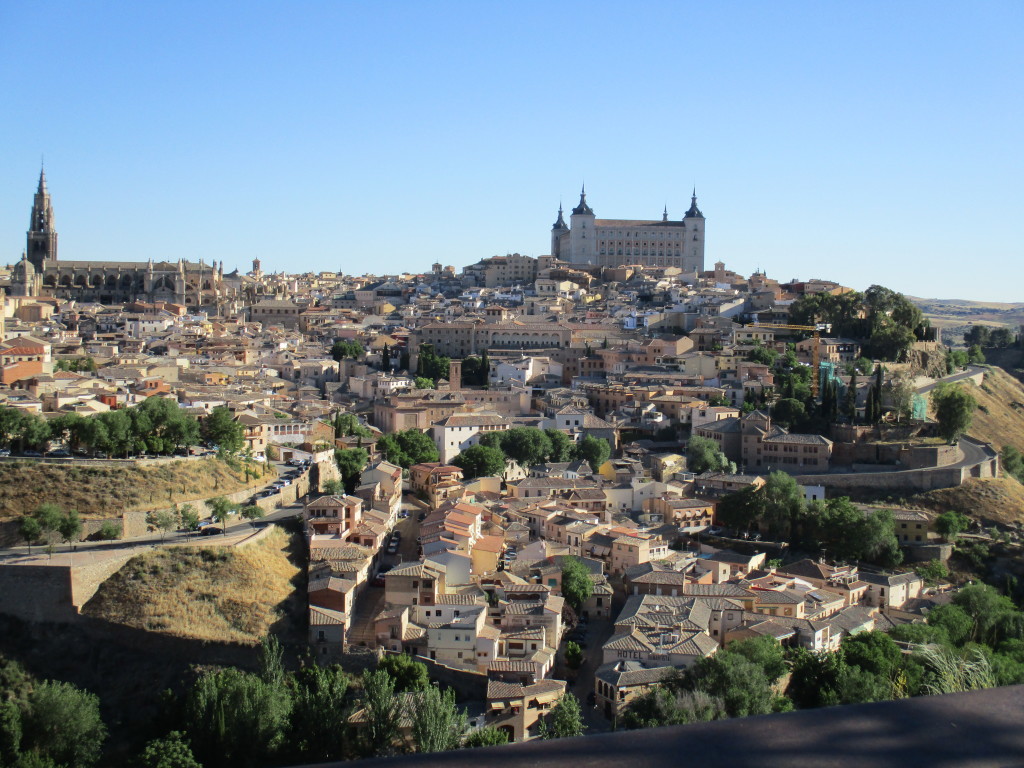 We entered through double wooden doors into a beautiful room filled with hand-crafted swords, dishes and sparkling jewelry. The metal used in the jewelry was that in which they made and crafted there. Earrings, rings and bracelets glimmered from the overhead lights.
After a morning of touring Toledo, it was time to board our train to Barcelona. A smooth train ride made for an enjoyable three hour journey.
Upon arrival, we were surrounded with palm trees and cactuses. It felt like we were in a tropical state of Arizona. The warm air made for a warm welcome after enduring the last couple of chilly days in Madrid.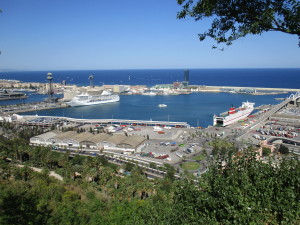 After a quick bus tour of Barcelona and seeing La Sagrada Familia, a church that is so extravagant it won't be completed until about 2050, we began our trek to our hotel. And I don't say trek lightly.
Because of the lack of parking and position of our hotel, we were required to walk with all of our luggage through the crowded area of Las Ramblas, an area that tour guides could tell you horror stories about. Not only are we a group of 20 people with luggage, but our hotel is in the most tourist-oriented part of the city. We couldn't have called more attention to ourselves if we tried.
The streets were flooded with people. I weaved in and out of families and people trying to cross over in order to keep up the group in front of me. I kept checking back to make sure my zippers were still zipped and no thefts were attempting anything. Twenty or so minutes later, which felt like an hour, of dragging our luggage behind us, we finally arrived at Petit Hotel.
After freshening up in our modern styled rooms with ikea-esque furniture, we headed out for a group dinner.
Authentic sangria and Hake, which is a type of fish, graced our table at the restaurant we went to tonight. Tanks full of lobster and displays of whole fish on ice were located all throughout the restaurant. It was evident that everything we would be eating would be freshly caught and freshly prepared. Processed foods just aren't a thing in Spain. Obesity in America is substituted for smoking here.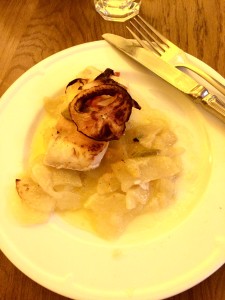 Never trying, but recall seeing Hake listed on other menus, I was anxious to dive into it. It has a look and similar taste to cod, but much meatier. It was prepared perfectly and was paired with cooked sliced potatoes. For dessert we were served a bowl of a sweet Spanish cream with caramelized sugar on top. But the real treat was walking back to the hotel.
Deciding to take a walk to get back to our hotel instead of taking the metro, we found ourselves again on Las Ramblas. The streets thinned out, but were instead flooded with guys trying to get people to go party with them. Men were nicely dressed scoping out the area, while younger, casually guys came up to you asking what your plans were for the evening. On top of them, we passed at least five guys selling flying light-up toys, which they were demonstrating, of course. They were a bother more than anything.
A while into the walk, our tour guide, Mauricio realizes we missed a turn somewhere. So we back track a little and find our street. My first impression of Barcelona wasn't a good one. The place is populated with too many people in one area and it's difficult to try to find your way around because all the buildings look alike and there are alleys and inlet streets at every turn.
Safely tucked away in the hotel, we all made it back, others decided to venture out again. I decided to venture off to dreamland.
Buenos Noches!
Day Six (May 16): Out and about in Barcelona
Hello 12pm. It's been a long time since I woke up to you.
After six consecutive days of waking up early to an already planned out day, it was beautiful catching up on my sleep on a day off, and in the gorgeous city of Barcelona nonetheless.
I've realized that once the crowds thin out and/or you're not dragging 70 pounds of luggage behind you, Las Barcelona has some intriguing architectural design and great sights.
Strolling around to grab a late lunch, we stopped into what would be an equivalent to Barcelona's version of McDonald's, without actually being a McDonald's. They had more hoagie options than that of burgers. Then we were off to shop.
In the process of boarding the train to Barcelona yesterday, Emily dropped her sunglasses onto the tracks. I watched as she eagerly contemplated whether or not she should reach down and grab them. I stopped her and told her to buy another pair when we get to Barcelona.
So, we stopped into a farmacia (pharmacy) so she could get a replacement pair today. While checking out, the woman asked where we were from and we told her Pennsylvania in the United States. She explained how her family lives in New York and she just visited last year. Some people in her family happen to own a bakery in Pennsylvania, and her sister worked there. It was interesting hearing about the United States from an outside point of view from someone who lives here in Spain.
We walked down the strip of Las Ramblas and were stopped in our tracks as tubs of gourmet gelato were displayed in one of the pop-up shops. It was too much of a temptation to pass up. I ordered a single scoop of a Ferrara Roche chocolate. A scoop of heaven.
We continued walking down the strip when I pointed out a building and asked what it was. Emily turned around and started power walking toward it in excitement. As we got closer she explained that it was an art exhibit for Sophie Calle, a well-known photographer. The exhibit was free of charge, so it was a no-brainer whether or not to go in.
She took photos and videos of blind people and did some fascinating work with having them describe scenes and what they thought they were seeing. But most of the exhibit was dedicated to a single break-up letter she received from her lover, Greg a couple decades ago.
She recorded people reading the heartbreaking letter out loud, or doing in interpretive dance to the lines he wrote to her. Essentially, she wanted other women to read it and voice their opinion about it. There was a room dedicated to the analysis of the words that he used and his sentence structure. This was one of the pieces I found most exciting. The time and effort that was put into connecting the dots of his thoughts and words was phenomenal. It was fascinating the dissection that women went through to decipher the actual meaning behind this note.
At the end, there was a room with glass displays of random items that meant something the Sophie Calle. Whether it was a shoe representing the one time a strip club co-worker almost gouged her eyes with a high heel, or a tie representing one of the several articles of clothing she sent to a man every Christmas, one article every Christmas, who she thought was poorly dressed. She never wanted to see him until he had the complete outfit on. It was a great way to take a look at items from her real life on display.
About 7pm we walked across the street from our hotel to a bar called Cheers. The FC Barcelona game was on. It was packed in the matter of 20 minutes. We saw the previous game that aired while we were in Madrid a few days back, but this game couldn't compare. The people were louder and more involved. Their passion for futbol is motivating. They are incredibly proud of their teams and who they are and where they come from. There was only one goal scored, and it was by Messi, essentially the best futbol soccer player. The place roared.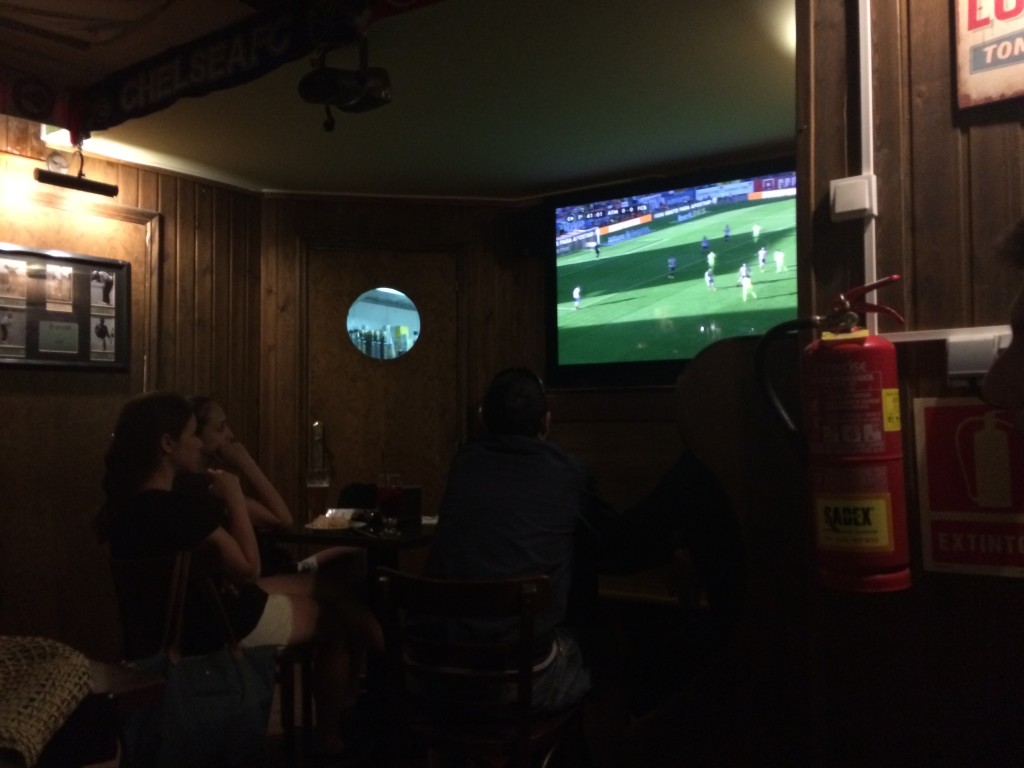 The streets were full of celebrating and blue and maroon striped jerseys. We walked back into the hotel and were in for the night. But that was hardly the case for everyone else.
It was a huge deal that FC Barcelona won, so streets were shut down because of the mass of people. We've been hearing helicopters fly overhead, and we learned that it was for the news channels to film the celebrating of fans.
The fun is just beginning. Tomorrow we're off to tour the museum and stadium of FC Barcelona!
Buenos Noches!
Day Seven (May 18): Media 'Goals'
Back to the grind with our days beginning with media visits. After filling up on the breakfast buffet in our new hotel, we hopped on the bus and we were on our way to TV3, a major Spanish/Catalan television network.
We were greeted by Adriana, our guide. We settled into an auditorium at the studio. Teresa, the head of international relations and sales, explained the background behind TV3 and its channels, each incorporating a 3 into their logo and name.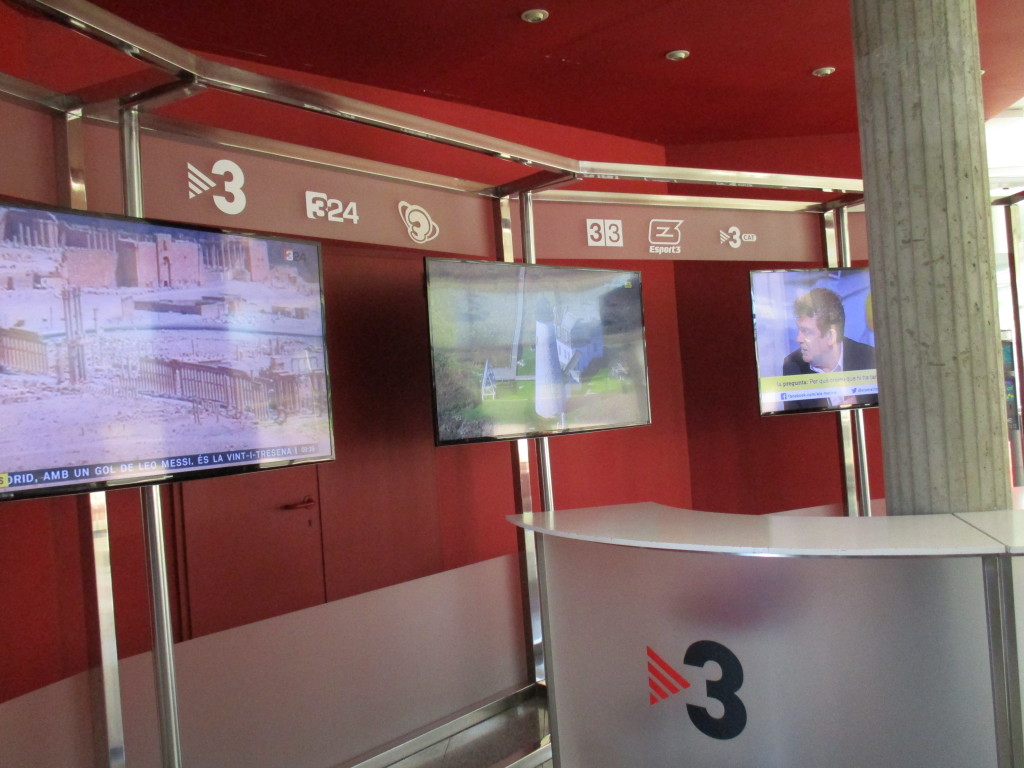 "Dallas" was broadcasted using Spanish television. TV3 was the first television network in Spain to produce and broadcast their own soap opera, which was originally a Brazilian show dubbed in Catalan.
Channels have combined into one in order to gain more views and appeal to their audience better. She wanted her son to learn English, which provoked her decision to put an English cartoon on the kid's network. But reality TV is one thing the company believes they won't have to result to airing. Their ratings are so well, that they don't need to add unnecessary fluff to the network.
Ferren Molines, the head of imaging and marketing department for the company, followed Teresa. He talked to us more about the meaning behind their logo and creation for the others. He explained the promotional aspects of new shows and how to keep them interesting season after season.
Adriana then took us on a tour of the few buildings owned and built specifically for the studio. There are four main studios, one of which was broadcasting a live six-hour news segment, and we were able to get an inside look at it. We entered through the door into the TV world. We stood behind the cameras and watched as the host and correspondents talked back and forth. In Spanish, of course.
As we exited the studio, we passed a cart with small dishes strategically placed with ingredients for what seemed to be an imminent cooking segment.
Adriana then led us to the hair room where she showed us different wigs and extensions used in the design of a show that they film there in one of the studios. Pictures of recent hair and makeup designs were pinned up on a cork board on the wall.
Interesting hairstyles were also displayed in the away locker room wall at the FC Barcelona stadium, those of some of the best players in the league: our next stop.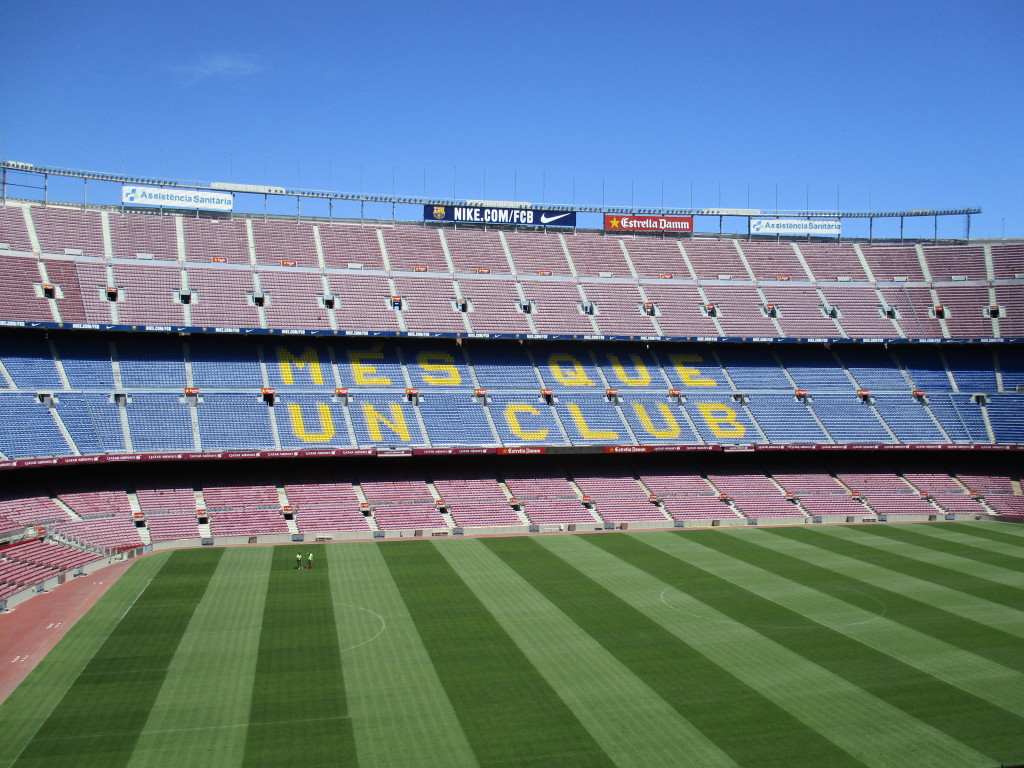 Upon entering Messi's home stadium, the size of the space was breathtaking. The field was green and pristine.
Our tour guide Roger (Rogèr) took us up to the press boxes. Televisions hanging on the wall were showing footage of the press during games and their expressionless faces, because they can't be biased towards one team or another.
We followed the trail that would take us to where the press would stake out to interview the players before or after a game with a specific blue logo-ed wall of sponsors, and are to only be interviewed there. Once the tour concluded, we were corralled into the museum and then to the three floors of FC Barcelona gear gift shop.
We went from jerseys at the stadium to ruffled dresses at the flamenco show.
Dinner was served before the show at the venue, and consisted of two slices of Spanish omelet, a side salad, a chicken and potato dish in a garlic sauce and chicken paella, ending the meal with three cream puffs drizzled with chocolate.
The flamenco show was a great cultural event we got the chance to experience. Women and men, often with coordinating outfits, danced and jigged around the stage in their tap shoes. About four musical instruments and voices created music for the dancers to perform to.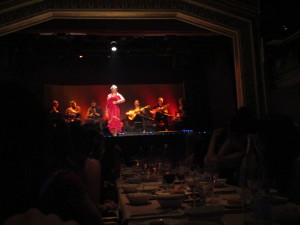 And perform they did. The amount of work and preparation they spent practicing paid off. Sweat dripped off their faces. The stamina and endurance of the dancers is unbelievable, and made for a great show.
Time to pack up yet again, and travel to our third and final destination tomorrow: Libson, Portugal.
Buenos noches!
Day Eight (May 19): Newspaper Airplanes
We wheeled our airport-ready luggage out of the hotel and through the streets of Barcelona one last and final time. (Thank goodness.)
Before hopping on the plane, which was a fiasco I'll get to later, we went had a media visit at La Vangaurdia, a conservative newspaper run by the Godó family for 134 years.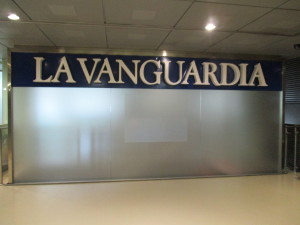 Miguel, the paper's deputy editor, explained how the third-ranking newspaper in Spain is published in both a Spanish edition and a Catalan edition, 68% being printed in Spanish. But since the younger generations feel like it's unnecessary to read a physical newspaper anymore, they've created a subscription to the digital edition as well.
To subscribe to the paper and digital edition, it's 400 euros a year. If you're an online-only subscriber, you only pay 100 euros a year.
La Vangaurdia has a 24-hour digital team that creates original content and shoots videos and photos. In Oct. 2016, they we will releasing a new and improved style to the site.
There are 180 workers in Madrid that focus mainly on content and digital assignments. There's even a small team whose only job is to read and monitor every comment on every story for appropriation.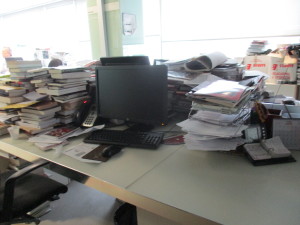 The deadline for writers is 11pm, and then editors change at 3am for more read-overs before the stories are printed. Since the economic crisis, the paper has more space now because they lost 70% of their advertisers.
Miguel then proceeded to take us of a tour of their newsroom. We walked through clusters of cluttered desks and piles of books. It was hard to believe that anything could be accomplish by the site of some desks. It was great seeing the behind the scenes of a major Spanish newspaper, and is what I imagined it being.
Many of the reporters and writers were out on assignments, but a few of the layout designers and reporters were in the office laying out the magazine insert for Sunday's paper, five days away. But in just five hours, we'd be jet setting across the country to Portugal.
After another round of painstakingly dreadful airport security, being one kilogram away from the maximum weight on my checked suitcase and exceeding the maximum size for carry-on luggage, I was yelled at in Spanish and shoved to the side with a green tag.
The stewardess was no help at all when I asked where to put my "oversized" suitcase. She simply looked away as if she was just a pretty face who demonstrates safety precautions.
Finally getting that situated, a woman with a dog was in my window seat and did not want to move to over to her assigned middle seat. She eventually moved.
We took off into the rain and clouds and hit quite a bit of turbulence, especially when landing. At this point, I don't think I've been happier to get off a plane. At this point it was 9pm and I just wanted to check-in to our hotel and go to bed. It just wasn't my day.
We met up with our new tour guide, Odette, rushed to the bus and checked into the hotel.
Disappointed about our last minute hotel cancelation, this Holiday Inn has the best, fluffiest pillows I've seen in nine days. It Madrid it was a rock hard body pillow, and in Barcelona it was a semi-rock hard body pillow.
First night in our final destination is going to be one well slept.
Buenos noches! 
Day Nine (May 20): A PORTal to the coast 
Good morning, Portugal.
A quick bus tour of the city was a great way to start the day. Lisbon is compared and often mistaken as Rome in photos. But it could be mistaken as San Francisco due to its rustic-red colored suspension bridge.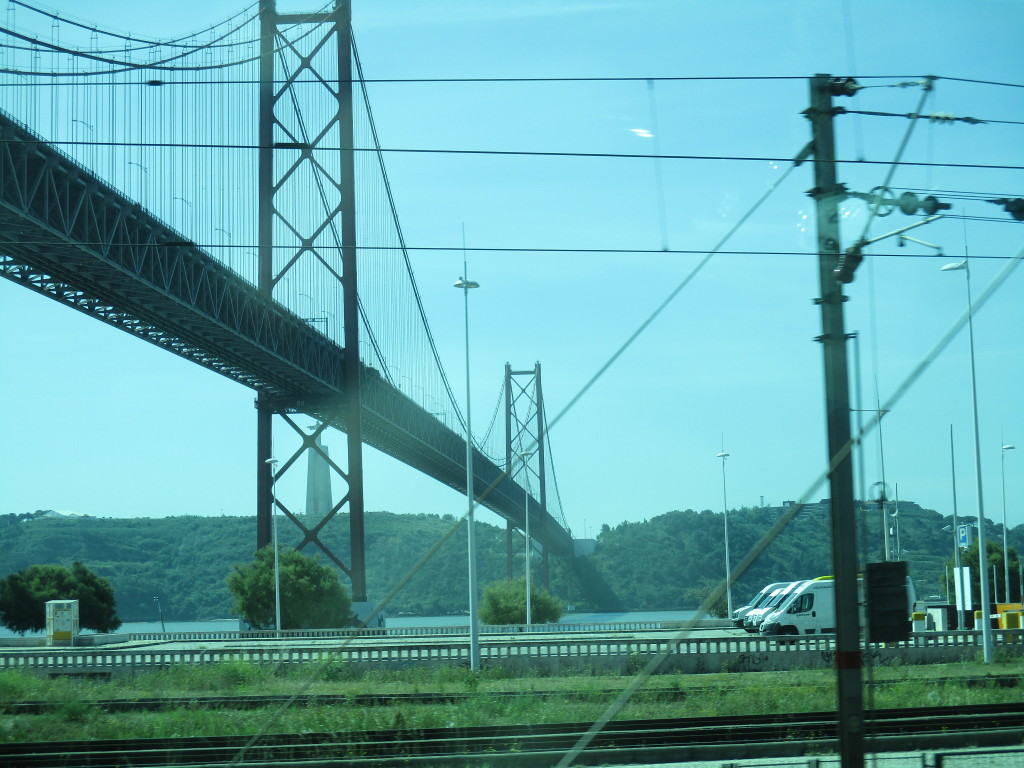 The American Steel Company constructed both iconic landmarks. After feeling a little nostalgic, it was nice to see something representative of the States. Especially when we entered a University classroom.
We were welcomed to the New University of Lisbon with a reception of Portuguese pastries, port wine & espresso. Professor Paulo Faustino Ph. D, the Chairman of the International Media Management Academic Association, led a lecture and discussion on the Portuguese media market and system landscape. He touched upon the expectations and goals for the new generation of Portugal that will take over the media.
Then Senior Fellow, Lara Alameh spoke to us about the media relationship that Portugal has with the United States. Originally from California, she moved to Lisbon with her Middle Eastern studies degree after landing a few jobs in Washington D.C. She had a great perspective on the younger generations coming into the mainstream media scene.
Joao Palmiero, the President of the Portuguese Press Association and board member of the European Newspaper Publishers Association, was our last and final speaker of the day. He wrapped up our discussion with main points on the challenges that the industry is facing, such as involvement and the security of personal information.
China has a version of Google that could potentially take over the search engine operations. In a matter of 5 years or so, Google is going to become and merge between social network and search engine, according to Joao.
After a day spent in the classroom, it was finally time to hunt down a restaurant for dinner. Our hotel isn't in the heart of anything quite like our past two hotels have been. A few blocks down from where we're staying is a main street. There we found a really culturally-tasteful restaurant called Versailles.
At first sitting at a table a couple just left, we realized we were in the "light meal" section, for those who order cookies and coffee around 8pm before their real dinner around 10 or 11pm.
We were then showed to the upstairs dining room where dinner so served. The table clothes, silverware and dining ware were all much more elegant.
I ordered the best pork filets I've ever tasted, paired with fried potatoes & grilled veggies. Emily ordered a seafood risotto.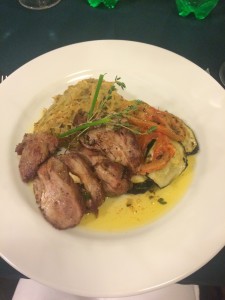 We realized that the bread and butter that isn't always free even though it's on your table. In fact, it's almost never free. It's typically 0,90 euros or 1,30 euros with butter, more expensive if served with cheese cups, 4 euros. But when in Portugal, right?
And it continues on tomorrow with another media-filled day.
Buenos noches! 
Day Ten (May 21): A fish out of water
Our day started off with lights and cameras at RTP, a Portuguese public broadcaster.
Carlos Maio was our guide, and even though he claimed that he didn't speak English very well, he was known as the best at RTP.
He was able to get us into a studio to view a live taping of a news show. Their studio, unlike others, have the newsroom and the studio connected without any surrounding walls or windows. This is quite helpful when breaking or updated news comes through, the journalists can walk up to the desk and hand them the information.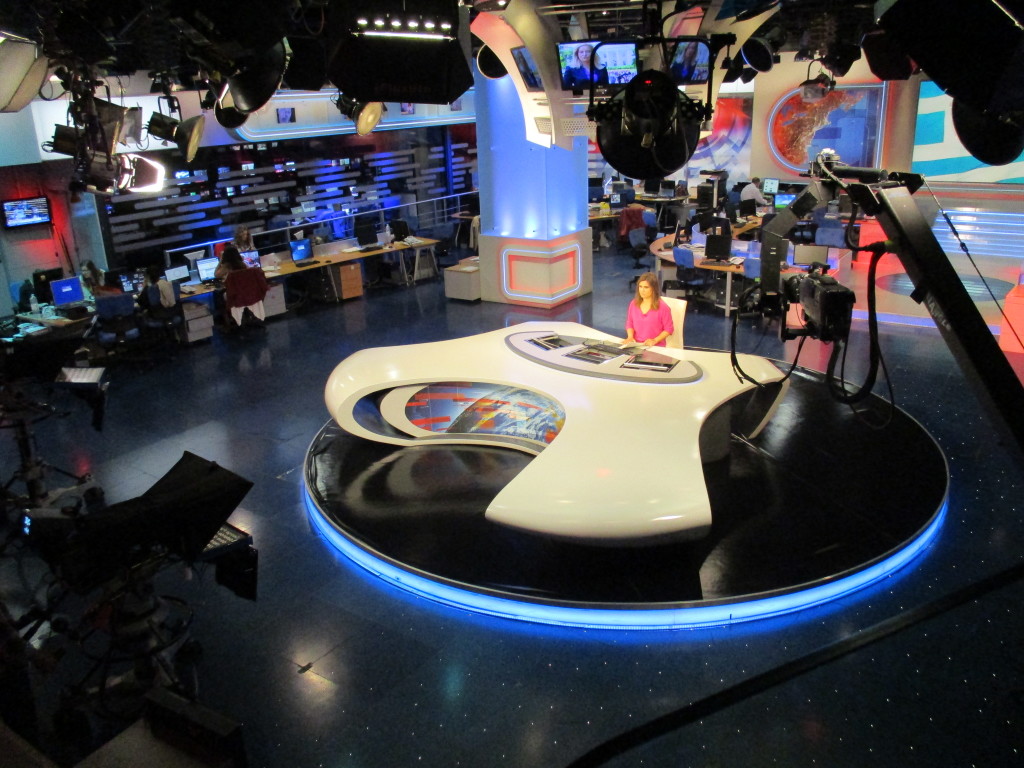 Lopes de Araújo, who started working in television when he was just 18, spoke to us in the lecture hall of the station. He's the Director of International Relations at RTP. The company consists of eight television channels and eight radio channels currently. In 2005, the radio and television networks merged.
RTP is owned by the state, which means that citizens pay 2.65 euros in their electric bill each month to support the company. Because of this, the radio stations are commercial-free. Out of all the media companies, RTP gets less funding and is 15 percent below the European average as far as the cost per inhabitant.
The company used the concept of The Price is Right to teach the public how to learn and count euros. And it was a popular hit among the people of Portugal.
Another popular hit is the newspaper Diario de Noticias owned by the Global Media Group.
We met with the President of the company, who strikes a shocking resemblance and persona to Steve Jobs, who talked to us about their goals in order to become the first choice to readers, listeners and advertisers.
As well as two newspapers, they also operate two travel magazines, two regional newspapers and talk radio. One of the main points that he really pushed how important profitable growth was to them. He had a very logical approach to everything. He explained that your debt should never be greater than three times your cash flow. And we almost went into debt when we went to dinner that night (not really.)
As per recommendation from the front desk, one of the best seafood restaurants was located about two blocks down from our hotel. When in Lisbon, indulge in seafood fresh from the ocean.
The restaurants specialty: cod. It's dehydrated with salt and two days before cooking, it's rehydrated with water, doubling even tripling in size. It's naturally seasoned, and is a delicacy in Portugal.
Everything on the menu is fresh, and if they don't have it, it's because it wasn't caught that day.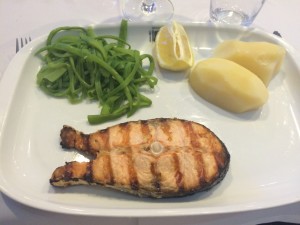 We ordered the best garlic shrimp for an appetizer. And I ordered the grilled salmon. The crispy tail section was better than crispy bacon. It was perfectly salted and was easily one of the best meals I ever had in my life. I haven't eaten a bad meal at a restaurant yet. We finished off our meal with a cinnamon crepe filled with ice cream.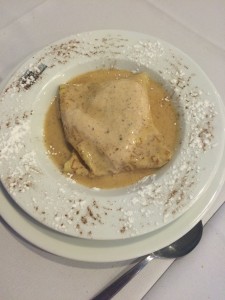 While the fish I ate is out of the ocean, we're headed their tomorrow for a full excursion to Sintra and the beaches.
Buenos noches!
Day Ten (May 22): Sun, shopping and Sintra
After nine days of media visits and lectures, we wrapped up our Madrid, Barcelona and Lisbon tour with more good eats and shopping in a town called Sintra.
With shops around every corner and restaurants spilling out sweet aromas, it was hard not to spend more than a couple hours there. It was another landscape that was exactly what a European city would look like. The streets were made of brick and the buildings of stone.
There were tile shops, boutiques and cafes located within these stone buildings, and cork. Lots of cork. Portugal is one of the world's largest manufacturers of cork. Tree farms are dedicated to this material. The cork is cut off in slices and then made for wine bottles, purses, jewelry and many other products.
We then ventured off by shuttle to the most western point in Europe, right along the ocean. From where we were standing, our tour guide, Odete said we were standing at the same level as the White House in Washington D.C. It was breathtaking in more ways than one. The wind whipped the cold air up the side of the cliff. But soon after, we piled back into the shuttle and rode back down the forest-filled mountain back down to the warm sun and sandy beaches.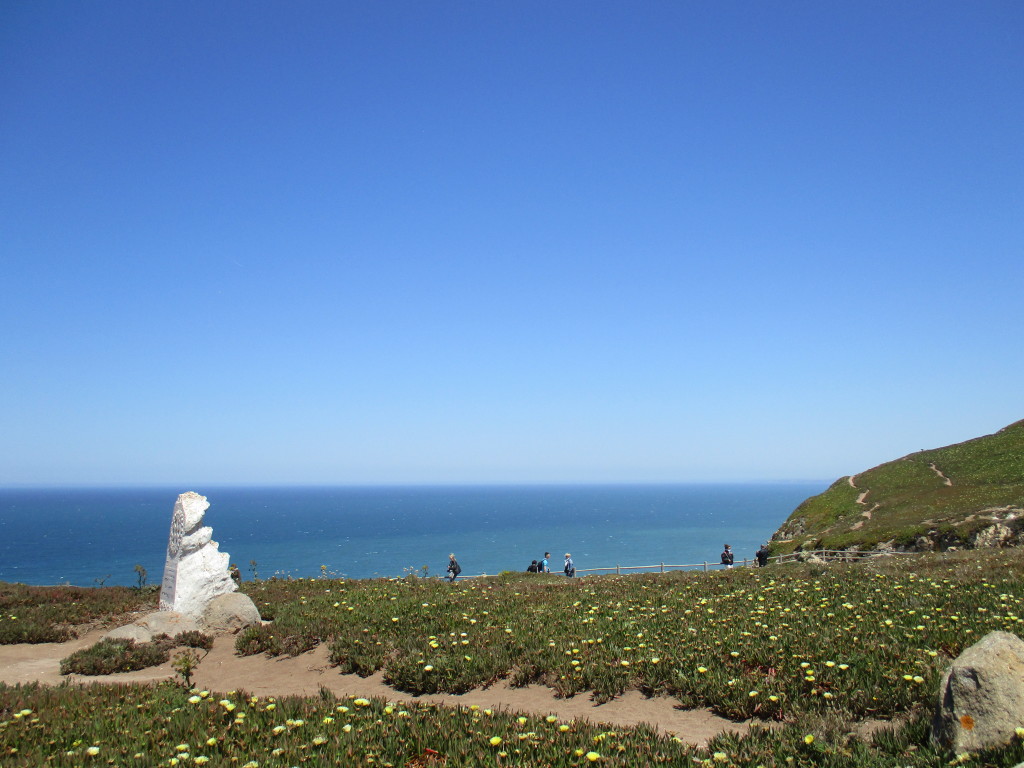 We celebrated our last lunch in Portugal with seafood. Again, I had another version of grilled salmon topped with shrimp freshly caught. Another delicious meal to add to the list.
A thing I've noticed over the course of every country and city that we've visited is the waiting staff at restaurants. They aren't teenagers working a summer job just to pay some bills. These are grown men who take what they do seriously, and they're excellent at it. They're nicely dressed and always so neatly groomed. It makes dining more of an experience than just a quick stop to eat.
After we finished lunch, we spent some time soaking up some sun with our feet in the sand on a small beach next to the shops. Boats were in port and dropped anchor near the shore. It was a beautiful day without a cloud in the sky. We couldn't have asked for better weather to enjoy our last day in.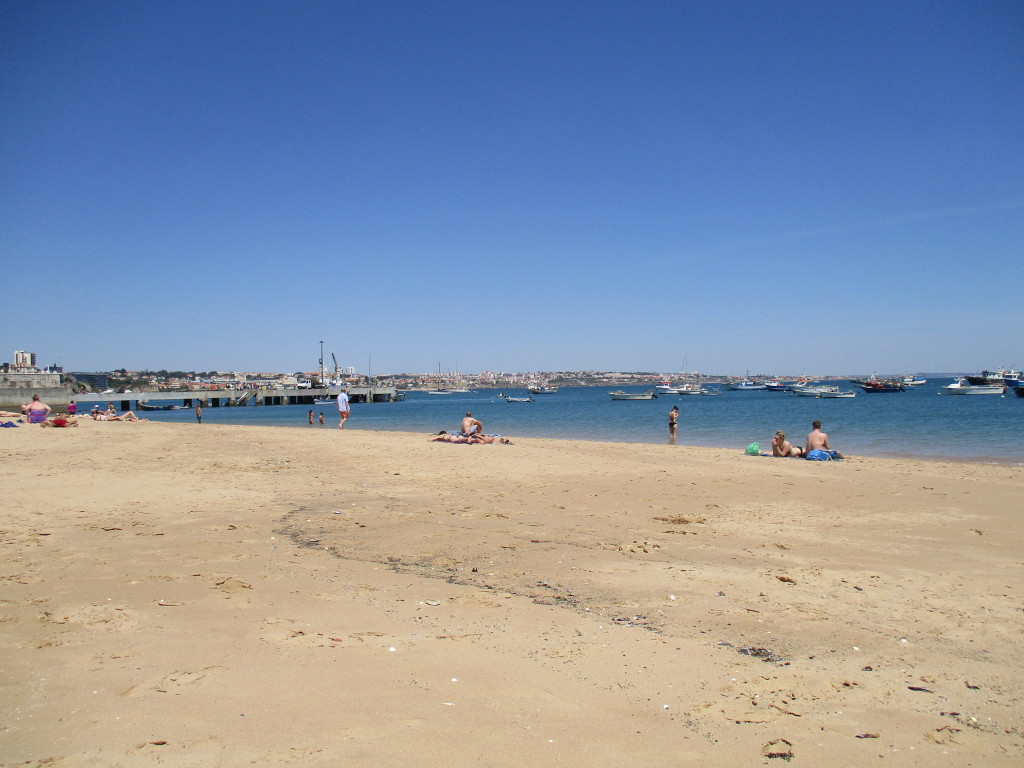 We wrapped up our last day of events with a traditional fado show. Unlike flamenco, fado is less dancing and more vocal singing with instruments.
We were served a plate of sausage and cheeses, a pureed bean soup, chicken with a side of vegetables and potatoes, and an unsatisfying consistency of a cinnamon flan. It can be compared to eating a pudding gelatin.
The little city where the theater was located was prepping for an upcoming festival of St. Anthony, and had the beginning decorations hanging. Almost as if a little celebratory twist to us coming to Spain and Portugal, seeing it and conquering them both.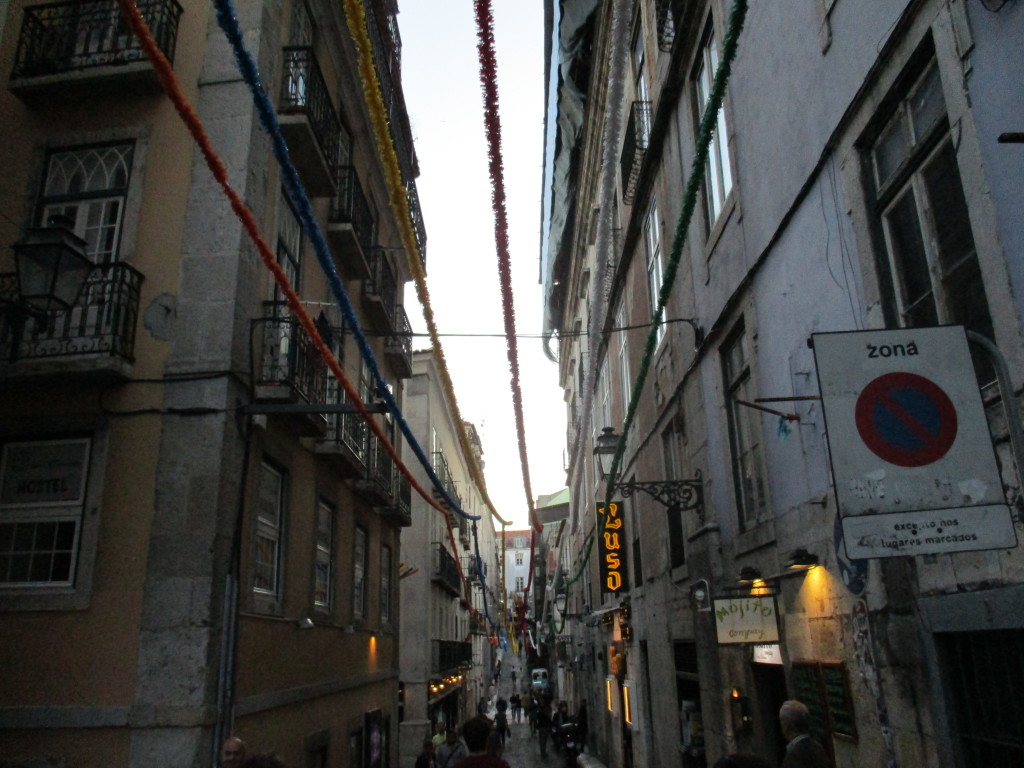 Back at the hotel to pack and rest up for a full day of travels. It's hard to believe that 11 days have come and gone and three different destinations have already passed us by. Traveling around Europe was one of the greatest experiences I've had the chance to do in my life. It has not only made me more cultured, but I'm definitely going home with a different outlook on life, on the decisions I make and the way I go about everyday tasks. This was a once-in-a-lifetime opportunity, and I was lucky enough to share it with my best friend. We created memories that will be with us forever and we will always remember the time we spent across the Atlantic.
Signing off for the last time,
Buenos noches!