Story and photos Sara Payne
With the unemployment rate as high as 30 percent in Portugal following the economic crisis, the people have used their creativity to start overcoming the vast financial issues. Radio e Televisao de Portugal, the country's public broadcaster, is doing its best to innovate and overcome the same obstacles.
RTP was founded in 1957 and is 100 percent owned by the Portuguese state. It is supported by license fees and income from advertising and sponsorship. Each household paying for electricity also pays 2.65 euros per month toward RTP's operations.
Because of the severe financial situation, RTP stopped receiving funding from the Portuguese government in January 2014, according to Director of International and Public Relations Joao Lopes de Araujo.
RTP currently has eight TV channels and eight radio channels. There are two free to air TV channels, two thematic cable channels, two regional channels for Madeira Island and the Azores Islands, an international channel and a channel for those in African countries.
In order to stay in operation, RTP has had to show the Portuguese people the importance of their public broadcaster. Not to forget, the class learned, the good content throughout its channels.
"Public service doesn't have to mean boring," de Araujo said. "It can be interesting."
In order to maintain an audience to fund itself, RTP has to think of popular programs. As a public broadcaster, RTP must meet certain quality measurements that private companies do not.
"We have a difficult situation to balance," de Araujo said.
Despite needing the revenue from advertising sales, RTP is only allowed to have six minutes of commercials per hour on its first broadcast channel. There are no commercials on the second channel. Yet, private companies are able to have 12 minutes of commercials each hour. This shows the sharp contrast of advertising revenue that is available to RTP compared to its competitors.
RTP has brought on a number of programs to try to boost its numbers. Years ago when the broadcaster first tried to bring the American show "The Price is Right" to Portugal, it was not received well.
But when the country joined the European Union and adopted the euro, citizens were struggling with trying to understand the exchange. "The Price is Right" was aired on RTP once again, but contestants had to change the amounts to the euro. It stuck and has remained popular up until today with the help of a comedic host, de Araujo said.
Younger audiences have also been considered when developing new programming. RTP understands the importance of building a new generation of viewers in order to keep the company alive. De Araujo acknowledged the popularity of the show "Five to Midnight," created with the U.S. "Tonight Show" and "The Late, Late Show" in mind. The late night talk show featured young, comedic presenters that came closing to touching "the redline." A double screen was displayed, so viewers could interact live with the show.
The two oldest buildings in the RTP complex were built between 1960-1966. In 2003, the main building was renovated to hold new TV and radio studios and newsrooms.
The RTP newsroom and main news studio are housed in the same room. This layout allows reporters to quickly take breaking news to anchors. Right now RTP produces and airs about 91 programs from this studio alone: 15 each day and eight on the weekends.  The staff for these news and current affairs programs totals around 200.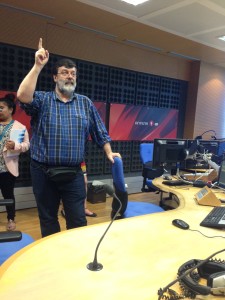 On the second floor of this building, RTP has 26 of its radio studios. Each channel has its own studio that is used at all times. The channels include: Antena 1, news and generalist programming; Antena 2, classical and world music; Antena 3, young public radio; two channels in the Madeira Island; and one channel in the Azores Islands.
Antena 2 is the only station that allows the DJs to have total control over their playlists.
"I have about six centuries more or less to choose from," an Antena 2 DJ said.