Hola!
My name is Marissa Rayes, and I am a sophomore public relations and advertising major. I have a huge love for sports and accepted a job with the Pittsburgh Pirates this summer, hoping this job can lead me to my dream job of doing PR for the Pittsburgh Penguins. I am excited to travel to Spain not only because it is my first time traveling across the ocean, but because I am of Spanish descent.  I can't wait to learn about Spanish communications and bring the knowledge back to the States!
Day One In Spain- I feel at Home –
May 12th, 2014
Most of us have been up for 30 plus hours now, but that didn't stop us from living to the fullest on our first day in the wonderful capital of Madrid. We came to a landing in Madrid's airport and were excited for the long day ahead. We boarded our bus to our first destination, Plaza de Toros. The English translation of Plaza de Toros is Plaza of Bulls. In this magnificent stadium a bull fight happens every day during bull fighting season, and every Sunday durng off season
. We learned about bull fighting greats and even what they do with the bull aft
er it gets slayed (I'll save the details just in case
anyone is squeamish).
After seeing where this historic Spain tradition takes place we then traveled to El Parque de Madrid. The translation of El Parque de Madrid is The Park of Madrid. We spent an hour and a half here to enjoy a nice lunch in the park.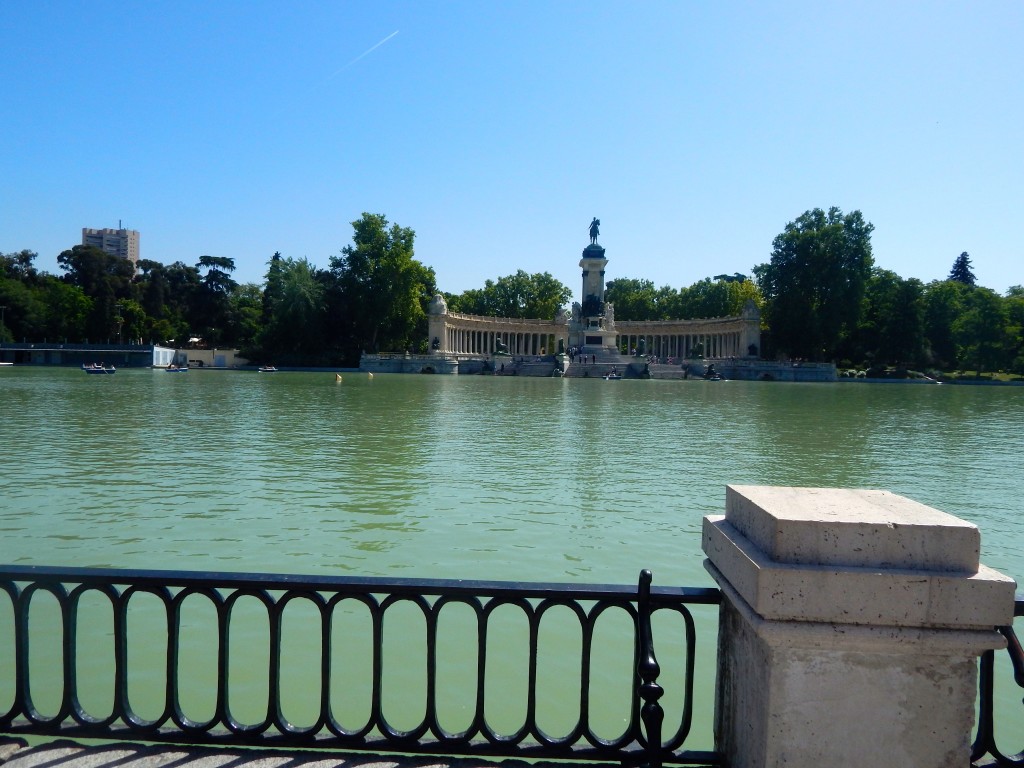 This green landscape was filled with many locals and tourist gathering around the lake in the center of the park to take pictures or even to rent a paddle boat for a cheap price. Some of us even got to mix in with the locals to kick around a football (very poorly if I must say).
After refueling ourselves we then took our journey to the Royal Palace of Madrid. We learned about all the King's different apartments in the palace and what every room was. We were even greeted by a friendly peacock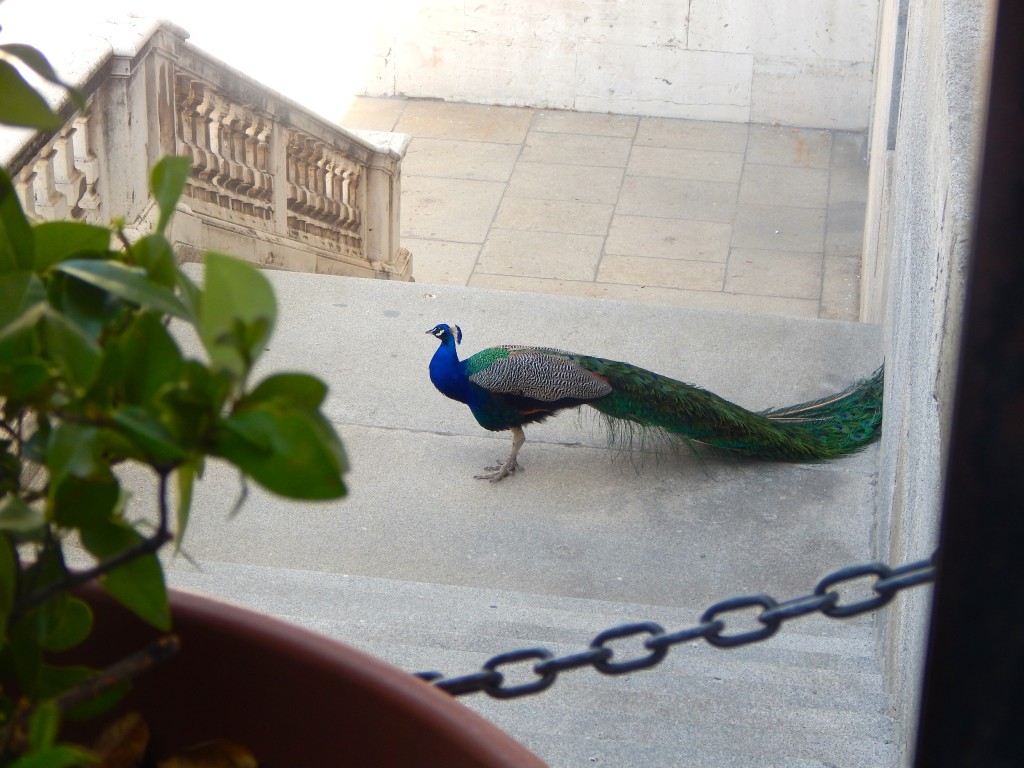 when we were viewing the magnificent overlook that the King got to view back in the day when he still lived in the palace. My favorite part of the Royal Palace was the grand stair
Day Two in Spain- Learning About Spanish Media
May 13th, 2015
Our second day of our journey has been a very educational experience. We had a nice breakfast at our hotel to fuel us for the beginning of the day then we started on our way. We first took the metro to our first spot, Universidad de Navarra.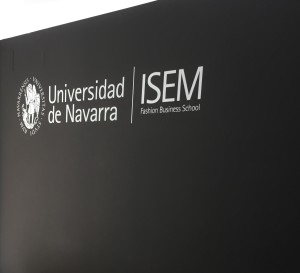 This university is a graduate school with a business school that is in the top 10 ranking business schools above Harvard. Our speaker for the presentation was Professor Gustave Garcia-Mansilla who is the Director of Executive Media MBA in the School of Communication.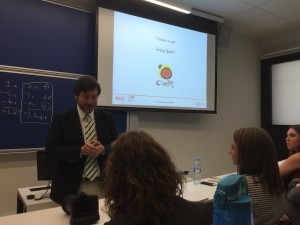 He began our visit with a tour of the facility. After the tour we went to a different building to have a lecture in a classroom. Gustavo first introduced himself by giving a background about him then we got into the Meat and Potatoes of the lecture. Spain has been in a depression since 2008, but now they are seeing a 2.5% growth in the market. Even with this growth with the advertising market and economy Spain's unemployment is still 35% with the 24% being young adults. Gustavo says the stats say one thing about the Spain while actual life is different. In 2007 the advertising market was worth 7.356 million euros while now it is worth 3.957 million euros because of the previous depression. The four biggest markets as of now is France, United Kingdom, Germany, and Italy. In Spain they invest their Euros in different types of mediums such as: television gets 39%, internet gets 13%, newspapers get 12%, radio gets 10% etc. The top 5 advertisers in spain are: Procter and Gamble, El Carte Ingles, L'oreal, Volkswagen, and Rekiltt.
We asked Gustavo about the future of Spanish media and he said that in 10 years that public media will be less relevant, TV consumption completely fragmented, newspapers will be a luxury product for weekends, online papers still will depend on ad income, traditional radio will have strong competition against streaming services, many more competitors in all segments, and media professionals will have world-class business education. After this visit to this graduate school I could see how Spain media relates to United States media in a way, but also differed. I like how Spain media focuses on more of the client than their actual company. This could be helpful to me when I am in my career and dealing with clients and how to reach clients. Also, after visiting this Spanish graduate school I realized that I really want to attend a graduate school in Spain because my family originates from the country and I enjoyed the atmosphere of the school.
Day Three in Spain- If You Mess With the Bull You Get The Horns
May 14th, 2015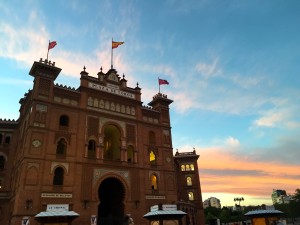 Tonight we got to experience a true Spanish tradition; Bull Fighting. We caught a taxi from Havas Media to head to Plaza de Toros to buy tickets for the historical event. As we arrived to the plaza there was masses of people coming from every angle.
We weren't sure of where even to start to search for tickets. We came upon a booth with a guy offering us tickets for 80 Euros. No one in the group wanted to spend that amount of money for a ticket. We continue to search for the perfect price of ticket when we finally found a woman, who didn't speak any English, selling tickets for 8 euros. The seats were in the 2nd level of the plaza and ended up being excellent seats.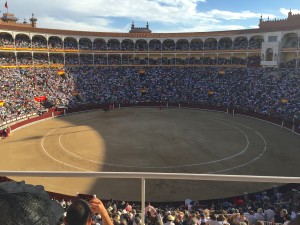 We had 20 minutes until the fight so we figured we should get some food just in case we couldn't stomach the thought of food after this brutal fight. After fueling ourselves for the night ahead we see that we are 10 minutes late and didn't think that this would be a problem. Little did we know it was in fact a problem. We some how managed to find our gate where the seats were to be greeted by a man who didn't speak English. He wasn't letting us into the gate and we couldn't understand why. Finally, he pulled out his smart phone so we could translate back in forth to each other. We finally came to the understanding that we had to wait for the 1st bull to be killed before we were allowed to enter because we were late. After the bull met his finish we take our seats and just fell in love with the plaza.
The beautiful atmosphere in the plaza made us think that it was going to be a great night. Four matadors come into the arena and start to tease the bull. After this went on for a few minutes men on horses came into the plaza. The man on the horse went to the bull and began to stab it with a long spear into it's back. This is where we started to question our decision about attending the fight. Next the main matador came into the plaza to the sounds of clapping and cheering. He began his dance with the bull with his red cape.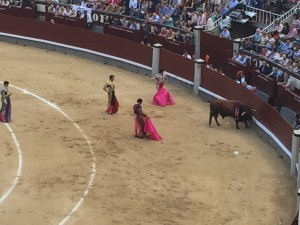 After a while the bull was getting tired and this is when the matador knew it was time to kill his enemy. He stuck the large sword in the bulls back and this sealed the fate of the bull. The bull began to become weary and eventually collapsed but was not dead yet. The matador went over to the bull, looked him in the eyes and stabbed him one last time. The bull's head fell to the ground, and the cheers began. The bull then was attached to a sled that was lead by horses and was circled around the plaza to be taken to the butcher.
This was such an emotional experience for me because I have never seen an animal killed in front of me. The 3rd bull was put out of his misery pretty fast so I was use to this brutality. Then came the 4th bull. This animal was fighting for his life. He was continuously being stabbed over and over again and wouldn't go down. Finally the bull was slowing down and trying to escape from these matadors. He was rubbing his blood against the wall while he was trying to get away. Finally, he sat down and the matador came over to him with the sword in hand. The part that made me cry a river was the bull lifted his head up and looked the matador in the eye as he was being given his one last stab. I thought that was the worse part of the night, but I was extremely wrong.
The 6th and final bull came out into the plaza. Jimenez Fortes did very well in his previous fight so he was starting to become very arrogant and trying to many risky moves. We then lead the bull to a wrong part of the plaza because the wind was coming in the direction. Due to the wind the cape in his hand blew in front of his body. This mistake had him attacked by the bull. He was thrown in the air multiple times and was stabbed in the neck by the bull's horns. Other matadors came into the plaza and tried to distract the bull as Fortes was being carried away to the surgery room.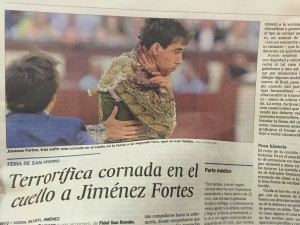 Our tour guide said that Fortes' life was saved, but experiencing a person being attacked was the worse experience of my life. We all cried as we watched this unfold in front of us. I thought I was going to be sick, but as I looked around to the people of Spain they just seemed like this happened all the time and it was no big deal. The fight continued with a new matador to kill the bull, but I wasn't even paying attention due to my emotions.
I am glad that Fortes survived, and I understand that this is apart of the Spanish culture but is it really worth the risk? I guess I am bad at being a Spaniard and I apologize to my ancestors.
Day Four In Spain- Falling in love with Segovia
May 15th 2015
We arrived into the city of Segovia for a day of site seeing. Upon arriving into the city and seeing the sites from afar it really felt like we were in Spain. The buildings were beautiful with their historic architecture. I wish America would have this type of architecture.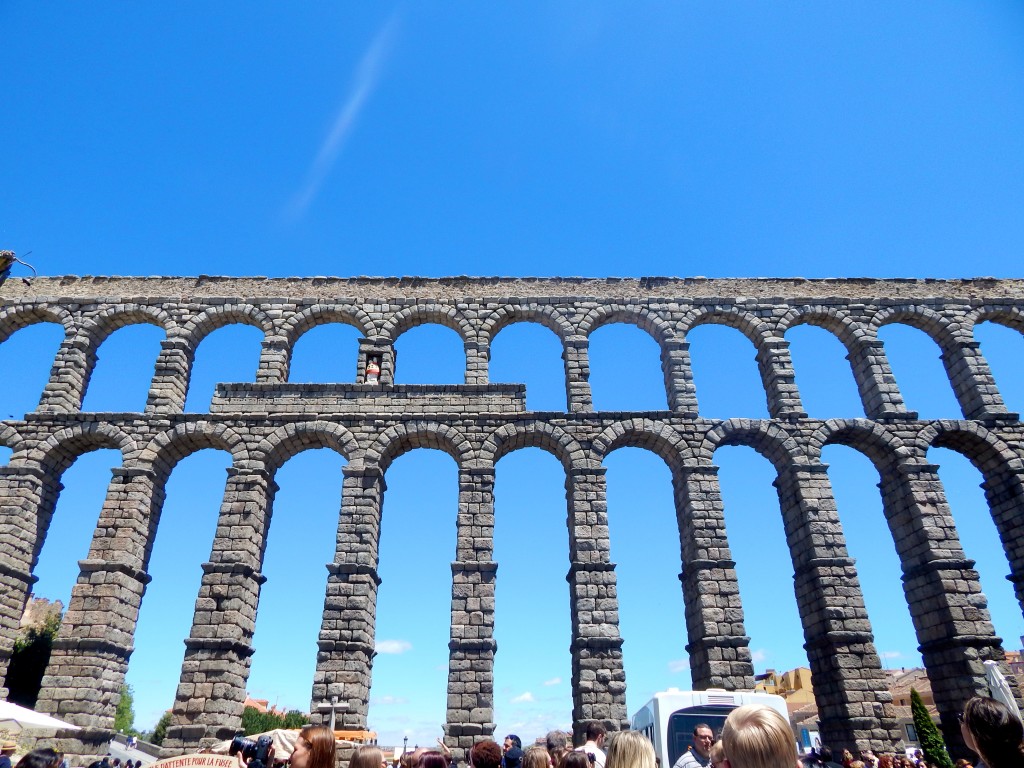 Segovia is one of the three main tracking sites for NASA. The city used to be abandoned until it was revived again. People repopulated from the north in the 12th century and it used to be a Roman town. In the 17th century the town was a very wealthy town because of the 300 textile factories. After awhile a lot of the population moved to Madrid including the nobles so Segovia became less important.
We went around the town and there was a festival going on. It even included a merry-go-round for children.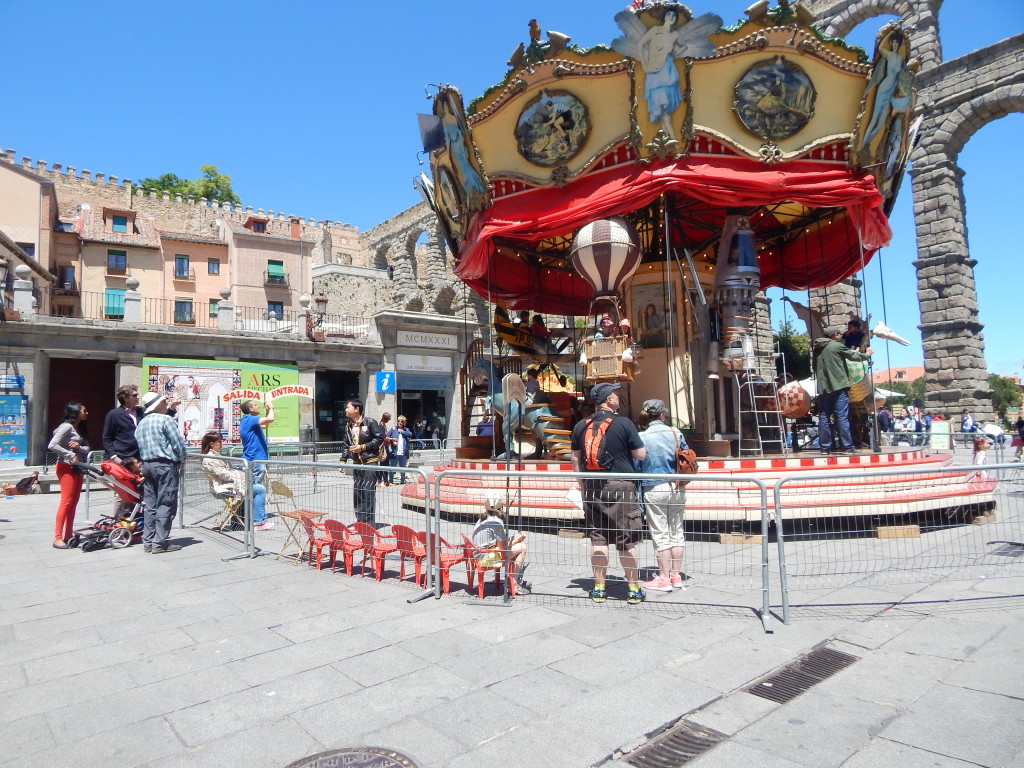 There was aqueducts that was in the city that would drain the city's water. We explored the town and even the castle. After our adventure in the town we went for dinner.
It was time for the suckling pig. We first got soup that was a mixture of onions, ham, and eggs. Then the pig arrived. The waiter put the pig in the center of the room on a table and had a plate in his hand. He began cutting the pig with the plate and serving us our portions. I was one of the lucky ones who got one of the legs of the pig. The meat tasted like chicken and the skin was rather crunchy. I couldn't handle more than a few bites. The dessert was rather good tasting like cinnamon cake and ice-cream. I am glad that I had the experience to eat a suckling pig. After I graduate I would love to come back to the town of Segovia and get to explore more.
Day Five in Spain- Climbing to Toledo
May 16th, 2015
Today we had to wake up the earliest time of our trip so far for a day of adventure in the old city of Toledo.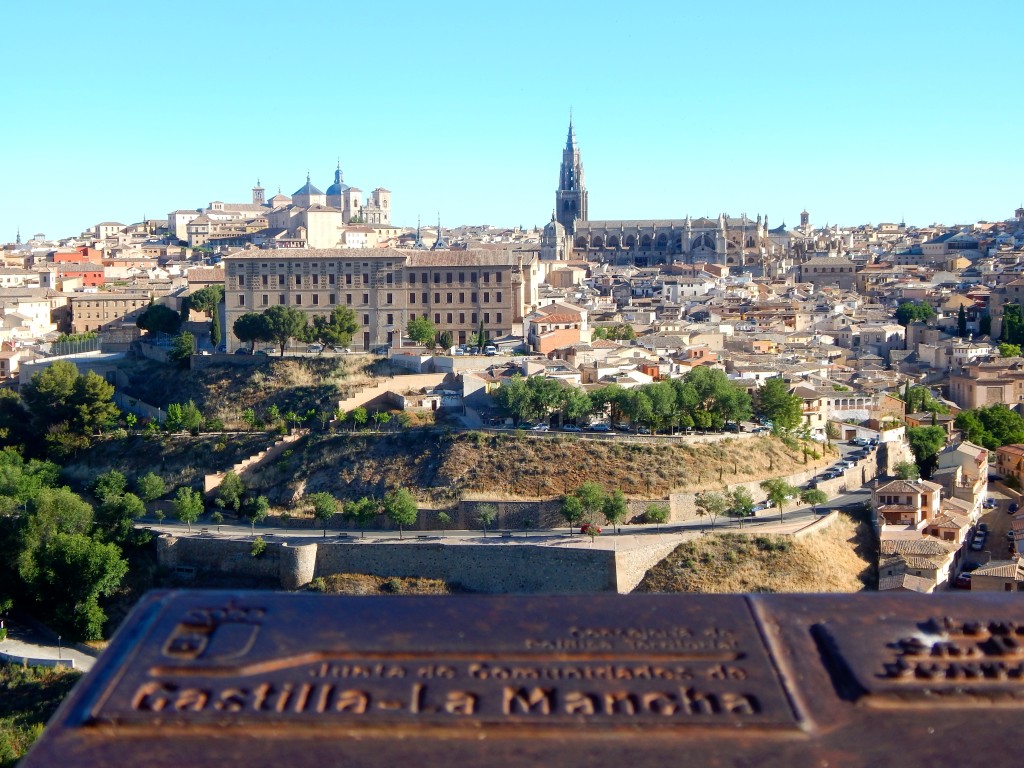 We took an hour long bus trip to reach this destination with our tour guide Mauricio giving us all the need to know info about the city. Toledo was built on this huge mountain so that enemies were unable to attack. Around the city is a river separating it from the mass of land. This structure of the city made it one of the most important cities in the medieval era.
On the outskirts of the town we arrived to a shop that hand-made/machine-made swords, jewelry, and other specialty items. We watched a man put a sword into the fire so he can mold out the spear part of the sword. Next we went into a room of two Masters who were craving the small, intricate details on the jewelry. We then entered the gift shop which had some of the most beautiful jewelry I have ever seen. There was three sections of jewelry. First was student made, then machine made, then mastered made. I of course purchased two items of jewelry because I couldn't not pass up such a beautiful piece of work.
After the shop we ventured our way to the actual city. We had to ride multiple escalators to get up to the high point of the city. Toledo is as medieval as it gets. The streets are small and the buildings are close together. I really enjoyed the architecture that went into these buildings.
Finally, we visited the Cathedral. I have never seen such a beautiful piece of architecture in my life.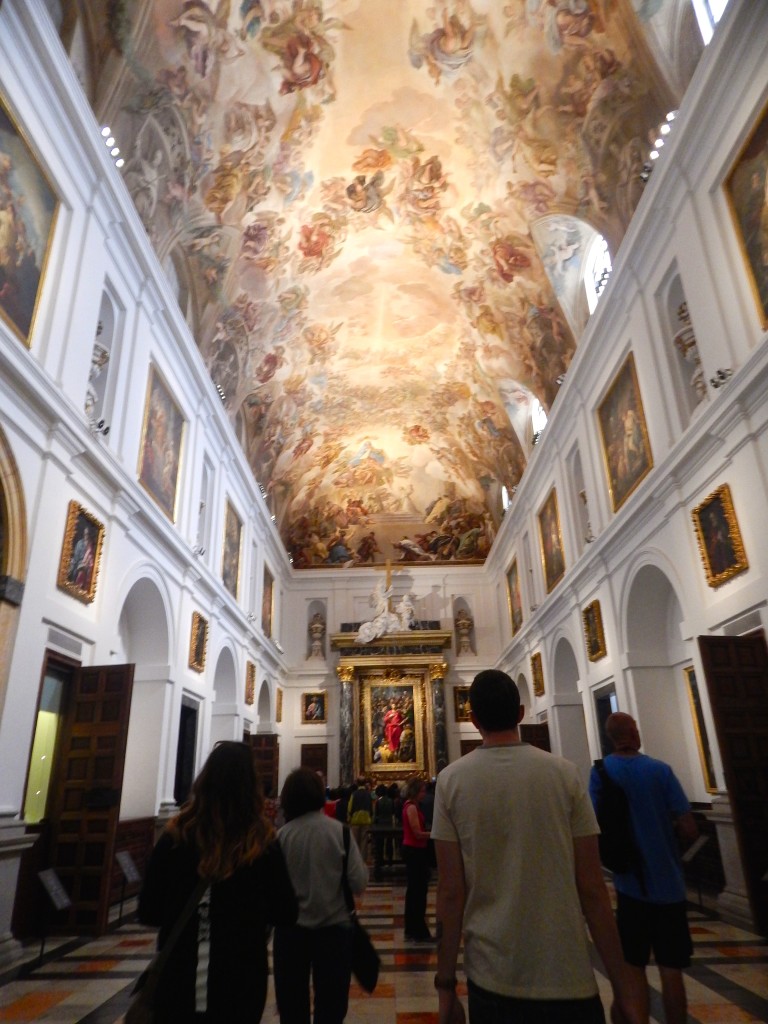 The detail in the paintings and sculptures was truly amazing. I made sure to take a lot of photographs of such an amazing place of worship to show my grandfather at home because he is very religious and would enjoy such a thing. Toledo was a beautiful city and I wish we had more time to visit there because I truly felt like I was in Spain.
Day Six in Spain- Free Day!
May 17th, 2015
Today was a much needed day for us travelers! We had a day to ourselves to explore the city of Barcelona. Getting to sleep in till just 10 o'clock was the best feeling in this world. After getting ready for the day Alicia, Dana, Courtney, Kariann, Kim, and I went to lunch at a restaurant called Cosmos. Most of use ordered the spaghetti just because we needed a little comfort food in our life. The spaghetti was of course delicious! Then came the dreaded part of every meal; trying to figure out the bill.
I believe that the Spanish don't like splitting up checks because the gratuity goes down. I understand the reasoning, but it is rather inconvenient. I have also noticed that water is almost never free at Spanish restaurants and they also come in fancy glasses to be served in wine glasses. After our delicious meal we then made our way to the beach (which I must say was one of my favorite parts of this trip so far).
The Barcelona Beach was one of the most beautiful beaches I have ever experienced in my life. Although you got the occasionally topless woman here and there it was a great experience. The sand was indescribable because it was like no sand I have ever felt before.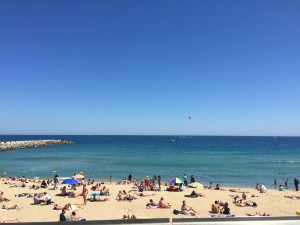 The Mediterranean Sea was rather cold, but of course we sat in the water because it would have been a waste not to. We laid on the beach for a good two hours drinking Mojitos. This was the life.
I wish I could have the experience of working in Barcelona, and getting to go to the beach during the siesta hours. The overall atmosphere of this beach was a vibrant place. After the beach we hit the streets for some shopping (even though most of us could of gone without spending the extra buck). Even the shopping scene in Spain is a different atmosphere of the United States. It was overall a better experience. I have so much appreciation for this city and I just feel like I belong here.
Day Seven in Spain- The Camp Nou Experience!
May 18th, 2015
We arrived to FC Barcelona's stadium Camp Nou and immediately I was amazed by how big a football stadium actually is. We made our entrance into the building and awaited our tour guide to show us the ins and outs of the stadium that this legendary team plays.
First we made our way up to the bleachers to get this magnificent view. Entering into the seats of the stadium we were greeted by huge lettering in the seats of the opposite side of the stadium that said " Mes Que Un Club", which means "More Than A Club."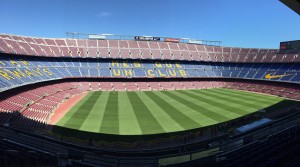 Just by this simple writing on the seats you can see what football means to this society. I know that in America we go crazy over American Football, but here football is a religion. The walk-way to the field even has a chapel for the players to pray before the game.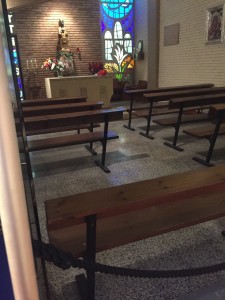 Football here is sacred. I want nothing more than to be involved in such an experience. I would loved to work for a football club in my lifetime.
Our guide told us some facts about the stadium including that the stadium only sells 5,000 tickets to away fans, 10,000 tickets to regular fans, and the rest is season ticket holders. The ticket price to a regular home game can be from 40 Euros all the way to 170 Euros. This price point can be compared to that of a Pittsburgh Penguins' game. I would definitely pay the price of the ticket to see what this culture phenomena is all about. I was curious as to whether Camp Nou offered student discounts such as the Penguins' do with their Student Rush program, and the guide said "Of Course!". The ticket price for a championship game can be from 90 Euros to 350 Euros.
I could only imagine the atmosphere in a playoff game. I would love to experience it one day. I know I'm not the only one who wants to experience this because our guide said that they have 26 million visitors a year. The stadium holds different events as well during the off-season. People can rent the whole stadium out for weddings! The people of the wedding party can even ride the players' bus to the stadium. That is something I would do for a wedding just because of how sports crazy I am (Thanks for the idea Camp Nou). Our guide said that every week there is an event held at the stadium.
Then we started discussing the players of FC Barcelona. Their star athlete, Lionel Messi, came to them at the age of 13. They trained him from this age and made him the player he is today.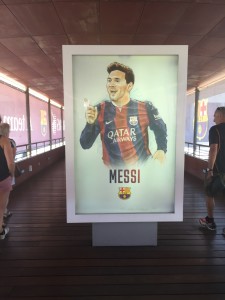 90% of the players on this team are Catalans.This just shows you how football teams like their players to be local.
This tour was such a great experience. This was probably one of my favorite stops on the trips because I am a tour guide for the Pittsburgh Pirates and being able to compare different tour techniques between two countries is an experience that not everyone gets. There was similarities with the tours with going on the field, going to the press box, and even to locker rooms. This is an event that I will never forget in my life, and I hope I can either get an internship/career at a European football stadium.
Day Eight and Final Day in Spain- La Vanguardia
May 19th, 2015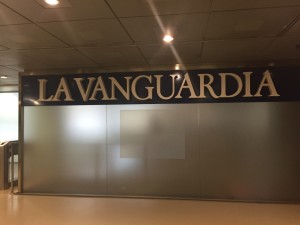 Today we visited Barcelona's top newspaper La Vanguardia. My initial thoughts were thinking about what a great atmosphere to work in. We were greeted by Miguel Molina who is the main editor for the paper. He was such a laid-back guy and was even in jeans (I hope one day I make it so big that I can just wear casual clothes to work).
He took us to the conference room of paper and there is where we learned the ins and outs of the paper. Not only does the paper have a Catalan edition, but it has a Spanish edition as well so they can reach both markets to be profitable. The green band on the newspaper means that the newspaper is Catalan, and one without the green band means it is in Spanish. 68% of the newspapers are actually printed in Spanish just because the market is bigger than the Catalan market.
The paper is 143 years old being one of the oldest newspapers in the country of Spain. Not only is the paper very old, the paper has been owned by the same company this whole time.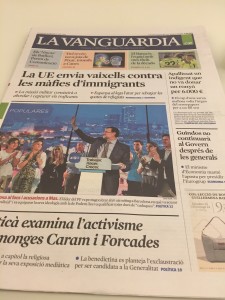 Not many other papers can say this. Molina said that the paper is conservative in economy views, but liberal in social views. This is very unique for a paper to declare because the usual is for the paper to either be left wing or right wing.
La Vanguardia is doing very well with 62,000 subscribers, and the only newspaper in Spain that isn't in debt.To be a subscriber it would cost about 400 euros a year but that includes access to the digital services as well. The digital team is actually in the process of developing a new style for the website to be more accessible for the viewers.
The paper is somewhat of a smaller company with 180 employees with only 3 people specifically working in the digital edition. Digital content is posted 24/7. This is such a huge portion of the traffic with almost 300,000 comments on the site a month. The also have a presence on social media such as Twitter and Facebook. Facebook being their main social media account. They select the main stories of the day to post on Facebook, but only in Spanish.
After our discussion we got a tour of the facility. We went into the newsroom and got to see where each department sat.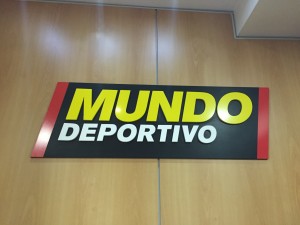 We then got to go down a couple floors to the sports edition of the paper.
We finished our tour with seeing their TV studio which was very small, but very useful. The people of La Vanguardia were very inviting which left us with a lasting impression of Spanish media.
Day Nine-Lisbon- Media Lectures
May 20th, 2015
Our first media visit in Lisbon was the lectures at School of Perio University. Our first speaker was Paulo Faustino who has a Ph.D. He discussed the different media groups in Portugal which include: Impresa, Meolla Capital, Cofina, Global Media, Ongoing, Portugal Telecom, etc. TV was first dominated by RTP which was in state monopoly. He told us that advertising as whole cost 600-800 million Euros in the European market. Now Portuguese media groups are adapting vertical and horizontal integration. He then gave us a general background about the Portuguese language. Portuguese is the fourth most spoken language behind Chinese, Spanish and English. The top four languages on the internet are English, Spanish, Japanese, then Portuguese. Eight countries speak Portuguese with Portugal being the lowest amount of speakers out of the eight. Now several Latin American countries are adopting the Portuguese language as a 2nd language.
After Paulo we had Lara Alameh who talked to us about what it is like being an American working in Portugal. She works for the Lisboa American Develop Foundation who strives to bring the American citizens and Portuguese citizens together. She talked about different careers that could have us traveling the world (most of them being government jobs.) Her foundation wants to bring more Americans to Portugal so they also give out scholarships. I might have to look into these scholarships because I would love to study and live in Lisbon.
Our final speaker was Joao Palmeiro and he discussed media policies and industry challenges. He also gave us a brief history of Portugal before he began his lecture. He made his main discussion about China's new google like web browser Baidu.com. He said that if someone picks up this browser and pays for the fees that this could be google's competition and change the internet.
These lectures were very interesting to me and I wish I could take an actual class with the professor
Day Ten- Lisbon- Radio and Television Of Portugal (RTP)
May 21st, 2015
Today we visited Portugal's radio and television public station. We were immediately greeted with open arms upon arrival. We have had our fair share of friendly people on this trip, but I believe that this group of people were one of friendliest. The provided us with beverages and pastries (of course there was pastries considering Portugal is known for them) before we went into the lecture room.
We then had an introduction to what RTP stands for as a company by Director of International Public Relations, Lopez DeAraujo, who has 39 years in television under his belt.
RTP started in 1957 and has always been 100% owned by the state. Until 2005, radio and television were separate entities. They decided that it would be the smartest business plan to combine the two. The way RTP is funded is almost 100% by the citizens through a tax that is added onto their electricity bill. The state use to give them a lot of funding but two years ago they cut their budget. The Portuegese can expect about two euros added onto their bill. The only channel that has any advertising is RTP 2 therefore there is little revenue from that. Since they are state-owned they have guidelines on how many advertisments can be in their programming. They can only have 6 minutes of advertising.
There are 8 different television channels and 8 different radio stations. They also include an online service called RTP Play that allows the customer to reach their programming online.
The 4 out of the 6 people on the board at RTP are chosen by a council of people while the other 2 members are chose by the prime minister.
The RTP facility was rather small but still quite impressive. Their main news studio which is a multi-purpose studio, is 1000 sq meters. Normal studios have a glass wall that seperates the reports and the news desk but RTP's studio didn't want the glass wall. There are 4 production studios as well.
As for radio there are 26 radio studios, and 8 out of the 26 are self-operated.
The staff at RTP want the younger audience to be watching their programming so they created a late night show that's called "5 minutes to Midnight", this can be compared to Jimmy Fallon's late night show. To also bring viewers in they created a Portuguese version of the Price is Right. At first the show did not have great ratings, but after Portugal had to change their currency to euros RTP brought back the show to help locals be able to understand the value of an euro. The show was an instant hit the second time around.
After learning the ins and outs of RTP and then took a tour of the facility. We went to the news room and got to watch a live newscast unfold before our eyes. After the newsroom we went to another studio where their live morning show was taking place. We got to sit and watch the talk show hosts interview different people. The male talk show host even said hello to us.
After this once in a lifetime experience we got a tour of the radio facilities. They were small, but the employees seemed to like that. The radio DJ got to pick what they wanted to play as long as it was in the guidelines. They still even used CD players. Our studios seem more advanced but Portugal is on its way to something amazing.
Day Eleven- Lisbon- Goodbye For Now
May 22nd, 2015
Today we woke up to our final day in Portugal and Europe in general. I caught the cold that everyone else had, but I was determined to not let this bring me down for my last day in this wonderful part of the world.
We began the adventurous day to a trip to Sintra. This city was one of the most unique cities I have ever experienced. The streets and buildings were very narrow. A lot of the shopping was on hills so it was quite the work out. Courtney, Kim, Kariaan, and I went into some shops to find last minute purchases. I only purchased one more tile just in case something happened to the other two tiles I bought for family members.
After spending a couple hours in Sintra we then went to the most beautiful outlook I have ever been to in my life, Cabo de Roca. CHECK ON THIS >This place is the most continental spot in Europe.< The locals also say that it is the closest spot to the United States. Our tour guide made a joke that if we had really good binoculars we could see Washington, DC. The outlook had a view of beautiful mountain forms that lead into the Atlantic Ocean. It was very windy up on this mountain, but the view was worth a million dollars. I will remember this view for the rest of my life.
After seeing this beautiful landscape we went to a small village for some free time. Yet again another beautiful site. The city lead into the beaches of the Atlantic Ocean. We first got lunch at a place called "Palm Tree". Kim, Courtney, and I all got the fettuccine alfredo which was of course delicious. Kariaan got the swordfish and she gave us all a sample of it. I am not a big fish fan, but that was one of the best fishes I have ever ate. We got the bill and the tax was 23%. Completely crazy!
After our meal, Kim and Kariaan went to shop more while Courtney and I decided that we spent enough money on souvenirs and it was time to relax at the beach. The beach was so peaceful, but the water was of course freezing. It felt so good to relax in the sun and get a tan.
After catching some rays we returned to our hotel to prepare for our farewell dinner at the fado show. The food was great and the show was even better! It was a great way to end our time here in Portugal and Spain. My life is truly changed from this trip, and even my career goals have changed. I will make it a priority to get a career in Spain because I just feel like I belong there. These countries our amazing and I can't wait to be back!
Adios/Adeus Mis Amigos!