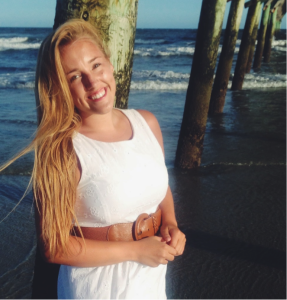 Hi there! My name is Elizabeth Meckel, and I just graduated from Point Park University with a Bachelor of Arts degree in public relations. I spent the past year as a special events intern at the Cystic Fibrosis Foundation, which was wonderful, and I hope to find a job in nonprofit as a postgraduate. In my free time ,I enjoy painting, cooking, and spending time with my friends and family! I really couldn't be more excited about this trip. I'm so thrilled to have the opportunity to get to visit different media organizations and companies in the various countries we're traveling to. I can't wait to try new foods and visit all the beautifully built places!
Day 1 – Spain & Portugal, Here We Come!!!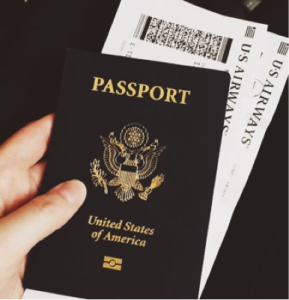 Flying into Madrid this morning was so exciting, seeing as I've never been out of the United States. Although I was very sleep deprived, it was still very exciting. Right after we got off the plane, we made our way through customs and then towards baggage claim. Thankfully, everyone's bags had arrived and we were on our way. After a minor mishap regarding a misplaced passport, we boarded a bus and took a scenic tour of Madrid. The first place we stopped was Plaza de Toros de Las Ventas, known in English as the famous bullring. After that we stopped into a little shop to get something to eat and then we made our way back to the bus!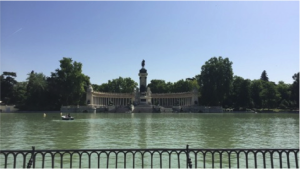 We then headed over to Retiro Park to walk around and eat lunch. It was a beautiful park filled with carefully trimmed bushes and a big pond. It would have been nice to have some more time to walk around and explore but after we ate lunch we were on our way to the Royal Palace. At this point in the day I was starting to feel the effects of the jet lag but I powered through it and toured the luxurious lavish palace. It was absolutely stunning. The room that stood out the most was the dinner area because there was a table for over 150 people, which was very impressive.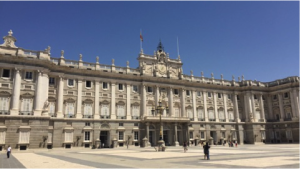 After we toured the Royal Palace, we headed to the hotel to unpack and relax a bit until dinner, and because of my exhaustion, I decided to take a nap! For dinner we went to this tapas restaurant where we tried a number of different tapas including ham and cheese dishes, egg and potatoes dishes, as well as many others! My favorite were the little fried balls of ham and cheese…I had about four of them! We then continued our tour of Madrid until we finally returned to our hotel. I have to say, I don't think I've ever been so exhausted but I'm excited to be here and to have this incredible opportunity.
Day 2- It's a Beautiful Day For Some Media Visits
This morning I woke up early so that I could get breakfast but sadly I was less than impressed with my options! After breakfast we traveled to the Universidad de Navarra to have a lecture by Professor Gustavo Garcia-Mansilla. Gustavo, originally from Argentina, was the Vice President of Conde Nast in the past and lived in Barcelona a for 7 years. He also founded 6 companies, with only one of them failing, which I think is very impressive!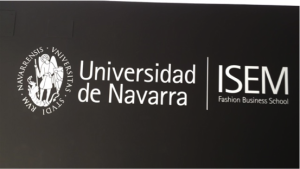 It was a very informative lecture on the Spanish media landscape from a present and future point of view. It was very interesting to find out that Spain is 1/40th in the U.S. market. He went onto explain more of the current state of Spain and the context behind the media landscape by explaining the economic crisis from 2008. Spain is currently still recovering from losses experienced in the crisis, leaving the unemployment rate at 35%. A really interesting point that he made that struck me, was that even though employment sits at 35%, the black market in Spain is occurring at a staggering rate. People who participate receive money from what they're selling as well as money from the government. Gustavo also informed us about how the current advertising market looks almost identical to that of 1995 and that Spain is the 7th country in advertisement expenditure. He also talked a little about CEO's and what they have in mind, which I found very fascinating. The four major factors that CEO's are focused on are political issues, strategic issues, organizational issues, and marketing issues. CEO's want to have influence, increase the barrier to the market, be efficient, and understand new consumer behavior. Gustavo's lecture this morning was incredibly enlightening and I'm excited to see how it applies to our visits.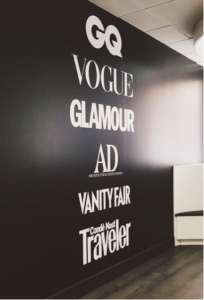 Following our visit to the Universidad de Navarre, we walked to a restaurant called VIPs, an American style restaurant, to have to lunch. I ordered the Caesar sandwich and Rilyn and I split the BBQ pizza, which was very good! After we finished our lunch, we traveled by foot to Conde Nast where we were given various presentations. My favorite part of the media visit was getting to tour the facilities. For a while one of my dreams was to work for a magazine and getting to tour an actually magazine like Vogue was really awesome.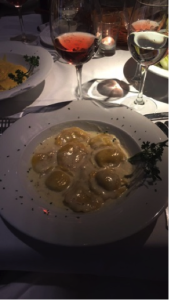 After that we returned to the hotel with some freetime so myself and a few other students got dinner at a restaurant called Le Mario Parrilla. I got this pasta dish called Dolce Vita which was delicious and we also had some Rose wine that was also really great! Overall it was a really great day!
Day 3- Why Doesn't Apple Have Any Social Media Accounts?!
Today we woke up early again to travel to Ketchum! We were given a variety of presentations from employees from the Ketchum office which were very informative. My favorite presentation from our media visit there was the one regarding chronic migraines. I never realized how much went into a campaign and it was endearing how committed they were to getting over the obstacles set by the government regarding the different laws and regulations they have to abide by. For example, they couldn't use the word Botox in their campaign and they couldn't tell people to see a neurologist, instead they had to set up that event where doctors would be present and it was kind of like a loophole! I just thought that was really awesome. I also thought it was great that so many women were employed in the Ketchum office. I think the percentage was 80%, which is a bit different in the United States! That was kind of shocking but really cool to hear.
Following our visit to Ketchum, we returned to the hotel and had a little free time to get lunch. Myself and a few others went to a café down the street. I got a noodle dish that had olives and an espresso which was delicious. We then walked around and then finally came back to the hotel since we had to leave for Havas Media shortly. We then traveled via metro to Havas Media where we had two presentations. My favorite was from Ollala Castro, who spoke about meaningful brands. It touches on how they wish to create real value for their clients and how they're interested in building financial value. Some of their clients include Wyndham, Durex, Unilever, St. Ives, and many others. My favorite part of the visit was after the presentations. When we were standing around after we took our group shot, I had asked Ollala something I've been wondering for a while, why doesn't Apple have social media accounts? She gave me a great answer by explaining how there is reason and strategy behind their choice to not be on social media. Apparently, by not being present on social media they are focusing on their customer service, their stores, and their advertisements. I thought this was very intriguing!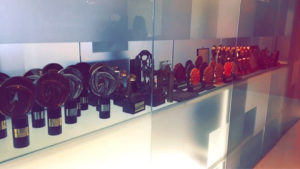 For dinner, myself and a few other students went to an authentic Spanish restaurant a couple streets away from the hotel. After that we ventured off to the Mercado San Miguel, a beautiful glass market, to have a glass of Sangria. We ended up meeting a group of students from Atlanta, Georgia who were on a similar trip as ours and it was really nice to talk to them and hear how their trip was going.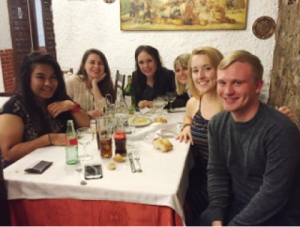 Day 4- It's Official, I'm Moving to Segovia!

I was super excited about today because it was our first real cultural day. First stop was the Valley of the Fallen, a 20th century war memorial located in a mountainous region northwest of Madrid. It was an absolutely stunning place, etched carefully into the side of a mountain. It goes down as one of the most beautiful places I've ever been to. First we walked through the Basilica de la Santa Cruz del Valle de los Caidos and it was simply exquisite. Following that we surveyed the area surround the Basilica and we were treated to beautiful views of the mountains. We also had the opportunity to drive behind the Basilica which was really cool.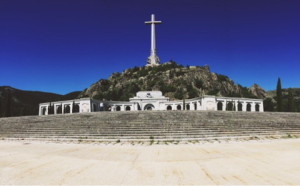 After that, we headed to Segovia, a smaller town north of Madrid that is home to one of the most significant and best preserved landmarks on the Iberian Peninsula, the ancient aqueduct. We got a great tour of the city, including the Alcazar de Segovia, a castle that sits on a rocky crag above the confluence of two rivers near the Guadarrama Mountains. Visiting the castle was very exciting because we had the opportunity to climb the stairs to the top and had a lovely view of the town of Segovia. My favorite part about our visit to the castle, however, was the one photo that remained even through the fire that occurred in 1862. It was striking to me because I thought about all the kings and queens that had looked at that photo throughout the years and I just felt lucky to be able to look at it as well. Another feature of the castle that I greatly enjoyed was the stained glass and the intricate images formed within the windows. Following our trip to the castle, we then walked to dinner where we were treated to a pig roast, which I was less than impressed by. Although I love trying new foods, I'm not a big meat eater, so I thought the whole endeavor was a little strange. The dessert however, was very good!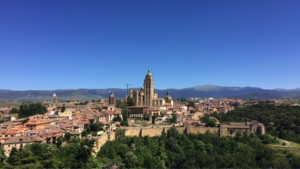 Finally our day concluded and we traveled back to Madrid. Since the dinner wasn't that filling, myself and a few friends went to get dinner at another restaurant. It was called Tommy Mel's 50's American Restaurant and it mimicked the stereotypical American diner. It was definitely interesting to witness the preconceived notions that people in Spain have of American food. I thoroughly enjoy todays and thus far it has been my favorite day. I'm excited to travel to Toledo tomorrow and then continue our journey onto Barcelona!
Day 5- Toledo & the train to Barcelona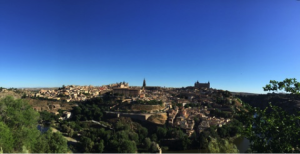 This morning we awoke rather early in order to have our bags packed and ready to leave for Barcelona after our excursion to Toledo. Toledo, located to the south of Madrid, took roughly 45 minutes to get to by bus. It was fairly early when we arrived to the ancient town and as we drove up to a high point, we were able to really appreciate the town's beauty and history! We stopped for a couple minutes to take pictures and look around and then we were back on the bus headed to a sword making shop in the town. The sword making shop was a great experience because we actually got to witness them making the swords and we also got to look around the shop and buy a few things if we wanted to. After the sword shop we headed by foot to the Catedral Primada Santa Maria de Toledo, a stunning cathedral located in the center of Toledo. Inside we were able to see the breathtaking architecture and pure beauty of the structure. It was absolutely incredible and unlike anything I've ever seen.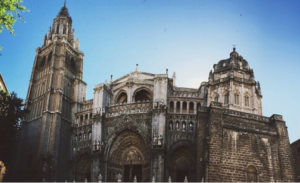 We didn't have much time in Toledo since we had to be back at the train station to catch our train at 1:30! So after a quick tour of the cathedral we were headed back to Madrid. We caught our train and were headed to Barcelona. The train was so peaceful and I was able to catch up on some sleep which was much needed. When we arrived in Barcelona we were given a tour by a tour guide named Patrick. After that we headed to our hotel, which was definitely an interesting endeavor to say the least because we had to walk through a bunch of streets to get there but it's all an experience, right?! After we got unpacked we met and traveled via metro to dinner. It was a really good dinner and we were able to try some Sangria. It was a great dinner and afterwards we headed back here to the hotel to get some sleep. Looking forward to the free day tomorrow.
Day 6- FREE DAY!
This morning I took the opportunity to sleep in and catch up on rest! When I finally got up, myself and a few other students walked around and then got some breakfast. We looked in some stores and then finally decided that we would walk through the city to the Sagrada Familia. We walked through the cutest neighborhood that was so quiet and peaceful. It was a strikingly different feel from the crowded and touristy La Rambla. On our walk we came across a little popup fashion shop that was there for one day only and we were really lucky because it gave us all an opportunity to experience an authentic piece of Barcelona. Then we travelled on to the Sagrada Familia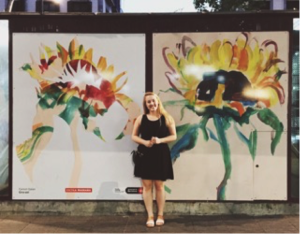 Later in the day we decided to go to a restaurant down the street for dinner. We had a variety of different tapas and we also got paella! I chose the seafood paella and everyone else got the vegetable paella but there really was no difference besides a shrimp and clam that was on top of mine! Following that, we had some gelado and then finished off the evening with our group meeting in the hotel.
Day 7- Mes Que Un Club
Today has definitely been one of my favorite days so far on the trip. This morning we got an awesome presentation at TV3 by Teresa Guitant, of International Relations and Sales. She gave a brief overview of Catalunya and how it's not a dialect but a language all of its own, similar to French and Spanish. She explained how TV3 came about because of the Catalan government in 1993. It's main three sectors are new, fiction, and sports. TV3 is a generalist channel that shows the soap operas. 324 is the news, E3 is sports, and Super 3 is kids as well as cultural programming. Teresa explained how the budget of the company has gone down since 2008 by 40% but still remains #1 in ratings. TV8 and Tele5 were channels that they had to shut down as a result of the economic crisis. My favorite part about our lecture was when Ferran Molinas spoke about the branding of TV3. He explained how the company has had the logo for 10 years and they have no plans of changing it. The logo represents the red and yellow in the Catalan flag which I think is pretty cool. Following our lectures, we got a great tour of the facilities, which were massive I must add. My favorite part was getting to look inside where they make the wigs and masks!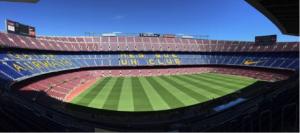 After we spent a couple of hours at TV3, we were off to get some lunch and then headed to Camp Nou, home of FCBarcelona! Founded by Joan Gamper, Futbol Club Barcelona, also known as Barce, is one of the most popular football clubs in Spain and Europe. We got a great tour of the facility, getting to walk through the locker rooms and even up to the media booths that overlook the stadium. My favorite part about the visit was how on the stadium there is a saying, Mes Que Un Club, which means "More Than A Club." Throughout the stadium and museum, it was evident that this football club had made impacts inside the stadium in the sport of futbol, as well as outside the stadium within the community and I think that's really awesome!
Day 8- Headed to Lisbon!

Today was an interesting day because we had to get up early to have all of our things ready to leave Barcelona. We had our things packed and we ate at the hotel breakfast one last time. After that we got a we traveled by bus to La Vanguardia, a newspaper for the older generation, located in a very lovely neighborhood in the city. It was a very informative talk because we found out that the newspaper didn't go in debt during the financial crisis. I really enjoyed taking a tour of the building and of the different studios. I thought it was interesting that there was barely anyone in the news offices. Something that struck me however, was their lack of social media, which they admitted to. I think in this day and age, social media is so important and without the newspaper will die out with the older generation.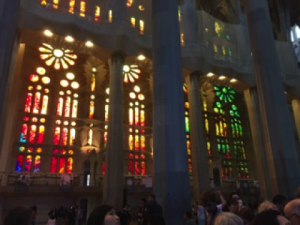 After that we traveled to the Sagrada Familia, a stunning structure designed by Antoni Gaudi, which is still in the process of being build and has been since 1888. When looking at it from the outside, it really didn't impress me much, but getting to walk around inside was absolutely stunning and breathtaking. The stained glass was the most striking feature in my opinion. It was so colorful and rainbow like! It was also just so grand and I felt very small being in there and as though my photos couldn't accurately portray the massiveness of the structure.
Following our visit to the Sagrada Familia, we headed to the airport. It was rather upsetting because we had to say goodbye to our tour guide, Mauricio. He was so kind and knowledgeable. I feel blessed to have had him as our tour guide! Side note: the Barcelona airport is seriously the nicest airport I have ever been in. It was so luxurious and big and I could probably write a whole separate blog post on how much I loved it! We boarded our flight to Lisbon and we arrived as the sun was setting which was absolutely beautiful since we flew over the city as we were landing. We got our hotel rather late this evening and after I finish writing this I'm off to bed because I'm seriously so exhausted. I don't think I've ever been so tired. See ya tomorrow!
Day 9- Dear Lisbon, You're Beautiful!
To my surprise, Lisbon was a lot colder than Madrid and Barcelona. I think part of it had to do with the heatwave. I was told it's not normalling this warm in Europe during this time of the year. Someone else was also saying how apparently, this time of year is normally rainy so we've been very lucky this past week. This morning we woke up a little bit later than usual and took a tour of beautiful Lisbon and visited the Belem Tower which was cool. One of the things that is the most striking to me about this city is how similar it looks to San Francisco, especially the bridge. Following our tour of the city we went back to the hotel and then walked by foot to a cafeteria-like restaurant. I had a salad, a quiche, and this pastry thing, and it only cost 5 Euros which I thought was incredible because in the States it would probably have cost around $10.
After that, we traveled to the University of Lisbon and were given three really great presentations from Paulo Faustino, Lara Alameh, and Joao Palmeiro. I loved what Joao Palmeiro had to say about Google and the presence of the Chinese search engine Baidu. You could just tell that Mr. Palmeiro was an incredibly intelligent man who knew what he was talking about! Finally after our lectures, we returned to the hotel motel holiday inn and we got ready to go to dinner. Myself and a few friends when to the docks under the bridge. It was an absolutely beautiful area and we decided to get dinner at this restaurant. It was very cold out but thankfully they had blankets for sitting outside. It was honestly the best dinner I've had so far on the trip. I ate so much bread and olives and this delicious mushroom appetizer. I can't believe that we only have two more days left on the trip but I'm really excited to be back in the States.
Day 10- Last Media Day
Today was our last media day and we visited RTP and Global Media. I absolutely loved going to RTP because Abbey and I befriended the intern who was honestly one of the nicest people I've encountered on this trip! Her name was Cintia and she was a student from France who was doing an internship at RTP. Such a lovely soul!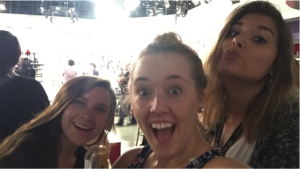 Following that we went to Global Media and although the stairs to the news room was pretty rough for someone with asthma, I thought it was cool to see the people working and everything! My favorite part of the day however was getting to walk around the historic area of Lisbon. One of the crazy moments of the entire trip happened to me in H&M. I was walking around when all of the sudden I looked down and below my feet was glass that looked through onto Roman ruins. It was such a crazy moment where it really hit me the amount of history that was amongst my friends and me. I'll never forget that moment.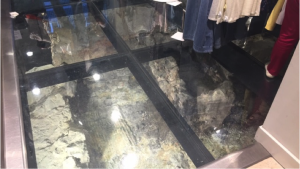 After we looked around some stores we went down to the square and Lisbon and then had a delicious meal at an affordable restaurant! It was a really great night for sure.
11- Let's Go to the Beach!!!
This morning we traveled to the town of Sintra, which was absolutely lovely. Myself, Olivia, Greg, and Rilyn ended up wandering around into little shops and it was such a peaceful and relaxing morning. I bought A LOT of gifts for people in Sintra and ended up dragging them around with me but I didn't mind. I absolutely adore buying gifts for people. Something hilarious happened however when we were in Sintra. I really love architecture and I love all the tiles that I've seen during our stay here in Lisbon. I was taking a picture of these blue tiles and all of the sudden I realized that the pattern of the dress I had bought from H&M the night before and was wearing, was almost identical to the tiles. It was one of those things that you can't help but laugh at.
Following our time in Sintra, we traveled to the lookout at Cabo de Roca which was just stunning. We then continued on to Cascais, a breathtaking coastal town where we stopped for a couple of hours to get lunch and to look around. We also had the opportunity to sit around on the beach, which was really lovely!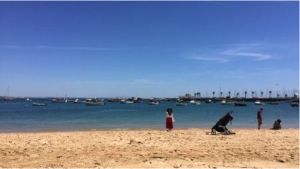 ­­
After looking back on the trip, today is the official winner as my favorite day. I was completely exhausted today and I'm pretty sure I'm getting sick BUT there's no way I couldn't enjoy this absolutely beautiful day. Visiting Sintra and the beautiful outlook over the Atlantic Ocean at Cabo de Roca, I was overwhelmed by the beauty. This trip has definitely been filled with so much knowledge and stunning views and just pure exquisiteness. I feel so blessed and thankful to have had this opportunity because I know that not everyone does. I'll never forget this trip, the knowledge I've gained, and the friends that I've made.