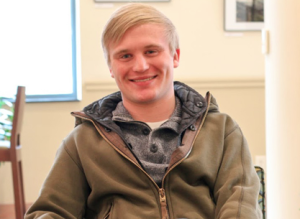 I'm Greg Schillinger, a junior public relations and advertising major at Point Park. Originally from near Indiana, Pa., I decided IUP wasn't my calling and made the move to Pittsburgh. And I've been having a blast ever since. Although I've extensively roadtripped the U.S., I have never had the opportunity to travel overseas. I'm thrilled that I am going to experience a completely new world! (And maybe learn something along the way.)
Day 1: Madrid
Visiting a completely foreign country was something I had never done before. Canada was great, but I was young when I was there, and experiencing it was not a total cultural change. I was excited to arrive to Spain and take a look at all the differences between Spanish life and American life.
The first thing that I noticed when we got off the plane in Madrid was the airport's architecture. Unlike Pittsburgh's airport which is very much more industrial- with all of it's cement and glass- Madrid's airport was open, airy, and colorful. The vibe I immediately got as I wound my way through the maze of hallways and platforms was warm and exciting, and I couldn't wait to see more of the country.
Soon after we landed, we made our way to the tour bus. As I got on, I noticed that the bus had a manual transmission. I couldn't believe what I saw, as manuals are few and far between in America; and a manual tour bus surely wouldn't be found on American roads. When we got into Madrid, I started to realize that, just as I had heard, most cars were indeed manuals. As a manual driver myself, I was thrilled to see how just many people could operate, and lived with, these cars. I loved watching each car, one after another, drift back before accelerating at traffic lights.
The next difference that I noticed between the United States and Spain was a much smaller detail. As I finished drinking my can of Coca Cola that I purchased at VIPS, a Spanish restaurant chain, I noticed that the color of the can was a different, more brilliant red than those in America. I also noticed that the metal can was heavier. As an avid Coke drinker, I wasn't sure how I felt about the change to the brand I know and love, but It was interesting to quickly see how products and packaging are changed for different markets.
A final detail that are me realize I want in Pittsburgh anymore was the architecture of the city. The buildings were tall and heavy, with ornate character. Each floor and every window had carvings and flair that made for giant sculptures around every corner. The streets turned haphazardly through the city, many of which were closed to automobile traffic.
Madrid obviously has a fantastic history and culture and I cannot wait to discover more of it.
Day 2: Madrid
The second day in Spain was incredible. I never thought I would get excited about visiting the offices of a fashion Magazine, but seeing and speaking with those who create Vogue for the Spanish market was exciting and informative than I could have imagined. The offices of Condé Nast, the family operated may that one publications such as Vanity Fair, Vogue, and Coné Nast Traveler, were located inside a beautiful historic building, but were contemporary and fashionable. Natalia Gamero del Castillo, Vice President of Development at Condé Nast Spain, began our day with some history and value of the company. According to DSL Castillo, as well as Javier Pascual del Olmo, President of Condé Nast Spain, the company is the largest family owned company in the world. Everyone who spoke to us mentioned this, and was excited that they had the freedom to make long term decisions for the company, as they are not on the stock market, and sot have to please shareholders.
Some of the challenges that the employees of Condé Nast mentioned that the company faces has to do with the fact that they are a Magizine and the world is quickly becoming primarily digital. Although they do have digital editions for each of their magazines, Condé Nast focuses on creating beautiful publications- and that quality gets lost when viewed on a digital device.
Later in the evening, a group of us went out for dinner. It pains me to write this, but our fist stop was TGI Friday's, for drinks and appetizers. We did meet a great bartender, Lucianno, from Venezuela. He recommended some restaurants, and helped us out with some Spanish.
We then made our way to El Pajar, a local restaurant. None of the wait staff spoke any English, so we knew we were in a good place. I ordered a tortilla with Spanish vegetables, which is similar to an American omelet crossed with a quiche; it's a thicker, circular egg creation with vegetables baked it. It was delicious.
After dinner we went to Mercado de San Miguel, a modern marketplace, for more drinks and gelato. We stumbled upon a group of students from Atlanta studying abroad and enjoyed some English conversation before returning to our hotel.
Day 3: Madrid
Today we visited Ketchum Spain, and Havas Media. Ketchum, which originated in Pittsburgh, is a Public Relations company that specializes in public affairs, crisis manage, lobbying, and training, and basically any services that are valuable to their clients. Their main client is Proctor and Gamble, but they also work with many more companies, including Hugo Boss, Lacoste, and McDonald's. A specific client's case study that a Ketchum employee discussed with us is that of Roachas Fragrance, a French company. Ketchum worked on Roachas' "Magic Moments" Campaign to promote the fragrances, especially around Christmas and Mother's Day. Throughout the campaign, Kerchum wanted to maintain the idea and feeling of French Luxury. To do this they employed Nieves Alvarez, a well known Spanish model. One thing that was mentioned that I thought was an important lesson to take away was that they only used one photo of Alvarez with the fragrance. This was to get the public familiar with her face being linked with the brand.
After Ketchum, we went to visit Havas Media. Havas is an $18 billion media group that focuses on building "Functional, Aspirational, and Meaningful" brands. Their business uses data to analyze the usefulness of brands, as well as the public's perception of the brands. According to Havas, most people would not care if 70% of all brands disappeared. But brands are important and Havas is working to make brands stronger than ever.
Havas media is a large company, and currently holds 26% of the Spanish advertising market, with more than 800 employees.
In the western world, as mentioned above, many people do not care about most brands. Yes, we all have favorite brands, but compared to the amount of brands on the market, we each care for only a handfull. We have become "brand agnostics"; even if we do have a favorite brand, we don't blindly support them, we expect them to show us why they are superior with each and every purchase we make. This is very different from the sentiments in developing countries. Instead of companies selling items, they are selling life improvements. For example, a car company advertisement is easily ignored by most Americans, but in developing countries, car companies have the ability to sell a product that completely change a person's life.
Day 4: Madrid, Segovia
We began our first day of sight seeing with a trip to the Valley of the fallen; a memorial for over 30,000 people who lost their lives in the Spanish civil war. The memorial is on the site of a ministry, and a church, which is located inside a blasted out mountain. The interior of the church, which is a long tunnel, is decorated with beautiful tapestries and many carvings and designs in the rock walls. At the end of the tunnel is the alter and service area. Francisco Franco is buried near one of the central alters, as long with other important Spanish political figures.
Outside the cave, the expansive view was incredible. Mountains, Pine forests, bright blue skies- the scene was from a postcard. The extravagant church and the breathtaking landscape made for a very moving memorial.
From there we went Segovia, an old city that has managed to preserve centuries of Spanish culture. One of the first landmarks you see when entering he town is the castle. Complete with a mote, drawbridge, and towers, this castle is the real deal. However before visiting the castle, we had lunch in a square where we could enjoy the view of the 2,000 year old roman aqueduct. It was, and still is, an astounding architectural achievement.
We then made our way to the castle and toured the interior. Tapestries adorned the huge walls of throne rooms and gold covered the carved wooden ceilings of dining and meeting rooms, although most of the furnishings are reproductions, as the original castle burned to the ground Many kings and queens resided in the castle over the centuries and their portraits can be seen throughout the rooms.
After our visit to the castle we had a small amount of time to look at through the various shops on our way to dinner. We could have easily spent hours looking at all the handmade good, which ranged from clothing, to pottery, to decorations and paintings. But dinner was waiting for us.
Our meal was had at a local Segovian restaurant. On the menu was an egg and vegetable entrée, rose beef or suckling pig. Although I had the vegetarian entrée, many got the suckling pig, which was an experience just to watch. The whole piglet was brought out and cute with a plate. After the meat was divided into portions, the plate was thrown to the floor, as Spanish tradition dictates.
The day was exciting and full f new experiences. I only wish I could have spent more time in such a beautiful city.
Day 5: Madrid, Toledo
Today was our last day in Madrid. We boarded the bus at 8am and headed to another old city, the city of Toledo (not in Ohio). This particular city is famous for their award making and other metal crafts. Also in Toledo, is a massive old cathedral. Inside the gothic masterpiece is one main alter, with many other smaller chapels around the perimeter. Iron, stone, and wood are utilized throughout the entire building to create intricate statues and carvings of revered biblical figures, as well as important clergymen.
In one of the rooms, where the bishop met with others to make important decisions, portraits of each bishop since the cathedral was commissioned were displayed. It was interesting to see the faces of these men, but it was also interesting to see how portrait painting has progressed through the decades.
After our tour of the cathedral was over, we got back on the bus and drove back to Madrid to catch our train to Barcelona. I have never been on a quick "sprint" train before and it seemed so much more efficient than any transportation that we have in the United States. At one point we checked the speed that the train was going- 178 miles per hour. Maybe someday America will catch up.
When we got to Barcelona we boarded a coach bus and went on a tour of the city. The first stop was at the top of a hill overlooking the city and the Mediterranean Sea. The feeling of the city was much more tropical than Madrid. We got back on the bus and drove through the city, looking at the architecture of the building and city blocks. Bike lanes took up a large portion of the space for the roads, and our tour guide mentioned that this was in an effort to to limit automobiles. Also limited were the roads on which tour busses could travel, and because of this we had to walk what felt like ten miles to our hotel.
Day 6: Barcelona
Today was our first free day in Barcelona. We took advantage of not having anything to do in the morning and slept in a few extra hours. After waking up we decided to take a walk and get some food. Our walk turned into an all day excursion to La Sagrada Familia and back.
We found some gelato for breakfast and as we ate it we walked along the streets , shopping for gifts and taking in the sights. We found a map and asked a doorman at a hotel how to get to the church. He was happy to help and showed us a route that we could take that would enable us to see other works by the same architect that designed the church.
As we walked along the streets we entered many little shops looking for gifts for various family members and friends. Most of the shops were full of the same cheap junk that tourists love to buy, but we found a pop up shop that we ended up spending a lot of time in.
The shop was only there for the weekend and had around 25 booths of local designers and venders selling clothing, accessories, home goods, and other handmade items. We all got something, I got a handmade wallet. It was nice to get something nice and memorable that wasn't from a shop that sold things that were on every street corner.
After finishing shopping we kept walking to the church. It seemed like we would never get there. We joked that our journey was just like the church, it would never be completed.
When we finally got to the church, I was actually disappointed. From a distance, the church looks interesting, but close up it look odd, and is obviously under construction. We only stayed for a few minutes, and then caught a taxi back to our hotel.
For dinner we went to a Spanish restaurant not far from our hotel. The food wasn't that good, but it was a fun experience, as the gave between Barcelona do Madrid was on and the waitstaff was excitedly watching.
Day 7: Barcelona
Today we also visited TV3- the Catalonian public television organization. TV3 was formed in 1933, after Franco's government. TV3 is the main channel of the station, but they also have four other channels, which include a sports channel, a children's channel, and other news channels.
TV3 has suffered from he financial crisis in Spain. In the last two years their budget has decreased by fourth percent, although they have been able to remain the number one in quality, perception and ratings. Their current funding is seventy percent public and thirty percent government.
After our TV3 visit, we went on a tour of Camp Nou, the stadium of the Barcelona Football team. Built in 1957, the stadium is showing its age, and plans are being discussed for its replacement. But the energy in the stadium is still as strong as ever. Even on a day where there wasn't a game or an event, there were many people scattered through pout the seats. Many were probably on guided visits, just as we were. Our tour guide took us to the main level, to the top, into the press boxes, and down to the press room. It was exciting to be where journalists and broadcasters spend their time, working on the many football by locations and stations of the country. We also got to see the locker room for the visiting team, which was very well equipped. I can't imagine how nice Barcelona's locker room is.
Although I am not a huge professional football (soccer) fan, I can appreciate how important the sport is to the people of Spain. At each of our media visits the topic of football came up. Before I traveled to Spain I did not realize how huge the football industry was, but it's enormous- and it was exciting to be at the place where it all unfolds.
Day 8: Barcelona
Today we visited La Vanguardia, a Spanish newspaper. Topics of the discussion included the paper's financial situation, as well as future goals. It has been published for 130 years, and has been published in two languages, Soanish and Catalonian, since 2007. La Vanguardia is the second largest paper in Spain, behind El Pais, with 150 thousand copies distributed daily.
The newspaper is working on building it's digital prescience, but has run into issues with readers not wanting to pay for digital copies of the paper. Out of the sixty-two thousand subscribers, only five thousand have digital subscriptions, although ten thousand read a form of the digital paper daily.
La Vanguardia still struggles with finances, just like most of the media outlets we have visited. Because of the financial crisis, they lost seventy percent of their advertisers.
After La Vanguardia, we visited Sagrada Familia, a church in Barcelona. This building was partially designed by architect Gaud and has been in construction for over a century. After years of slow downs due to lack of money and unanswered questions left after Gaudi's death, the church is set to be completed in a few more decades.
Although the Sagrada Familia is large and extravagant, i was not a fan of the design. I also did. Or like the fact that it has cost so much money. Years ago, people tithed and paid for a new church. Today, the church is a tourist trap and is funded by ticket sales- it serves no purpose other than selling tickets. I understand tat the people of Barcelona love it and treasure Gussie and his work, but I can't help but feel like the millions and millions of dollars could have been better spent- like helping the poor and needy, for example. For me, La Sagrada Familia perfectly exemplifies the excessive waste in the religious institution.
Day 9: Lisbon
Today was our first full day in Lisbon, Portugal, and I have to say that I am loving my time here. We began the day with a bus tour of the city, guided by our new Portugese tour guide, Odette. Some things that stuck out to me were the stone sidewalks and roads, as I mentioned before, the beautiful, colorful tiled buildings, and the purple flowering trees, jacaranda trees, that lined the streets. Lisbon has many squares with fountains or sties in the middle, which reminded me of what a post-communist, Eastern European city would look like. I've never been to Eastern Europe, but Lisobn looked and felt very different than the festive, tropical, touristic atmosphere of Barcelona.
after the tour, Odette showed us a great restaurant to get some lunch. I got a lot of food from the buffet and was so surprised when it only cost me around five euros. We started to realize that what we're were told was true; because of the financial crisis, things were very affordable for us tourists.
We then boarded the bus and went the day's media visit- a lecture at the university. Paulo Faustino spoke to us first. His discussion about the Portuguese Media Market covered topics such as the big players in the media landscape, as well as the problems that they are facing. Problems include lack of money and language barriers.
It was also mentioned that Portugal is desperately in need of a younger population. Many young adults are leaving Portugal for other countries with other opportunities, and the country is running out of people to carry the country forward.
Laura Alameh, who works for an organization that deals with U.S. and Portugal relations, also spoke to us. Her lecture was a positive one- she believes that Portugal has a great opportunity to build a better relationship with the United States, and could also be strategically beneficial to the development of Africa. She also mentioned that Portugal is an extremely creative country and that their future will be bright if they can find the right markets to form relationships with.
The final speaker at this particular media visit was João Palmeiro, president of the Portuguese press association. Palmeiro discussed the financial crisis and ways that Portugal can over come it. His lecture covered everything from Portugal's long, peaceful history, to the future of technology in Europe and China.
later in the evening, we had some free time to get dinner and experience some night life. We went down to the docks at the river and had a very lovely dinner at a small restaurant. The wait staff spoke little English, but was thrilled that we chose to eat at their establishment and loved interacting with us. It was a chilly night and they encouraged us to eat outside by the water, and provided us with blankets and a heat lamp. The food was incredible- I had past with vegetables and lots of bread and wine. I've decided that I enjoy the food in Portugal much more than the food in Spain.
Day 10: Lisbon
For our final day of media visits we visited RTP- Portuguese public television and radio broadcasting. Leading the lecture was Carlos Maio, director of international Relations. Topics of the lecture included the financial status of the organization, as well as the future goals. RTP focuses on broadcasting education, informative, and cultural programs, and refuses to air programs such as reality tv, even though they would be profitable. Currently, each household pays 2,65€ for the sustainability of the service, and RTP is constantly working on ways to explain to the public why it is important to continue to pay. And since they need the public to remain interested in the service, they are always looking for new exciting programs to keep audiences come back.
our last European media visit was at Global Media Group. Global Media owns many different media, including two sail news papers, two travel magazines, two regional papers, as well as two printing companies and one distribution company. The CEO of the group discussed the organization's 2015-2017 strategy. Global media finally returned to being a profitable company this March, and they are the most financially secure media company in the country.. In order to maintain this growth, practical innovations, the digital press, and a focus on the affluent readers will be emphasized.
Our final free night in Lisbon was spent wondering around the town shopping and sight seeing. We had dinner at an authentic restaurant and, once again, we were surprised at how wonderful the meal was and how cheap it was. Our meal included wine, bread and olives, salad, an entree, and a desert, all for 16€. The quality of the food was the best I had experienced the entire trip and eating in the outdoor area was a great experience. Each night had me loving Lisbon more and more.
Day 11: Lisbon, Sintra, Cascais
Our final day of tourism was so enjoyable. First we visited the old town of Sintra. Located just a short bus ride away from Lisbon, Sintra is a town full of old buildings, steep streets and little shops. I finished buying some gifts for my family and wondered around getting some food and just relaxing.
the town reminded me of Toledo and Segovia. The historic buildings and beautiful sights are completely different than what we have in the United States. If I ever make it back to Europe, I would love to spend more time in these old towns.
After an hour or so, we got on the bus and drove to Cabo de Roca, which is the western most part of Portugal and Europe. The landscape and views from the cliffs at this location were fantastic and actually reminded me a bit of some of the coastline in Oregon, in the United States.
After another bus ride, we ended up in the coastal town of Cascais. It was beautiful. Five star hotels lined the streets, as well as great restaurants and shops. Before adventuring too far, we got some lunch. Again, wonderful food, reasonable prices. Every time we ate in Portugal it seemed like we were getting 25 dollar meals for 15 euros.
After lunch our group split up- some wanted to go to the beach, others wanted to shop. I walked around with those who wanted to shop and enjoyed my time just wandering through the streets and squares.
Eventually we did make it down to the beach and met up with many of the others on the trip. It was neat to see the Atlantic Ocean from the other side. The water was much to cold for me to swim in it, but there were a few people who took the plunge. After relaxing on the beach for an hour or so, we got back on the bus and went back to our hotel to freshen up for dinner.
Dinner was at a theatre and while we ate, we were entertained by a fado show. The show was a mix of dramatic, mourning music, and folk music and dance. It was actually a fantastic time.