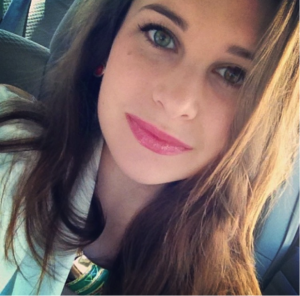 Hi! My name is Abbey Newhouse I am a junior at Point Park University studying public relations and advertising. During my last two semesters, I have written for Point Park University's newspaper, The Globe. Over the past two years, I have helped with special projects for The Pittsburgh Film Office. I currently work for The Milkshake Factory surrounded by all things sweet and have been a sales associate there for a year and a half. During my spare time, I love to capture and explore nature whether that is through photography, drawing, or simply walking; I love being outside. I have never traveled outside of the United States before, so I am very excited to be able to explore and start a new journey traveling to Spain and Portugal.
Madrid, Spain
Day 1
May 12, 2015
Today I arrived in Europe for the first time. My adventure begins in Madrid, Spain where the skies are clear and the air is warm. Upon arriving into customs I realized that my passport fell out of purse. I was automatically frantic, nervous, and overwhelmed. Luckily I met a woman that helped step by step through the process of retrieving my passport. I learned the hard way to always check your purse before you leave somewhere. When I received my passport and met my group in baggage claim where we boarded our bus. My fellow peers and I were thrilled to finally be out of an airport after 16 hours of traveling. I was ready to begin my journey through the beautiful city of Madrid.
Our tour guide for the day, Olga, took us to Las Ventas, 1 of 2 bull fighting arenas in Europe, where we learned about the famous bull fighting history in Madrid. We then made our way to picnic in Parque del Retiro. While walking through the park I automatically noticed how well kept and clean it was. Also, how the monuments have beautiful old architecture filled with rich history. I was able to capture a glimpse the European architecture that was yet to come.
Once we relaxed and ate lunch we gathered to go see the Royal Palace. While touring through the kings occasional home, I was able to see the luxurious rooms. Some decorated in the first style of decoration, Rococo, and a room that was made in only Porcelain. Filled with royal art collections and one of a kind furnishing, The Royal Palace was truly breathtaking
While touring through the city I was surprised to see how many businesses and advertisements were in English. I learned how important it was for advertisers to attend to their target markets needs. Which in this case are the tourists. My day was packed with many emotions consisting of excitement, nervousness, anxiety and exhaustion. I was able to think about the many positive things that are yet to come during the next two weeks. The first day was hard to get through but tomorrow I will wake up refreshed and ready to journey through the city of Madrid.
Madrid, Spain
Day 2
May 13, 2015
I started my day with the best coffee I have ever tasted. That was the magic that kept me alive since I was still recovering from our exhausting first day. Today was our first day of media visits to Universidad de Navarra and Conde Nast. I will just say the day was filled with a once and a lifetime visit to Conde Nast and an informative lecture at Universidad de Navarra.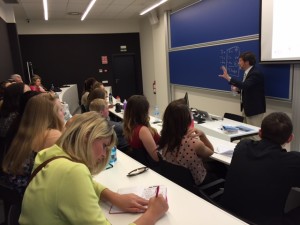 Our first lecture took place at one of the top ten business schools in the country. The university is also a very prestigious fashion school, ISEM. Professor Gustavo Garcia-Mansilla, the former Voce President of Conde Nest, talked to us about the present and future of advertising in the media players around Spain. I was very surprised by his introduction. The first slide was his personal motivation consisting of his wife and family. By showing us/complete strangers, his motivation and team showed me a way of life that I can only hope for. As he went on with the lecture he taught us the percentages of many different areas in media companies. Like GDP, highest markets of websites, top T.V channels and stations, etc. The best advice I took away from this media visit was the advertiser should treat the consumer with respect and like they are the most important person.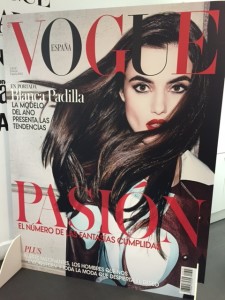 Our second media visit was to Conde Nast, the publisher of the 6 established magazines GQ, Vogue, AD, Vanity Fair, Glamour and Conde Nast Traveler. Attending a visit to this establishment was a once and a lifetime opportunity to learn the inside of these well known magazines. The visit was filled with the many aspects and departments of the publishing company. I was amazed by the stories behind the many different covers of Vanity Fair; astounded by the video they made for our class, and thrilled to have been able to have the opportunity to learn what it takes to publish these top magazines. I left Conde Nast with hope. If my I sent my resume to them hopefully they would think I was related to the owners, the Newhouse family.
To end the day, I enjoyed a relaxing dinner with my fellow classmates. My second day of Spain was pretty unbelievable.
Madrid, Spain
Day 3
May 14, 2015
I am currently addicted to their espresso now. This morning I enjoyed a cup to wake me up for our media visits to Ketchum and Havas Media Group.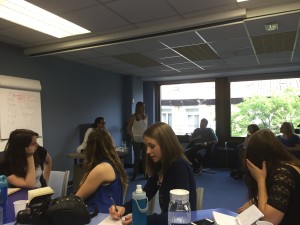 When we arrived at Ketchum a lady greeted us with excitement because we traveled all way from the original city Ketchum was created, Pittsburgh. As our conference began a woman name Lordes Bustamante, Senior Account Executive, talked to us about a case she has previously worked on called Rochas moment's fragrances. I was extremely impressed because she was apart of a team that created a PR campaign for a product that didn't have innovation. Their strategy was to create one image that is easily identified by consumers. As the conference went on all of our guest speakers were women, including one of the CEO's. She said "Networking is key. The Client has to trust you." This advice is true. Networking is key to finding job in your industry. Also, trust plays an important role between the client and the agency. Being able to sit through a company that is run by 85% women is a very motivating experience. Especially because I aspire to work a PR firm similar to Ketchum.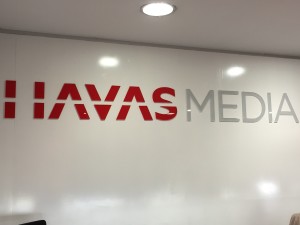 Our second media visit was to Havas Media Group. Until our media visit I was unaware what the company was. As our meeting progressed, CEO Niko Munoz explained that Havas is a huge global advertising company. Their clients consisted of major global brands like, Ikea, Durex, Ben and Jerry's, and Suave. A woman, title, explained their biggest launch strategy called Meaningful Brands. Meaningful brands mission is to create a meaningful connection between the brand and the consumer. Havas has created this strategy through extensive analytic research. Their strategy aims fro brands to understand the costumer and quality of life. As a PR and advertising major I strive to be apart of advertising that cares about creating an image to better the consumers life.
As we finished our day of visiting these two companies, my friends and I enjoyed a great meal at El Pajer. The waiter's did not speak English but were very nice and patient as we tried our hardest to order and communicate with them throughout our meal. After dinner we wondered around Madrid and arrived at a Market filled with a variety of stands. I ordered a chocolate gelato and enjoyed every delicious bite. The richness of the gelato was a great way to end my accomplishing day.
Madrid, Spain
Day 4
May 15, 2015
Immediately waking up today I was very excited for our adventures we were going to experience. As we were boarding the bus the weather was cooler than the previous days but the air felt cool and refreshing. Our bus ride was about an hour away to our first destination, Valley of the Fallen.
As we were driving outside of Madrid the valleys were so beautiful look at through the window. I didn't need any entertainment because my eyes were glued to the window. We drove up this mountain with a huge cross at the very top upon arriving to Valley of the Fallen.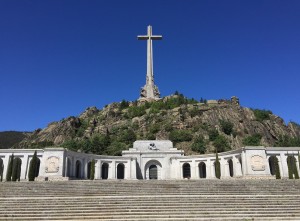 we walked towards the cross a huge patio of multiple layers overlooked a breathtaking view of the mountains. As we were about to enter the church that was built into the mountain a group on Nuns were walking up the steps and the view could have been the cover of Time magazine.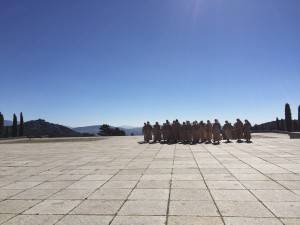 We walked into the Cathedral and I could not believe that I was walking through a church that was built in a mountain. The overall experience of visiting this destination will be something I will never forget.
The day was not over yet. We traveled to a village called Segovia.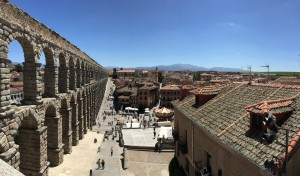 The village was filled with old historic buildings. Through the village was an aqueduct that was only being held by stones, no cement. The village was a site to see by itself but had multiple places to see within it. Like a castle that was burnt down and rebuilt in the 1980's, the streets filled with locals and tourists, and the overlook of Segovia. The whole village had so much beautiful culture. The alleyways between the European buildings were decorated with vines and beautiful stone.
As we were waiting to go into the castle I was throwing pennies into a pipe that had other coins in it. As I was trying a group of elementary kids showed me the right way to do it. They were so excited when my penny landed in the pipe and clapped while saying again, again. This is a memory I will never forget.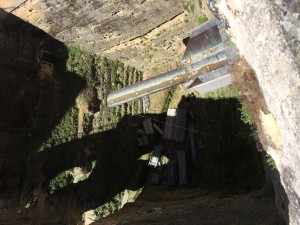 The overall day was filled with beautiful sightseeing and a once and a lifetime experience interacting with Spanish culture. I am so blessed I was able to see the cathedral of valley of the Fallen and the village of Segovia.
Madrid and Barcelona, Spain
Day 5
May 16, 2015
I woke up earlier than usual to be able to spend half of the day in a village called Toledo before our train to Barcelona. I wasn't able to drink my morning cup of coffee. But, I didn't need it because the view of Toledo certainly woke me up. The village is surrounded by the Tagus river that flows all the way to Lisbon. "if you separate from the group you can catch a boat and float to Lisbon to meet your group there," Mauricio said jokingly.
Toledo is known for their medieval swords that are hand crafted by masters. The masters have to study for 5 years before they can claim the master title. While we were in Toledo we visited Primada Santa Maria de Toledo, the gothic medieval style cathedral. The church had a monument inside that was made by sculptures and paintings up the wall onto the ceiling and into the window. It was the prettiest artwork I have ever seen. I though it was interesting how wealthy families could by private chapels inside the church. It is a most see destination in Toledo because of its gothic architecture and the fact that it took 300 years to build.
We left Toledo around 11 in order to make it to the train station at before 1. The train ride was so relaxing and beautiful due to the view of scenery. I was able to see the inlands of Spain surrounded by mountains, valleys, and old villages. The ride was very smooth and peaceful. I wish I were able to ride a train more often because I would choose a train over a plane ride any day.
Upon arriving in Barcelona we took a mini tour of the city. I was so excited to see this city because I have heard nothing but wonderful things. Our first stop was an overlook of the entire city. I had no idea Barcelona was so big but it was so beautiful and I wondered how am I going to be able to see even 5% of this city in 3 days. After our stop at the overlook we continued with our tour and were able to check into our hotel at 6:30. Since our bus couldn't get close to our hotel because it was in a narrow alleyway we had to walk through Barcelona with our entire luggage to get to our hotel. The streets were crowded with people because we were in the tourist hot spot.
We checked into the hotel and got ready for our group dinner. Mauricio led us to our restaurant that was in the part of Barcelona with all of the high-end shops and one of the Gaudis famous architecture pieces. During dinner everyone was having a great laughing and telling stories of our trip so far. Our food at dinner was the best we have had so far. The whole atmosphere at dinner was filled with everyone having a great time enjoying a good meal.
Barcelona, Spain
Day 6
May 17, 2015
Our free day is finally here. There are so many places to see in Barcelona. Unfortunately I had a late start to my day because I was able to catch up on some sleep. Once I was able to wake up I was ready to start exploring the city.
I met up with Liz, Bryn, Olivia, and Greg to start our day with a nice walk around Barcelona. We stopped into a gelato place that was delicious. I wanted a flavor that was refreshing so I ordered coconut and mango. We continued to our walk and finally decided to go to the Sagrada Familia. We asked locals for the best directions to walk there. A man suggested walking the path that follows Gaudi's, famous architect, buildings. This included the Sagrada de Familia. It was a bit of a long walk but as we got further away from the tourists the neighborhoods were very peaceful and enjoyable to walk through.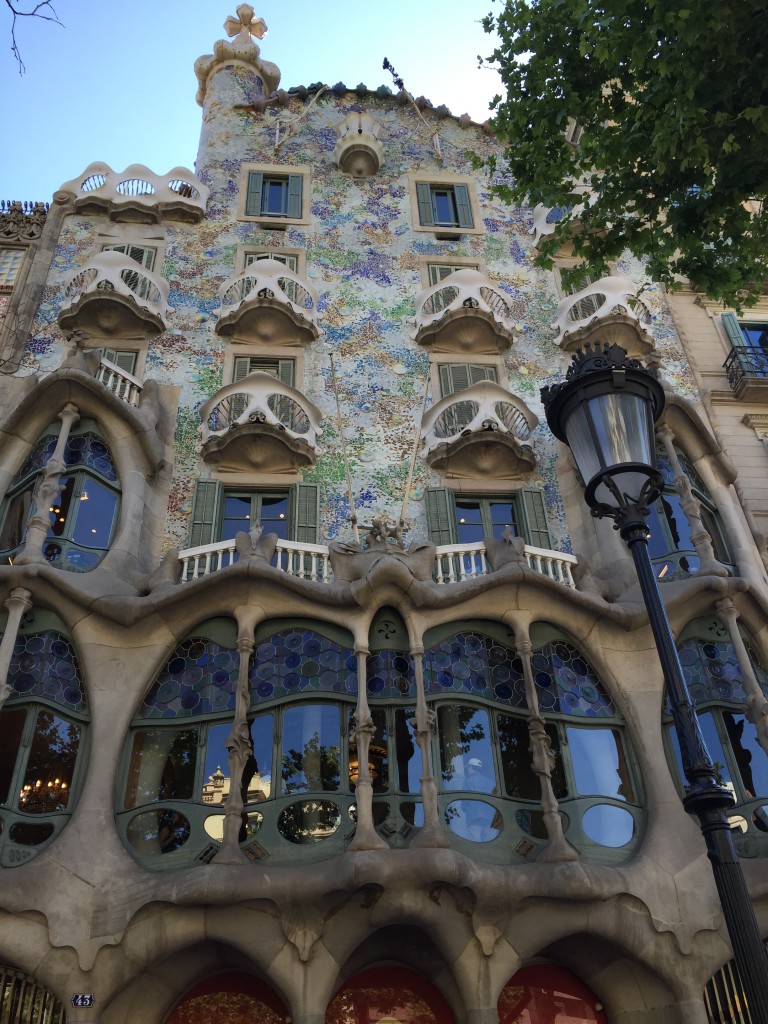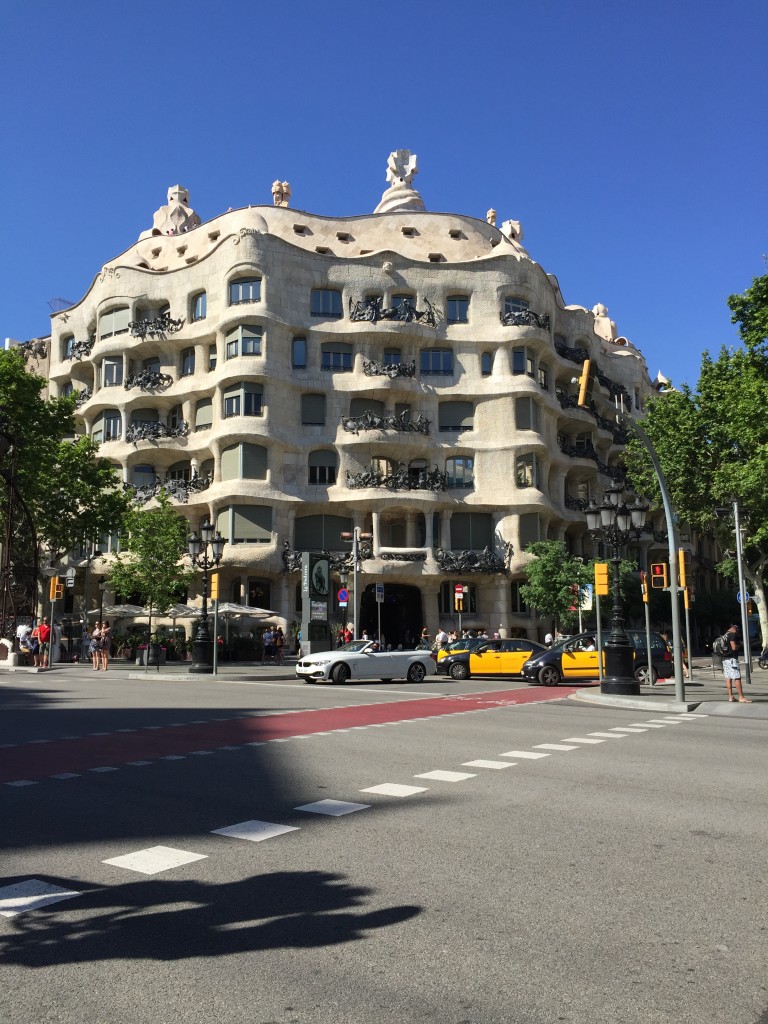 I was able to really look at the buildings that filled the small streets of Barcelona. We came across a pop-up boutique featuring local designers and their work for only today. Everyone knew that they had to buy something at this venue. I came across a simple but beautiful bracelet that tied around my wrist. The vendors in the store had such creative pieces. I wish I had enough room in my suitcase to buy a porcelain hippo lamp that I liked, but it was very big. The atmosphere of this shop was like a breath of fresh air compared to the vendors on the streets. When I looked at a section the designer did not pressure me into an item to buy and let me look through the different items. After everyone bought his or her item we continued our walk. As we arrived to the tall pillars and gothic architecture of the Sagrada Familia we noticed local artists selling their paintings and drawings on the street. A woman was selling her collection of paintings of people with noses made of clay. These paintings were the funkiest work of art I have ever seen. Another artist had a collection of pastel paintings. Each was unique and captured the scenery of local areas around Barcelona.
After our 3-hour walk to the cathedral we wanted to take another way of transportation back to the hotel. It was difficult to figure out because Mauricio wasn't there to show us the way using the metro so we decided to take a cab. We arrived back at the hotel to freshen up before dinner. We agreed we wanted to try paella so we searched for a restaurant. We ended up finding a restaurant with a special for 10 euros. Our dinner included 3 courses, tapas, paella, and desert. The service was very different from U.S service. When he was explaining there were many kinds of tapas but he was going to pick them. Later, we asked for bread and he asked us why we would want it. When we our desert came we realized that the flan was soaked in a whiskey syrup. We tried it but decided we were going to go and get gelato.
We went to a different gelato place that offered a variety of different flavors and deserts. I ordered chocolate gelato and a vanilla macaroon. The macaroon was so soft and rich. Olivia orders churros with warm chocolate sauce. She insisted all of us should try some. I am so glad she offered because it was so warm and melted in my mouth.
To end our night we went to our class meeting to discuss what we have learned on our trip so far. I enjoyed hearing the different media and cultural visits everyone enjoyed. Most of class agreed that their favorite cultural visit was to Segovia. It is definitely a place I will remember forever. As the meeting ended I realized that we already made it through half of the trip. It astonished me how fast time flies by. This free day in Barcelona made me feel like I need to come back and see more because their isn't enough time to see the whole city in one day.
Barcelona, Spain
Day 7
May 18, 2015
Today was our first day back to media visits since Thursday. We were visiting T.V 3 and Camp Nou. To start the day I ate a filling breakfast with my usual cup of coffee at the hotel. I met with my group at 9 a.m. to board the bus and go to T.V 3.
Our tour guide who is my favorite media visit guide so far greeted us. She was extremely excited to show us everything she could. First we listened to Tereasa Guitart, head of International Relations and Sales, who talked about the general information of TV 3. The Catalan language TV station focuses on Catalan culture. It is the number 1 network in their territory. Catalonia was lacking Catalan media and education so in 18993 TV 3 broadcasted for the first time. Their channels cover multiple categories like E3 Sports channel, Super 3 children's channel and TV 3 news channel.
The second guest speaker was Ferran Molinez, Director of Marketing promotions, talked to us about branding for news channels. During a 1 hour broadcast there are 4 commercial breaks during the break the logo is shown at the beginning followed by advertising commercial, a promotion and ending with the brand logo. Currently TV 3 is in the process of rebranding but has made a decision to keep their current logo.
After our lectures our tour guide gave us a tour of the entire TV station. The station had multiple buildings and departments. This station was so big it reminded me of Universal Studios, at an extent.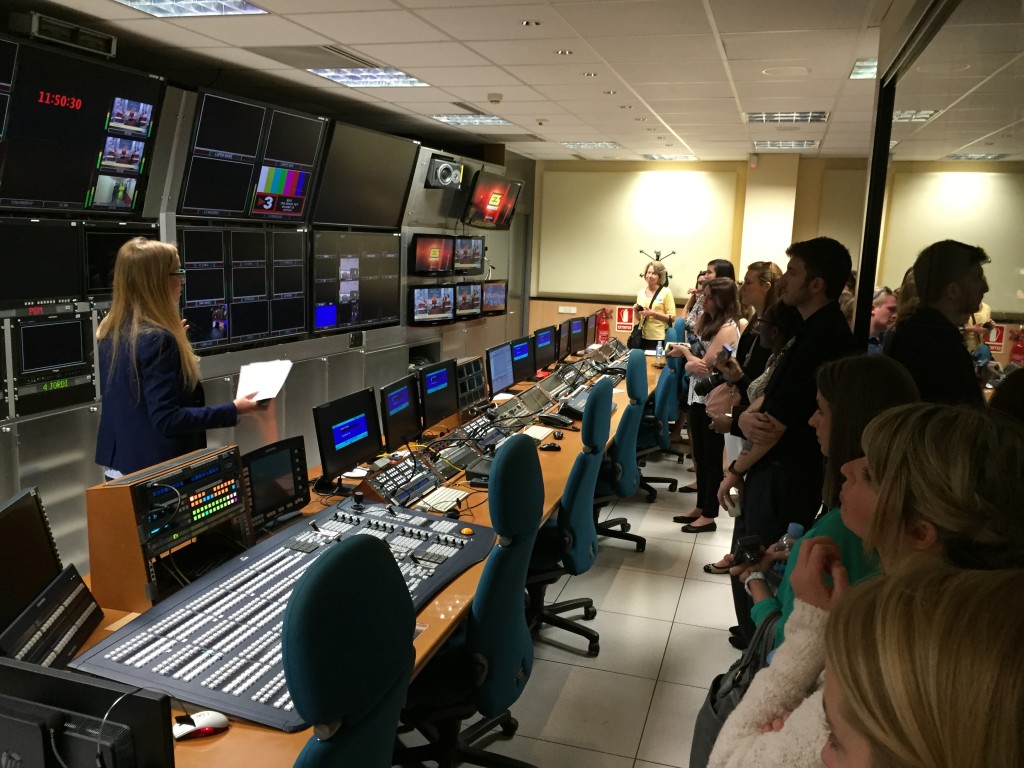 We were able to watch a live newscast and witness the pre production that goes into a food broadcast. Liz and I also had the opportunity to talk with their intern from France, Cintia. She was so sweet and excited for us to see the TV network. Being behind the scenes and witness the production of a TV station was an amazing opportunity to see how much hard work and time goes into a show.
Later in the day we arrived at Camp Nou, Barcelona's football team stadium.had the chance to tour the arena, which was huge. The only other arena I could compare it to was Heinz Field. Camp Nou was twice the size.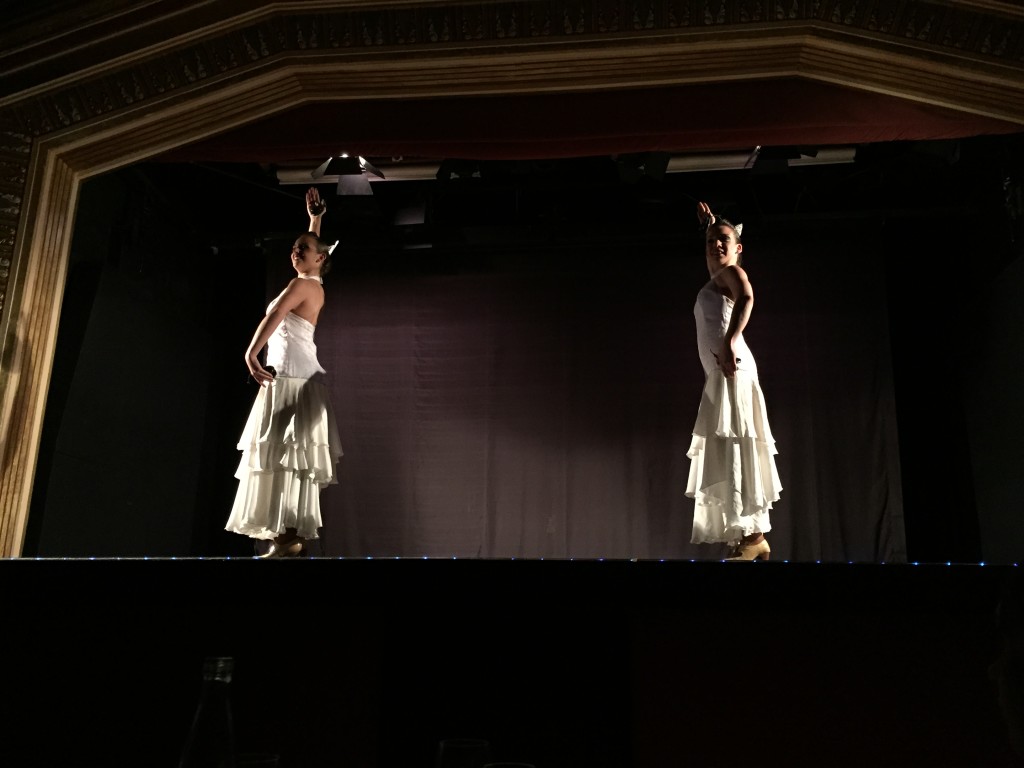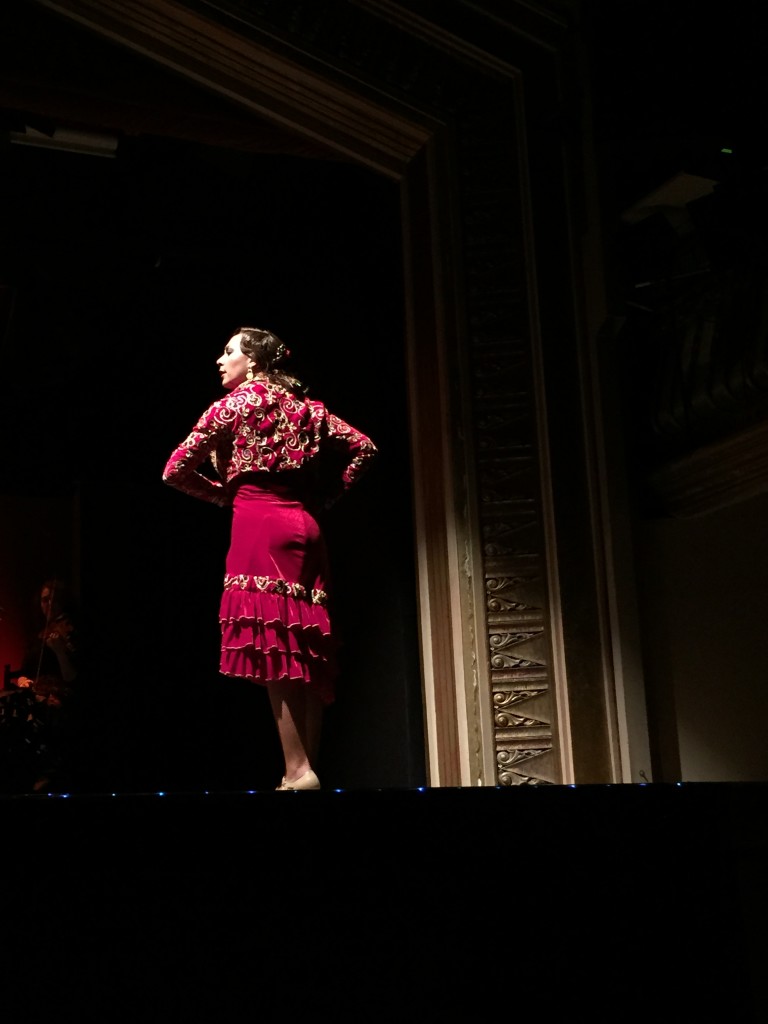 We ended our day attending a flamenco show, a Spanish traditional dance show. We were treated to dinner during the show. They served us salad, paella, cream chicken, tapas, and cream puffs. While watching the show the dancers showed so much passion in their movements. Watching the show was a an amazing experience because I felt like I was apart of the Spanish culture. Tonight was a great way to spend our last night in Barcelona.
Barcelona, Spain and Lisbon, Portugal
Day 8
May 19, 2015
I woke up today with my bags packed ready to move on to our next destination, Lisbon, Portugal. Before our flight we had a whole day planned with two visits, Lavenguardia and La Sagrada Familia.
Deputy editor Meguel Molina met with our class and talked about the Spanish and Catalan newspaper. Lavanguardia is a newspaper that has been being published for 134 years. The newspaper covers conservative economics, politics and liberal cultural studies. It was interesting to learn this because usually a newspaper is either conservative or liberal, not both.
Their digital team has a 24 hour newsroom constantly managing their website. Lavenguardia is the second most popular newspaper in Spain. 150,000 copies are printed daily and 68% are printed in Spanish. Leaving the rest to print in Catalan. This newspaper is 100% debt free. This information was very surprising to hear because most business is never debt free. It may be because their audience is middle and upper class. I have learned from this media visit to be up to date on with formatting online. They discussed that is a challenge to update their mobile website. I believe it is very important for a website, especially a newspaper, to be mobile friendly.
As we ended our visit we ate lunch and headed to visit the famous Sagrada Familia.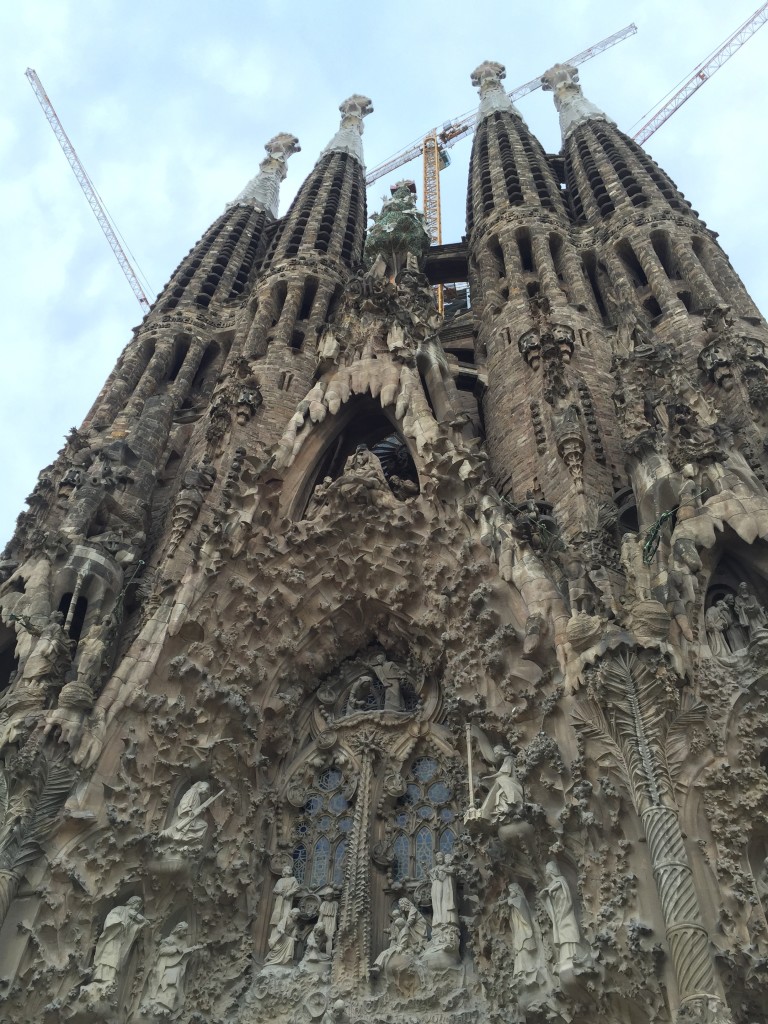 I previously went to see it on our day off but never went inside. This is a cathedral that has been being built for over a century. The architect, Gaudi, wasn't able to finish his design of the church due to his passing. The church continues to be designed by other architects similar to Gaudi's style. As I walked up to the church I noticed so much detail in the carvings in the walls and doors. The outside is covered in monuments, high-rise pillars, and an overall landscape of medieval design.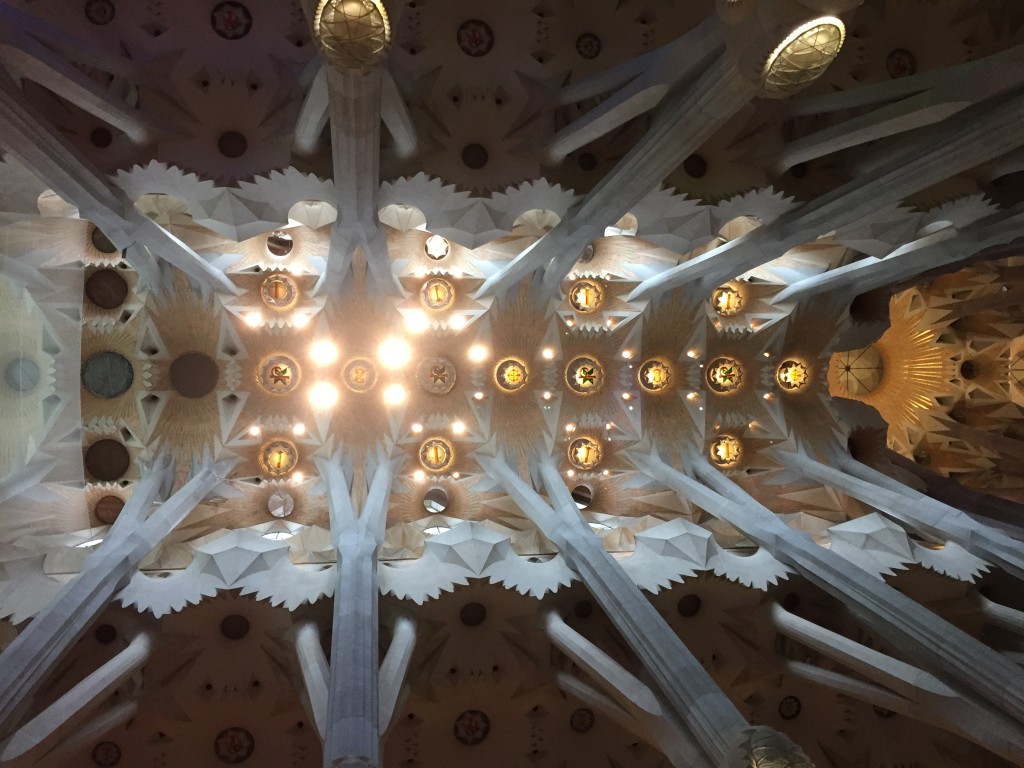 The inside has rainbow patterned stain glass windows and sky-high ceilings. I was able to sit in the prayer room made for special prayer meditation. I enjoyed a very peaceful moment even when the church was crowded with people.
Later my class and I headed to the airport to catch our flight to Lisbon. Unfortunately today was Mauricio's last day with us. I was very sad that he wouldn't be joining us in Portugal. Everyone had to say his or her goodbyes to him after he took us to the airport. I am very appreciative to have met a person with so much knowledge and culture.
We finally arrived in Lisbon at 9:30 p.m. Our new tour guide Odete, who was so excited to show us around her country, greeted us. Since we arrived late at night our tour guide took us to our hotel and waited until tomorrow to take a tour around Lisbon. I am very excited to see this beautiful city and experience their culture.
Lisbon, Portugal
Day 9
May 20, 2015
Waking up today I felt refreshed because I was able to get a goodnight sleep. We boarded our bus at 10 am for our tour around Lisbon.
I was w very excited to see the golden gate bridge's cousin that was here. We arrived by the water that had two famous monuments, Belem tower and Padrao dos Descobrimentos. Before getting off the bus Odete suggested we try Portugal's famous pastry called pastels. I went to the closest café and tried one. The pastry had a flaky crust filled with egg cream custard and sprinkled with cinnamon on top. This was the best pastry I have ever had.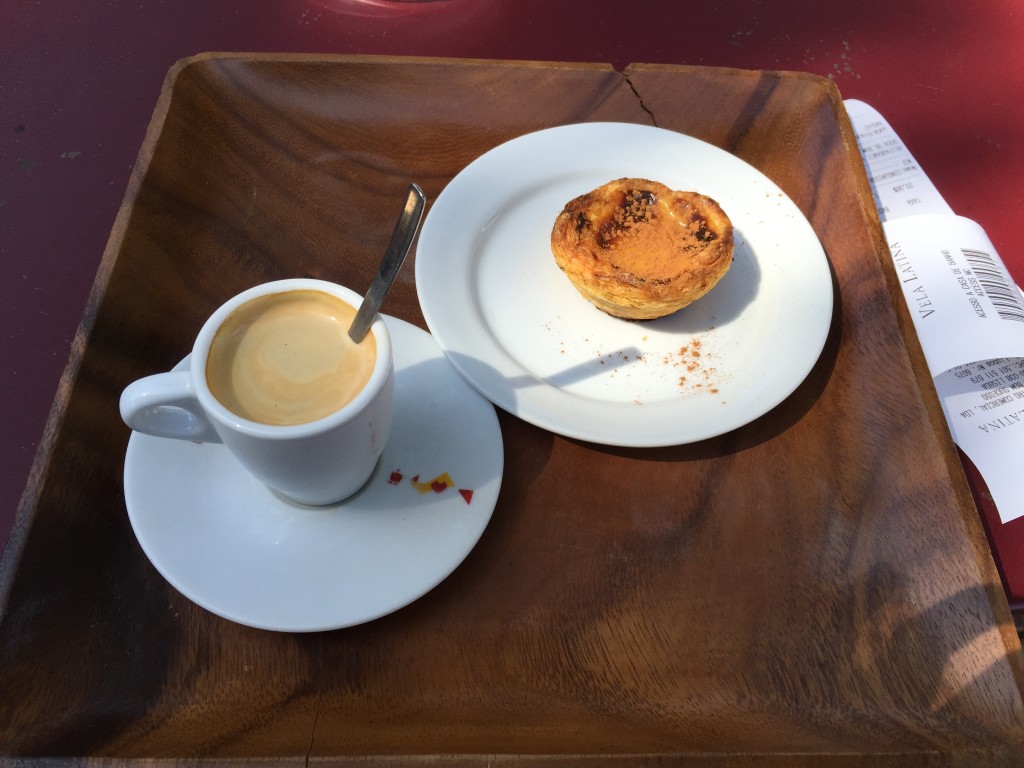 We boarded back on the bus to see the old town of Lisbon. The buildings were so beautiful and the roads were made of little tiles with the same deign everywhere. Driving through the old city was magical because of the squares surrounded by European buildings and fountains centered in the squares.
After our tour we had an hour for lunch. Odete offered to take us to a buffet style restaurant. The restaurant had a variety of food choices that looked delicious. I got a salad, rice, bottles water, and a role for only 1.75 euros. This price is extremely cheap compared to U.S prices.
When I arrived back to the hotel I had to get ready for our media visit at a local University. When we arrived at the university Professor Paulo Faustino, one of our guest speakers, who showed us to the reception area, greeted us. During his lecture he talked about the importance of the Portuguese language in the media market. I didn't know that Portuguese is the 4th most spoken language in the world. After his lecture the next guest speaker was Lara Alameh, an American working in Portugal at the Luso-American Development Foundation. FLAD is a private, financially independent Portuguese institution seeks to help the development of Portugal. The best advice she gave our class was to learn a different language. By being able speak a different language is a skill that has more opportunity to advance your career.
Our last guest speaker was Joao Palmeiro, President of Portuguese Press Association. He first started talking about his background and his beliefs. He told us about his service in the army and how he was stationed in Africa. He said, 'As long as I was over there I knew my family was safe." His openness about his family reminded me of professor Gustavo who also talked to us about his family.
Senhor Palmeiro told us about China's new search engine called Baido. He predicts that this search engine will be more popular than good in the nest 5 years. I thought this was an interesting to learn because I have never even heard of this new search engine before. Overall, these guest speakers were very intelligent people with impressive backgrounds and it was great opportunity to have them speak to us.
After our media visit , Bryn, Liz, Olivia, Greg and I took a taxi down to the water to eat dinner. As we ate dinner I looked at the beautiful view of the bridge and thought to myself, "How lucky am I to be sitting in Lisbon by the water eating a great meal with goof people." This was great way to end out first night in Lisbon.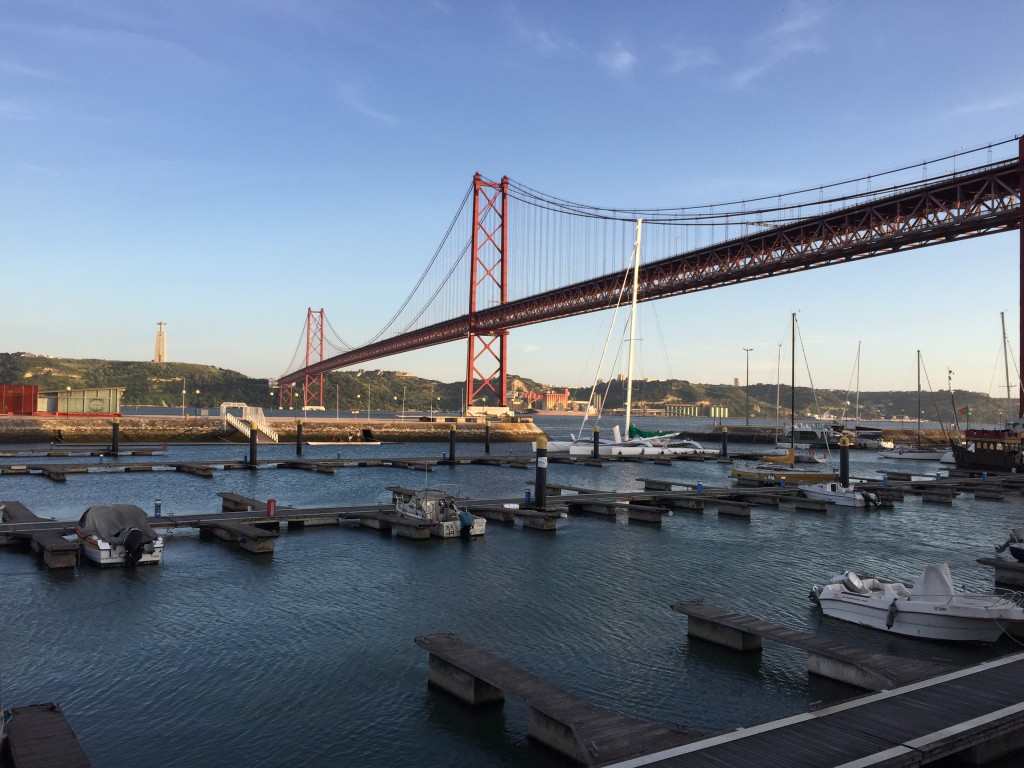 Lisbon, Portugal
Day 10
May 21, 2015
Today was our last day of Media Visits We ended our last trip visiting RTP, Radio and Television in Portugal, and Global Group Media. I was very excited for the day because I knew we would be done with media visits around 4 and the rest of the evening was free time.
As we arrived at RTP our guide who was very welcoming greeted us. Our guest speaker was director of International Relations, Jose Lopez. At the beginning of his presentation he wanted us to engage in the conversation and if we had any questions to ask. RTP started in Portugal in 1957 and is owned by the Portuguese state. The produce 8 T.V channels and 8 radio stations. They recently just started a late night show to attract younger views, similar to the U.S tonight show. After his lecture we were able to tour the station and visit the radio podcast rooms. While touring we saw a famous Fado singer being interviewed in the station. We were also able to visit a live morning show. Touring the station was similar to T.V 3 but not as big. I enjoyed seeing all of the different radio rooms and production areas.
Our next visit was to Global Media group at one of their newspapers, Diario de Noticias. Our guest speaker was CEO, Carlos Maio, who talked about what Global Media is and their biggest challenges. Global Media Group owns 2 daily newspapers, Diario de Noticias and JN. They also own the top 3rd most read sports newspaper in Portugal called OJogo Sports Newspaper. He introduced his four biggest objectives, circulation, increase advertising share, reach a positive EBIT in press and radio and increase profit to reduce debt. He explained his biggest challenges were managing people, how to motivate people, and how to guarantee them that they will reach their target. Mr. Maio was exciting to listen to because he was very honest with the challenges he faces as a CEO. One thing that he said that stuck with me was "If you think you can trick the consumer you will lose everything." I believe this is true because a company has to have an honest relationship with their client in order to keep them as a client.
After we were done with media visits we were free to venture off and explore the old neighborhoods of Lisbon. We went to Rossio Square to do some shopping and eat dinner. The dinner we had was running a special of bread, salad, main entire, and desert for only 16 euros. The atmosphere was peaceful and relaxing. I ordered spinach ravioli pasta and it was the best meal I have had this whole trip.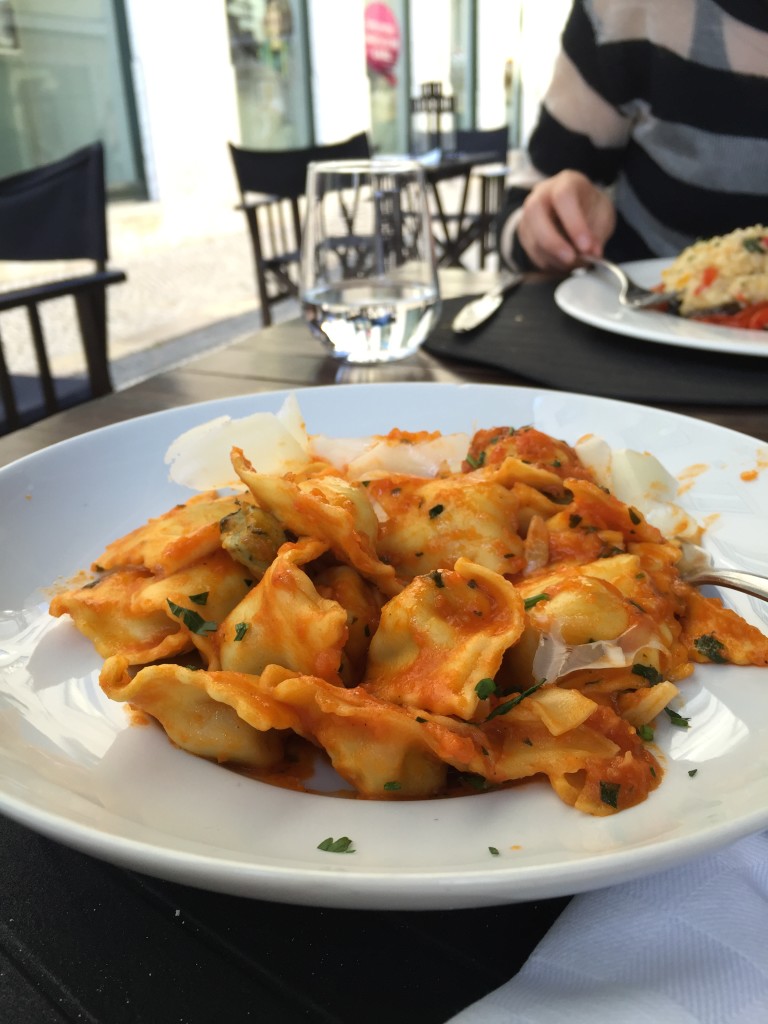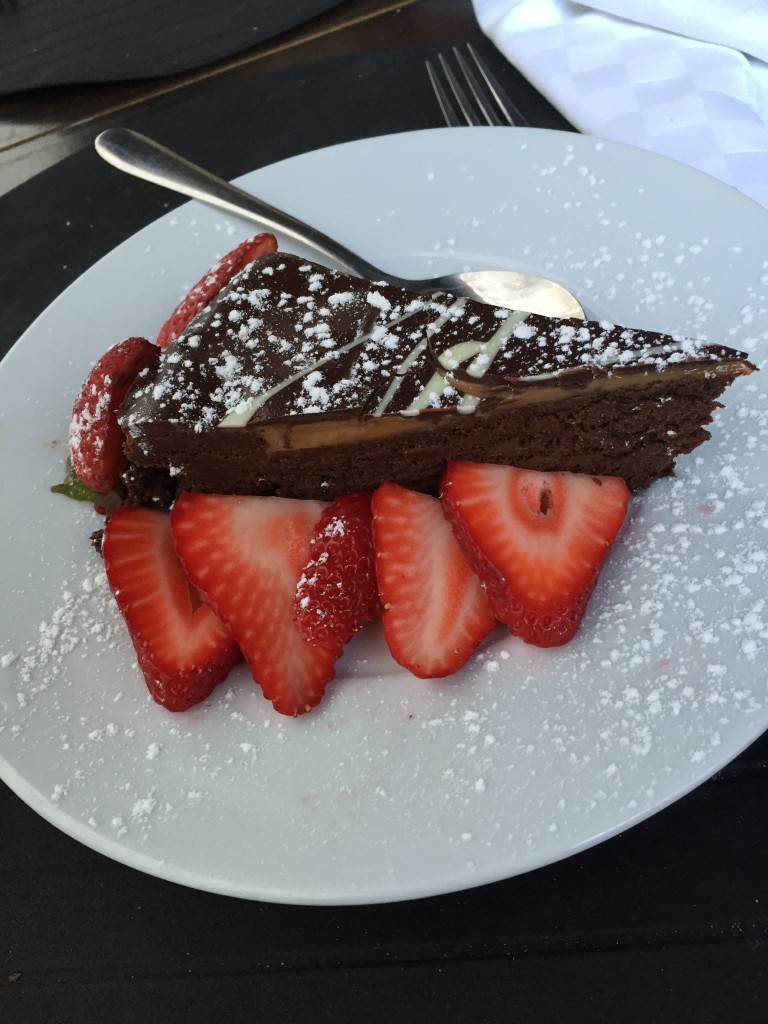 After dinner we walked around and did some site seeing. The night was relaxing and filled with beautiful views.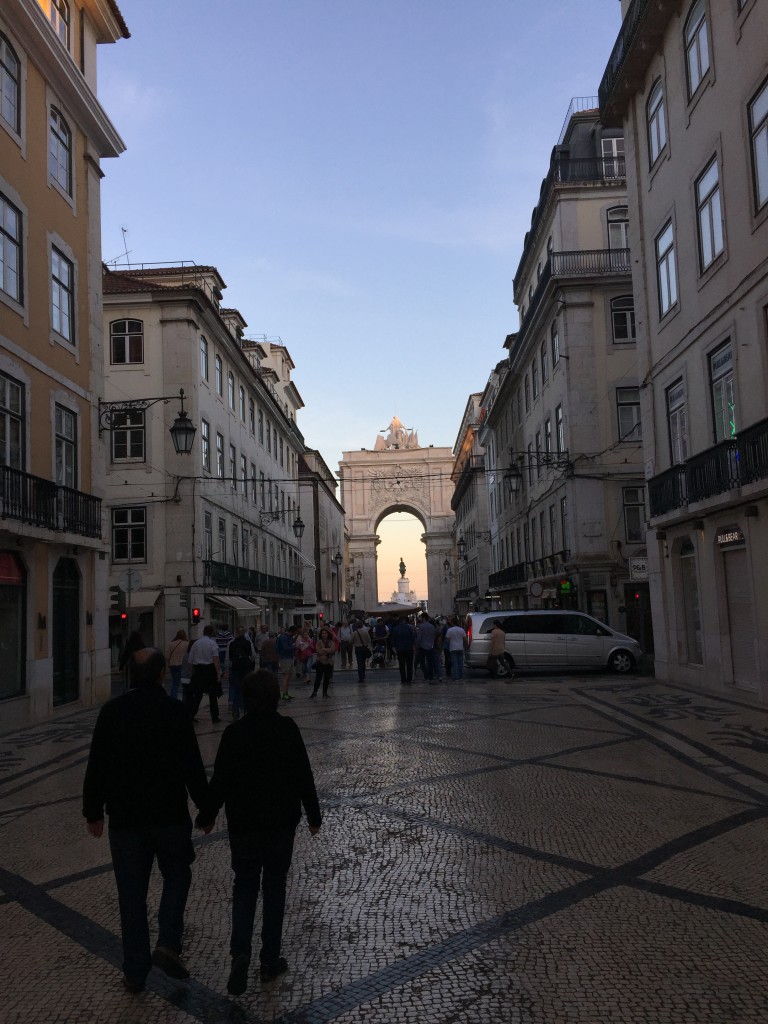 Lisbon, Portugal
Day 11 (Last Day)
May 22, 2015
Our last day was finally here. Today has a very fun filled peaceful day for our last. We boarded our bus at 9:30 to head to a village called Sintra. Upon arrival we were able to have free time for shopping and visiting the village. Bryn and I walked around as much as we could because the buildings and alleyways were so beautiful. We came across this abandoned building and as we walked up the road there was a beautiful overlook of Sintra. I was able to do a little shopping and purchased a beautiful tile. After walking around I tried Sintra's famous pastry, a travesseiro. The pastry had a flaky outer layer filled with cinnamon and egg cream coated in sugar.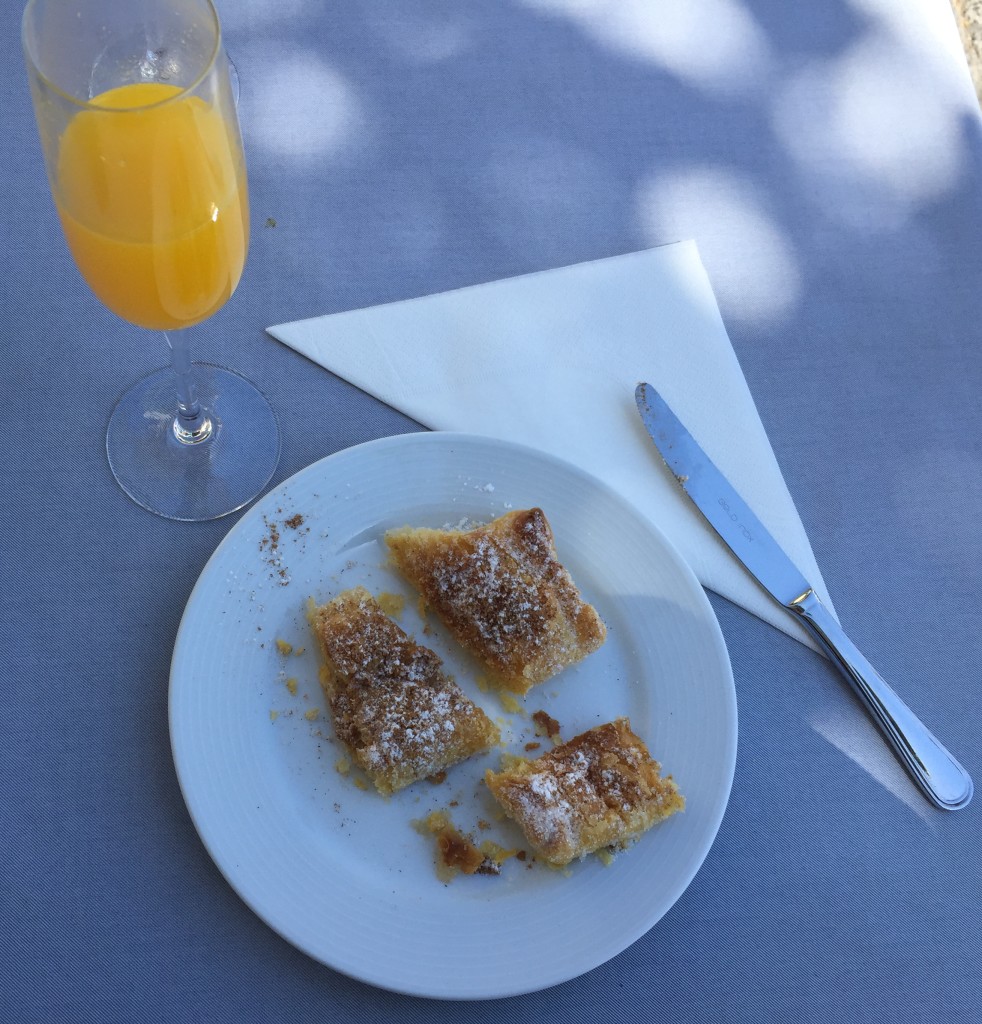 Our class had to get back on the bus to go to an overlook of the coast. This over look was the prettiest scenery I have ever witnessed. The mountains were so beautiful and the waves crashed against the rocks. The coastal line was a place I wanted to stay forever. After we left the overlook we made our way down to the beaches. The village reminded me of a normal beach town but it wasn't crowded with tourists and was very peaceful.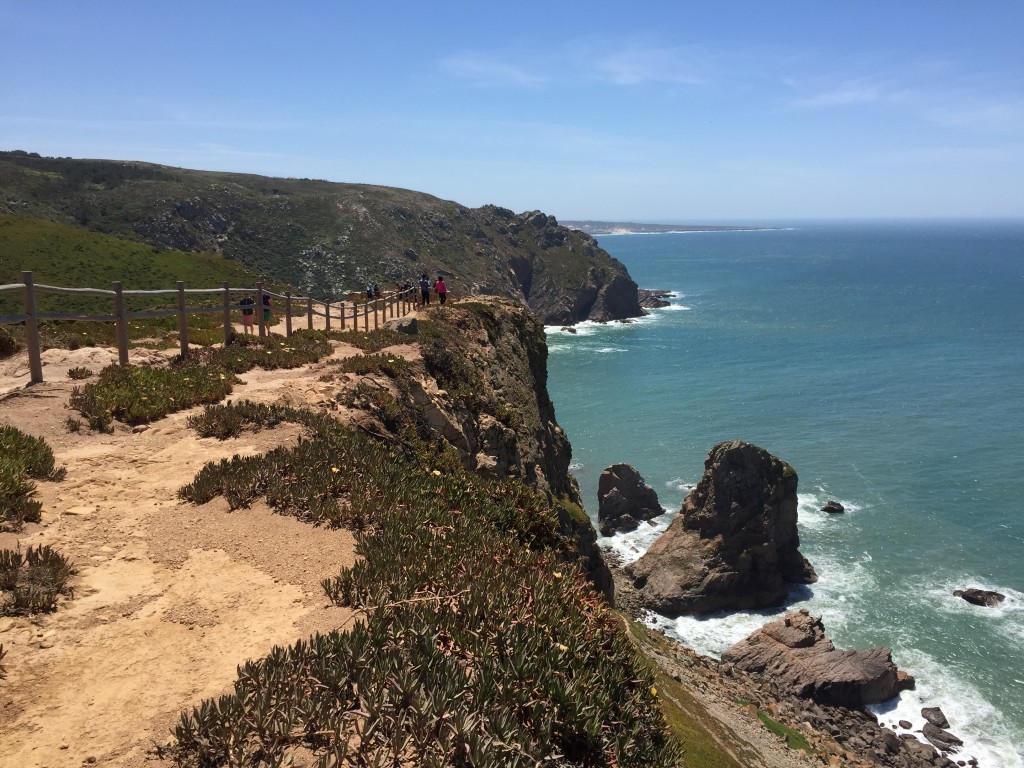 Our night ended with a farewell dinner at a traditional Portuguese Fado show. The show reminded me of a polish show by the way they were dressed. The food had a very heavy taste but was delicious. My favorite was the bean soup because of its dense texture. Our desert was flan. I am not a big fan of flan because of the texture it has but, besides the texture it tasted good. After dinner Liz, Olivia, Greg Bryn, and I decided to walk around Bairro Alto. The whole trip I have been searching for a gift for my Dad but I never could find anything so I the last minute I had to get him a gift. Also, since no one was a fan of the flan we decided to get gelato.
As we ended our last night in Lisbon and the trip we were sad to leave but excited to go home. The trip was filled with great memories and friends. I am sad to leave but I am happy to finally go home.