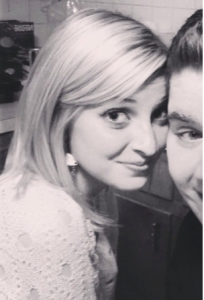 My name is Bryn McClay, and I am a senior broadcast journalism major here at Point Park University. I am an athlete at Point Park and have been a part of cross country for three years now! I am currently interning at a nonprofit called Ward Home and cannot wait to start my journey into the business world! I am also working with Elizabeth Rosemeyer this current semester, who is in charge of Title IX at Point Park. It has been a busy but exciting senior year. I am happy to end my last semester with this trip, especially because this will be my first time going out of the country. I cannot wait to learn more about Spain and Portugal's communication programs while we travel!
DAY One
The first day in Spain was just as expected, long and tiring. The only thing that really kept me going was the beautiful sites and the smell of fresh air. After arriving in Madrid we took a tour bus around Spain, taking in the sites and learning about the Spanish lifestyle. On our bus tour I was really intrigued to hear all about Spanish living, including the most popular living situations for people. We were told that Spaniards either live in a house in North Madrid, where people with more money live, apartments or outside of Spain. From driving around Madrid it seems that apartment living is definitely the most popular. Some of the apartments are so close together, I could never imagine living there.
Another place we visited was the Royal Palace, which was so beautiful.Our tour guide was able to share with us a ton of information about the royal family, including the fact that the King married a news anchor in 2004. This fun fact was a great way for the Royal Palace trip to pertain to my major, mostly because now if I become an anchor maybe I will marry a king.
I did not know what to expect when I came to Spain, I honestly thought it would be dirty and not as beautiful. Turns out I was completely wrong and I think it is cleaner then anywhere I have been in America. It has not really hit me that I am in Spain, but thats also probably because I feel like a zombie. Madrid is absolutely beautiful and all I want to do is spend the whole time walking around enjoying every bit of it. After this long day of traveling and adventuring all I can think is that I cannot wait to continue to learn and experience a different lifestyle here in Spain and then in Portugal.Let the adventures begin!
DAY Two
Today I started off by running to the park by our hotel, which was beautiful and it was a great time to watch the Spanish culture. After my run, our class got together and headed to our first communication trip to the Universidad de Navarra where Professor Gustaro Garcia Mansilla shared very insightful information with us. First he discussed with us the media market in Spain, which is 1/40th of the U.S.'s market. Professor Mansilla shared his story with us and how before becoming a professor he founded 6 companies in which one he failed at. He talked about his failure and how it really helped him learn and become a better business owner and professional.
I found this inspiring because I am going to fail at things but I know that the failure will allow me to succeed in my next try. I also learned that the two television companies, Telecinco and Antenna 3, own 50% of the TV market. This is crazy to me because two companies own half, that does not leave much room for other stations. Also, Telecinco, the most popular station is not even owned by a Spanish person but an Italian. I find this a little concerning for the Spanish economy and media market because someone who does not live in the country or know what is being shown on the channels, is controlling the most watched stations in Spain.
Our next media visit will probably end up being my favorite one during the entire trip, the visit to Conde Nast, the publisher of AD, Glamour, GQ, Traveler, Vanity Fair and Vogue. Here we got to listen to multiple people speak about what goes in to their publishing and we also got a tour. I was so excited because we were able to go in the room where all of the stylists clothes were ready for models. Conde Nast was founded in 1905 and now reaches 16.3 million people. I am strongly suggesting trying to intern at Conde Nast Spain because fashion has always been a passion of mine. This experience really made me excited my career ahead and the exciting chances that I will get to have.
Day Three
Well I officially have to move to Spain! Not only is it a beautiful place nut the more media visits we go to the more inspired I am. The first media visit we went today was at a PR and advertising firm all called Ketchum. Ketchum first came to Span in 1989 by CEO Teresa Garcia. Ketchum's main focus is PR-brand marketing where they market for companies such as Proctor and Gamble and Hugo Boss. Although my major is reporting and not PR, this visit really got me interested more in the marketing part of media. One of my favorite parts of the meeting was when Ludi, the director of the digital department told us about their advertising campaign for Ecovidrio, a private recycling company. They used scandal of a soccer player to increase the percentage of people who recycle in Spain.
After the visit we were finally able to go shopping before our next visit. Our next visit was at HAVAS, a sports and entertainment company. This was an interesting visit and I was surprised by the disloyalty customers in Europe and America have towards their brands. After our long day we were luckily able to go out and enjoy our tie. As typical Americans and for the irony, my friends and I went to TJI Fridays for a drink. After we went to El Pajar, a Spanish Restaurant for dinner. This was a great time and our waiters were older men that obviously were the owners of the restaurant. Being in Spain makes me realize how the United States does not have nearly as many beautiful sites and architecture as other cultures. Later that night we went out to the market and ran into some other Amerians from Georgia. It was nice to finally hear some other people who speak english.
Day Four
Today was amazing. We went to the valley of the fallen where soldiers from the Valley of the Fallen and Franco were buried. This monument is probably the most beautiful thing I have ever seen. The building is huge and the front entrance is outdoors but the rest of the building is underneath the mountains above it. On top of the mountains is a giant cross because here nuns and monks hold services. The decor of the building is amazing with high ceilings, tapestries, a wonderful alter and much more. We were able to take some great pictures of the building and also of the mountains surrounding it. If I am able to return to Spain in the future I definitely want to hike in the mountains and maybe even to the top of the cross.
We then traveled to Segovia where we were able to site see and take in the older, ancient feel of the town. Everyone seems so happy and full of life here in Spain I honestly never want to leave. My favorite part of Segovia was going into the castle and up to the tower. This castle was beautiful although I was a little disappointed because the original burned to ashes long before so the castle we entered was the one that was rebuilt to look similar to the last one. The view from the tower was so beautiful, with the countryside all around us. The kind and queen who lived in that castle were pretty darn lucky! After site seeing we went to a restaurant that serves there signature dish of suckling pig. Being a vegetarian I did not eat it but it was interesting to hear others opinions. In order to serve the pig they cut it with a plate and then broke the plate on the floor. This part was way to gross and I could barely watch.
Day Five
On to the next adventure! Starting off today we traveled to Toledo, an ancient Roman Town with a population of 80,000 people. It was so beautiful and not like anything I had ever seen before. We walked around the town for a bit looking at different churches and monuments until we reached our final desitnation, the famous Cathedral of Toledo which was absolutely beautiful. The architecture of the building and decor inside was stunning. My favorite part of the cathedral was the ceiling where a window was created and sculptures and paintings were placed all around it. That must have taken so much time and hard work!
After, we headed to the train station in Madrid to head to Barcelona! We are currently on the train now and I have never ridden one before and I am very excited. So far the land of Spain is wonderful and I cannot wait to get to Barcelona! The train ride was so smooth and I was so surpried. Honestly I enjoyed the train ride more then any other way we took to get around Spain. I  feel like the train rides are not that popular in the States but it was really busy in Spain.
I was a little disappointed that we were not able to stay in Toledo longer because there was so much more to see. In Toledo we also walked down the smallest road that was a bit scary. I swear those roads are so small I do not understand how people drive there! I am really excited for our second destination and adventure in Barcelona. Once we get there we are going to check out La Sagrada Familia, a church that wont be finished until past 2020 but I will make sure I share more information tomorrow! Adios!
Day Six
We finally got to have a free day today which meant sleeping in! The night prior my friends and I went to the beach to check out what the most popular places are in Barcelona. It was really weird because my one friend was wearing shorts and we were unable to go inside. Instead, we went to a club called Ice Box which had a room that was below zero and people would pay to go inside. I have heard of this before but it sounds awful! Why would anyone want to freeze their butt off? Other then that it was a fun night and I didn't realize how crowded and crazy it gets in Barcelona. Even driving in and walking around, Barcelona is so crowded that I think I like Madrid better.
After waking up way to late, my friends and I decided to walk to la Sagrada familia. This walk ended up taking about four hours because we stopped at almost every cute store we saw. I thought getting around would be really hard when we first pulled in to Barcelona but we found our way around pretty easily. On our walk we found a boutique show going on with all kinds of Spanish boutiques inside. It was interesting to see all the different kinds of boutiques where all of the accessories were handmade. Finally, after a three hour walk we made it to La Sagrada familia. I really don't like it very much because I think it is a waste of money and I feel like the artist just made it for popularity purposes. However, we are going inside on Tuesday afternoon so I will be interested to see if my opinion changes. I will keep you updated!
Our last adventure was out to dinner before our group meeting. We wanted to find good Spanish cuisine but unfortunately we ended up at an overcrowded, below average bar. Afterwards, we headed to our group meeting to talk about our adventures and what parts of the trip were our favorites. I said that Conde Nast and Segovia and Toledo were my favorite experiences so far. I felt so welcomed by all of the people during the media visits and I have learned a lot so far and I can't wait to continue learning more.
Day Seven
Today we went on two media visits to TV3 and Camp Nou. The first was to TV3 where I was assigned to ask questions. I actually really enjoyed this because although I am not quiet, sometimes I am embarrassed to ask questions so it was nice that I had to. TV3 was a great media visit, we were able to tour different studios and even watch a live show. The live show was so awesome, they have to be ready for anything and they looked so natural on camera. It made me wonder if I would ever be able to do it or not. Also, it was interesting to hear how their business was affected because of the economic crisis. They had to merge TV channels and get rid of others. I can only imagine how hard that must have been for there business.
Our second trip was to Camp Nou the Barcelona soccer stadium. This was so exciting especially since my brother would have been super jealous. The locker rooms were ridiculous and the stadium was huge! The souvenir shop was three floors it was hard not to get lost. I use to play soccer so I would love to go back to Barcelona one day to see a game.
Later, we went to our first Flamenco show. This was an interesting experience and I wish I was fluent in Spanish in order to know what they were saying. The dancers looked like they were working really hard, I could never do that! I think it would be fun to take Flamenco dancing lessons and learn more about the stories behind the dancing.
After a few more visits around Barcelona tomorrow, we are off to Lisbon. I am excited to see the comparisons to Spain since I have heard so many wonderful things about it. For now, I am headed to explore on the last night in Barcelona! Buenos noches
Day Eight
The last night in Barcelona was lots of fun! My friends and I were able to look around and get to know Barcelona better. Everyone was very friendly and I am sad we are leaving already. Luckily, before we left for Lisbon we were able to go visit two more places La Vanguardia and La Sagrada Familia. La Vanguardia is a newspaper publisher located in Barcelona. When we went in they gave everyone a copy of their latest newspaper to look at and I found that their newspapers in Spain are way thicker then in America. They fit everything and anything they can until the newspaper. They discussed how they were not in debt at all even after the horrible economic crisis. I thought this was absolutely incredible, especially because newspapers are becoming less popular due to apps and news online. We were then given a tour of the building which was what I had expected it to be, lots of computers, books and copies of newspapers. The sports new room was definitely my favorite because that is my biggest interest and everyone looked like they were enjoying themselves.
Our next stop was to La Sagrada Familia, the church I had walked to earlier in the week but this time we went inside. I was really not impressed by the outside of the church because it seemed like too much decorations and a waste of money, but when I went inside my mind changed. The inside of La Sagrada Familia was beautiful. It had stained glass on all sides, the ceiling was tall and the architecture of it was wonderful. The strangest part of it to me was the elevator which looked as though we were in the future. La Sagrada Familia was a mix between modern decor and kind of ancient decor which was really weird. I now know why the construction of this church started in the 20's and is still continuing today. I will be excited to see the final result.
Now we are off to the airport to continue our journey in Lisbon. Spain's airport is the most amazing thing ever, it basically has a mall inside. I cannot wait to get to Lisbon first to get in bed and second to begin understanding why everyone thinks it is the most beautiful place.
Day Nine
Hello Lisbon! I started off my day working out in their mini gym on the roof where there is the most beautiful view and they even have a pool! We then went for a tour of Lisbon which was incredible. Last night when we got in I did not really see why people liked Lisbon so much, but as soon as we began our tour and it was actually day time, I understood. We first stopped to take a picture at an overlook of Lisbon and then we headed to the lake where there was a cute little castle. This was absolutely amazing, there were sailboats everywhere and little shops with handmade crafts. However, there were also gypsies trying to sell sunglasses and bracelets who would follow you around for about five minutes that you had to get away from. It is surprising to me that Lisbon is still so pretty and put together even after the economic crisis. I think I just assumed that there would be more homeless people and other ways to see that their in crisis but there is not. I found out that their unemployment is at 30% which made me really sad and I hope their economy gets better soon because this is such a beautiful place.
Our media visit of the day was located at the University. They welcomed us with a reception to try their port wine and little pastries which was so thoughtful of them. We had three different speakers and the first was Paulo Faustino. This first lecture sadly, was extremely hard to understand. However, I did learn that there are ten different media groups in Portugal, some include Media Capital, Global Media and Ongoing. I also learned that the the Portugese media is a very small market and they need to start growing but they have no space. Our second speaker Laura, was definitely my favorite. She is originally from California and moved to Portugal without even knowing the language but having a passion for international affairs and non-profits. She stated how she does not think that the U.S. media is that great after living in different countries and seeing their media. The third speaker, NAME, gave us more of a history lesson about all the markets and especially the Chinese market, which is really taking over.
Later that night, my friends and I went to a restaurant near the beach where we sat outside with blankets and a fire lamp. I think this was a perfect way to feel the culture of Portugal and we also got to people watch. We sat there for over three hours, laughing and enjoying the wonderful view of sailboats and the water view. I would love to go sailing in Portugal one day, it is absolutely beautiful.
Day Ten
It is our second to last day in Lisbon and I am getting kind of sad! I feel like we have not been here very long and I want to stay and have more time to look around. Luckily, later tonight and tomorrow we have time to walk around and go to the beach. I definitely think it is going to be hard to get readjusted to life back in Pittsburgh again, but I felt to get prepared because I have summer classes starting Tuesday.
For our last day of media visits we went to RTP and Lopes de Araujo, the director of international and public relations spoke to us. They were so nice, preparing a little reception before and then giving us a tour after. Lopes de Araujo told us about their company and some of the channels they have. They include an African channel, a morning show and world news. At the end, we gave him the notecards just like we have been doing every visit, and he was so excited he gave Sara a hug! I could tell the excitement of us being there and it made me really happy.
After our speaker we were given a tour of their facilities. We went in to their studio to watch the news, we got a tour of the radio section which had about 20 different studios and we also got to sit it on a live show. The live show was by far my favorite because they had an audience and it kind of reminded me of Dr. Phil. However, I really wish I knew how to speak Portugese because the show seemed really intense. Unfortunately we were not able to go to their museum, but it was a wonderful experience.
Our next stop was to the Global Media Group which has two daily newspapers, two travel magazines and two printing companies. Vitor Ribeiro, the CEO of the company took time out of his day to speak with us about their company and what how he feels about the media. He stated that although they are not yet, they want to be known as the first choice to their customers. In order to do this he said there were three important factors; innovation, customer management and operational management. I feel like I have learned so much in one day that I cannot keep everything straight! I really appreciate everyone who talked to us today and how welcoming they have all been, but now its time for a break by the pool!
Day Eleven
It was our last day of traveling today and I am definitely going to miss Europe. Spain and Portugal were both so beautiful and I'm very lucky I got to go on this adventure. Today we traveled to Sintra and Cascais which were both extremely beautiful. When we arrived in Sintra, it was a little town with cute boutiques and bakeries. My friend and I decided to walk around and explore the sites and do a little more gift shopping. I ended up buying my friend another gift and then we sat at a cute cafe and drank a mimosa. I felt like this was the first time that I was actually able to sit, relax and enjoy myself.
After leaving Sintra we made out way to an over look of the beach. This stop was stunning but so windy! During this stop our tour guide told us about a Polish family you had stopped to take pictures there and had gone over the fence to get a better picture. Apparently the parents had their child take a picture of them and suddenly they fell backwards into the water. The little kid was ready to jump in after them but luckily another tourist stopped him. I was astonished that the parents would think to go over the fence to take a picture when there is obviously a reason the fence is there in the first place.
Our next stop was to Cascais which was a town with a beach, towns of boutiques and restaurants. Here we were able to sit down and relax for lunch and then shop around a bit. I went into this cute jewlry store where I found a ring made by a Portugese artist. Although it was expensive, I had not bought much for myself and I really wanted to bring something back that I could not get anywhere else. After shopping we headed to the beach to get some sun and relax before heading back.
We got lucky because our hotel has a roof pool where my friends and I were able to tan, chat and hang out before heading to dinner! For dinner we headed to a Fado show which consisted of different singing and a little dancing of the Portugese decent. It was interesting to see how many people were there and how much everyone loved it. I think the concept of Fado shows is amazing but I love to talk and if you did people would get very angry.
While the rest of the class went back to the hotel, I still needed to buy a few more gifts for my family. I found Port Wine Tea for my sister in hopes that it will taste better then the actual wine itself! I am sad to have to leave Portugal tomorrow, but I am happy to be back on my set schedule and to see my friends and family. I met some amazing people on this trip and made some friends that will last a lifetime! I will be back!