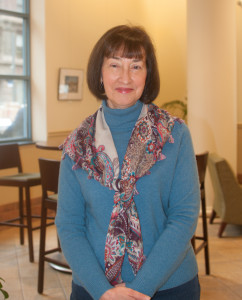 Helen Fallon, Point Park's Honors Program director and a professor in the School of Communication, is making her eighth trip abroad with her students this year. These trips started in London in 2008 when she was chair of the university's Journalism and Mass Communication Department, developed by now-retired Broadcaster in Residence Jan Getz with assistance from Fallon and professors David Fabilli and Bob O'Gara. The International Media course has let students travel to a number of places: Ireland, Canada, the Czech Republic, Ireland, Italy, Germany, France, and now Spain and Portugal. It was an outgrowth of annual student trips to Washington, D.C. The goal has long been to expose students to international and national media, and it has been immensely successful.
When her husband died suddenly in 2007, Fallon and her children set up a travel fund to help defray students' costs on these trips. It's a personal goal to continue this effort in his memory, as he loved to travel and wanted everyone to have that opportunity.
Fallon has served as the Honors Program director at Point Park University since 2009. Prior to that she helped create and found its School of Communication, serving as acting dean in its initial year of operation, 2008-2009. Before assuming that position, she was department chair for nine years. She started teaching full time at the private liberal arts college in 1986 after working for 11 years in the field as a reporter, copy editor and editor for three Western Pennsylvania newspapers and a brief stint in health-care public relations. In addition to her teaching, Fallon continues to work as a part-time copy editor at the Pittsburgh Post-Gazette, a job she has loved, since 1987. 

Hola, Madrid!
Tuesday, May 12
Despite flight changes, jets stuck in long lines in the tarmac and a passport left behind on an airplane, we made it to Madrid! Our group – groggy and somewhat frazzled – met the wonderful Jan Getz, retired Point Park professor and academic organizer extraordinaire on this trip (as in years past) at the airport, and once we recovered that missing passport, started our visit pronto!
Our first tour guide Olga helped us get our bearings in this beautiful city as we took a panoramic tour guide, stopping first at Madrid's bullfight arena (just gorgeous Plaza del Toros), stopped at Retiro Park (lovely lake and grounds) and then delivered us to our tour manager and guide Mauricio. Fortified by a quick lunch, he took us to Madrid's Royal Palace, a beautiful place with a gorgeous view of the city. He led us through ornate rooms, including specific elegant rooms where the royal families had breakfast, lunch and dinner. The new king and queen don't live here anymore, but the palace is used for state dinners and the major Columbus Day celebration. When the new king and queen wed last year, 1,500 guests celebrated with them in the courtyard.
We stopped to check in to the cute Hotel Sterling, our home this week before we head to Barcelona. After unpacking and resting , we headed to Mason Don Carnal for a traditional and delicious Spanish tapas dinner. Then back to the hotel for some much needed sleep to get our body clocks adjusted to Espana time, as a full day of visits await us tomorrow. We're six hours ahead, and my old body really feels it right now … although a shower really helped revive me for another few hours. I am so tired that this blog is posted a day late … just couldn't keep my eyes open for 15 minutes to get this done according to our set deadlines.
A packed Day 2
Wednesday, May 13
Sleep, wonderful sleep helped me prepare for a full day 2 on our trip. (But I did wake up at 5 a.m. with a tremendous headache. Some ibuprofen and reading helped me fall back asleep for three more hours, thank goodness. I was then ready to face this 100-degree day and two planned visits.)
Professor Gustavo Garcia-Mansilla, director of the executive media MBA degree program at the Madrid campus of the Universidad de Navarra, had been a wonderful help to Jan Getz as she planned our media visits in Spain's capital. He wowed us today with a great lecture, almost double in the length of time we anticipated and conveyed a great deal of information on the media landscape here. He reminded us that $1 spent here in the media market compares to $40 in the U.S. "We're pretty small but very proud," he began.
The charismatic Argentina native has good reason to be proud. Spain has made a remarkable comeback from the horrible effects of the worldwide recession of 2008-09 and the terrible collapse generated by the Lehman Brothers. He also can speak expertly on the subject because he was a Conde Nast vice president, spent years in the media while in Argentina, worked as a publisher in Barcelona and published his own magazine in conjunction with a university in Argentina. In other words, he has street media cred.
Spain has been in a huge depression since 2008 and has taken all this time to recover. Combined with a 24 percent unemployment rate, higher among young people as we learned through this course prior to our visit, it is amazing what has been accomplished compared to the rest of the European Union. It's come back to the same advertising market as 20 years ago and growth is predicted for the next few years. It has been slow to adapt to Internet usage, which now stands at 63 percent penetration, but mobile devices forecast great promise for this country. Newspapers are losing penetration, Sunday magazines are declining, but radio has been growing. Television has held steady (Spaniards have always had a high TV consumption) but faces challenges in the years ahead, he predicted. The rest – cinema, outdoor advertising – are also dropping. But magazines and newspapers dedicated to sports, particularly futbol, remain incredibly popular.
Spain is a nation of contrasts, he told us – red versus blue, black versus white. That's something to remember.
We reviewed tons of statistics on market shares or specific media, penetration, readership and more. He also told us that Spain is second in the world in digital piracy, a worry and rationale enough for Netflix to remain out of the country. (YouTube is the most visited Internet site.)
Gustavo said political, strategic, organizational and marketing issues must be foremost in the CEO's minds as they plot their recovery and resurgence. The media have to be more efficient, open to change, develop their brands, and deliver content with consumers in mind and not the editors' predilections. All media must be flexible, hire good talent and understand consumer behavior as well. He may as well have been talking about the U.S. media.
"The excellent manager must increase income, cut costs and take risks," he said. Taking risks also means risking failure. But if you don't fail sometimes, you don't learn, he said.
A big issue is that the Spanish media – so long under the influence of Franco's dictatorship, have been complacent. The media have been art of a legacy business, financed in the past by the government. And that has led some – notably PRISA –into huge problems and near insolvency.
Interesting to me – smartphones and tablets are changing everything here. The infrastructure for broadband and the Internet as we know it in the states just isn't here (just ask us as we use our hotel's incredibly slow Wi-Fi!). He also predicts that Google's monopoly will be history in years to come. It is right now facing huge fines in the European Union as the countries are balking at giving away its content to the monster aggregator. But this major fan of Spotify (and note that he is also a musician who still plays in a band …) says the real key to media success is to respect the consumer's need for information as highly personal. Once they realize this and respect time as a valuable commodity, the tide will turn.
Next up – a remarkable visit to Conde Nast Spain, 300 employees strong who create six titles for this country and others. We enjoyed a remarkable insiders' view to this family owned private company with remarkable access to its top people. And that started with a welcome from CEO Javier Pascual del Olmo. He had a Pittsburgh connection – started off his working career as a Westinghouse nuclear engineer. Javier spent three years at its facility in Monroeville, and he recalled our three rivers and his time in with great affection.
We heard from five top vice presidents and editors spanning corporate development, Vogue,es, photo edition and business development. They all explained that Conde Nast, the U.S. company that created the lifestyle magazine concept, focuses on quality, integrity, long-term vision, innovation, local autonomy, talent, education and influence. The local autonomy is important. The magazines and website – as well as all its other new ventures – have a decided Spanish focus. All five remarked repeatedly that being a private company, still owned by the Newhouse family, makes all the difference in the world. The company avoids short-term decisions to increase revenue; that can be incredibly damaging to its overall and long-term health. But they all do innovate. As Natalia Gamero del Castillo, vice president of corporate development, said, the "big boss wants us to innovate at the risk of failure. If you don't fail, you don't learn."
A huge issue is for Conde Nast Spain is to remain relevant to its Spanish audiences. We were told again and again that content had to be presented in multiple media formats – and updated frequently. I loved Natalia's Socrates quote: "The secret of change is to focus all your energy not on fighting the old but building on the new." Amazing. With all the properties, across all platforms, the global Conde Nast Spain reach now stands at 16.3 million people.
This is all framed in the realization that the Conde Nast magazines, Ines Lorenzo, editor at Vogue.es, said, are among the most beautiful in the world. The editorial content is excellent (we were told that most pages are read by a minimum of four to five people before moving to press), and the company strives to employ and use the nest writers, models and photographers. Aesthetics are still incredibly important, even when content is generated exclusively for either the magazine or the Web. In fact, several speakers pointed out the exclusive article on Charles Manson, finding and writing about the former king's mistress, celebrity profiles and so much more. Such pride in what they do! Such love for their work just came through with every presentation. The late afternoon presentations literally flew past.
Marta del Riego, Vanity Fair managing editor, told us all that the company loves journalism. But it also works hard on exclusivity and loves to have its writers employ literary style and tell great stories. So the magazine has two sides – glamour and journalism, an interesting mix. The vision – be sophisticated and surprising. "Sometimes we don't take ourselves too seriously," she said. "A little bit of fashion, fame, money, scandal, art and intellectual is a mixture that works."
My favorite tidbit? A Rafa Nadal cover – he's my tennis hero, whom I learned also works diligently for charities and is thus much loved by Spaniards.
Photography is incredibly important, and Beatriz Palomo, Vanity Fair photo edition manager, explained how she searches for just that right photographer or photograph. The process can involve hiring a top photographer – U.S., Spanish or from any country –who can capture the subject in just the right poses and environment, working for months or years to get access and then capture the right images. She searched through archives at times for articles or spreads, looking for well composed and strong photographs to illustrate journalists' work. "The best photograph captures your attention," she said. "It just has that special thing."
The final speaker, Beatriz Sanchez Guillen, deputy vice president for business development, succinctly explained the challenges ahead: new times, new media consumption habits and a new era. How to remain relevant and reach an increasingly sophisticated consumer consume Conde Nast Spain. Digital plus video is standard fare and required, for example. Building a personal relationship with consumers of your products has become incredibly important.
Thus Conde Nast Spain has several new ventures, including an entertainment venture for which it hired veteran TV executive Dawn Ostroff, Vogue Cafes (now in Moscow and Dubai) and an ecommerce division. Shopsticated consumers are asked to try new products (Nivea's slim leggings is one example of this she showed to us) as part of Vogue labs, The caution: "Content has to be changed for each platform, but you still have to be you –your brand."
Natalia wrapped up the discussion telling us that it's impossible to plan for the future with accuracy because the media environment is changing so quickly. "We now make plans for every quarter," she said. "You just have to adapt." That means also, just like in the states, doing it with the same resources and the same staff.
We left energized after a long day, presented with a lovely gift bag each and a beautiful book of 100 years of Conde Nast photography. And students were urged to apply for Conde Nast internships.
The students rushed off to change and head to watch a huge soccer match between Real Madrid and Juventus in one of Madrid's many squares. Jan, David and I enjoyed a great meal at El Pajar, an incredible restaurant recommended by our hotel staff. It was so incredible that we just may go back tomorrow night.
No magic, but hard work pays off for Spanish advertising and PR
Thursday, May 14
We made Bob O'Gara proud today with two visits concentrating on advertising and public relations. As we've done in our past seen trips, we visited a Ketchum office and then moved on to Havas Media Group. Ketchum has welcomed us on every visit, and we love the Pittsburgh connection with those visits. Havas is pioneering some interesting research into meaningful brands that brought some important and interesting results.
I love these visits to high-powered agencies. Students get a first-hand look at the dedication to clients, excellent research and strategy. So often students gravitate toward ad or PR careers because it looks like fun, while we older folks know (and particularly me as I worked in health care PR for five years) that is just urban legend. Plus, they always have cool offices. No exception here in Madrid.
Helena (great name!) Borras, Ketchum HR manager, lined up an amazing number of account executives to explain case studies the Madrid office – which opened in 1989 – has worked on as part of its operations. The 100 employees work in brand marketing, social media, health care, crisis management, change management and public affairs for many clients. Helena said the agency learned it had to change to prosper when it looked around and found many boutique agencies offering the same PR services. Proctor and Gamble is a key client, and right now it is managing the James Bond 50th anniversary exhibition in Spain (great shots of a handsome young Sean Connery everywhere ……)
Change management has been important as Spain recovers from the 2009 economic crash and employees need to work harder and want to be valued more. Ketchum stands out, our speakers told us, because of its visual services (which they see as its future) and quick turnaround time. Mobile marketing with a partner agency helps, too. Most of its employees previously came from journalism areas, but now Helena said she is looking for people with sociology, economic and visual communication backgrounds.
The clients we learned about cover fragrances, recycling (a fun campaign with a futboler who talked trash), malnutrition prevention (from hospital stays, not poverty), migraine help from Botox (which couldn't be mentioned any time at all, as it is forbidden by Spanish law), detergent pods, and more. What struck me throughout the presentations: all young women presenting, passionate about their work and dedicated to working as hard as possible to being successful. Spanish citizens love several things: celebrities, exclusives and events.
Ketchum Partner and CEO Teresa Garcia Cisneros founded this office with Tony Noel, and the former journalist says she loves the work she started 30 years ago. She spoke to us even though she was heading to New York City for an annual meeting the day we arrived at her office. The biggest changes she has seen? More transparency required with journalists compared to years past, although she said Ketchum has paid some bloggers to get messages out there. PR work in Spain is governed by the many laws and regulations the European Union has dictated to its members, too.
Strategy plays an important role in all of Ketchum's work. Intense research and study is the hallmark of Havas Media Group, led by Niko Munoz, head of global corporate development there. The major reason? Media placement, the budgets required for advertising and integrated marketing communication campaigns require careful planning, scrutiny and intense research. Technology plays a key role, Niko said, which suits him. Before coming to Havas 10 years ago he was heavily involved in technonlogy and worked for a telecommunications company.
His goal? Bring real value to clients, ensure they are creating conversations with consumers and then they can build financial value. Those clients include firms as large as Chivas, Ricard, Jacobs Creek, Wyndham, Unilever, Reckitt Benckiser (you won't know the company name but know the brands – Lysol, Resolve, Scholl , Clearasil …). This requires not just studying how to buy media but also including how and what social media to develop and employ. Niko said Havas is the first agency in the world with a dedicate in digital planning and capabilities, and it bought a firm in Boston to help it with creativity and developing digital content.
The Havas Village he said has three areas, with digital the focus at the core of each one: Havas Media, Arena and Havas Sports and Entertainment. It spans five continents, more than 100 countries and employs 15,000 professionals, with 800 in Spain. It's a family business based in France, enabling it to make quick decisions and be flexible (shades of Conde Nast!).
Havas wants brands to evolve from functional startups to become aspirational and finally meaningful to consumers and customers. Niko said research proves consumers want meaningful brands hat create a better future for people and the world. So Havas employs an integrated marketing communication approach and process to do just that. Digital strategy teams help plot campaigns aimed at creating conversations –DDOG or data driven organic growth.
We met Olliyah, a delightful young woman working with him on meaningful brands research, a process Havas has been working on for seven years. It asks 300,000 people in 34 countries across 12 industries about 1,000 brands. This proprietary metric aims to connect brands with human well being. She said the benefits brands bring to their lives come from the study's results each year, as well as the returns clients should see in business terms. The results are surprising and fairly consistent – respondents tell them they could do without 73 percent of the brands. They care only about 20 percent of them. And as for the clients, they need to realize this, as reported in a Havas press release: Share of Wallet" – a metric used to measure the percentage spent with a brand vs. the total annual expenditure within its category is on average 46% higher for Meaningful Brands and can be up to as much as seven times larger.
Olliyah said companies realize what they need to work on to create that meaning between their brands and the consumers. The study results generates PR for Havas every year. Another interesting part of it is how emerging countries (China, India, the Philippines, etc.) find more meaning in brands – sometimes 30 percentage points higher – than mature countries (USA and Spain). What causes this? They may be able to purchase more brands and products than their parents. Maybe the mature companies have more information at their disposal.
Regardless, it's all very serious business for Havas, they said, and it has become the core of the media group's business. Just like local brands, Olliyah said, national brands have to work ethically, create and produce good products at a fair price. If clients don't, it's at their own peril.
Niko also made sure we knew that Spain is emerging from its terrible economic recession and the research shows advertising levels returning. That's good news for Havas, which manages 26 percent of the country's advertising, Niko said. Advertising billings used to be 15 million euros, and the rate should climb to at least half of that in 2015.
(And in case you want to know, here are the top global performers in the 2015 study: Samsung, Google, Nestlé, Bimbo, Sony, Microsoft, Nivea, Visa, IKEA and Intel. Following these leaders are HP, Dove (Unilever), Walmart, Gillette (P&G), Knorr (Unilever), Kellogg's, Amazon, PayPal, Honda and Carrefour.)
As the day ended a group rushed to catch taxis en route to a bullfight while others debated where to have a final dinner in beautiful Madrid. We are off the visit the Valley of the Fallen tomorrow, then a visit to the medieval town of Segovia before heading back to pack and move on to Barcelona. Just never enough time in these trips…..
Honoring war dead and visiting beautiful Segovia
Friday, May 15
Every year we balance our International Media courses with cultural and historical visits, and today we headed to the Valley of the Fallen, a magnificent monument honoring the Spanish Civil War dead and then the medieval town of Segovia.
It's a breather following two intense days of media visits, and a great way to provide context to what we've learned so far about Spain and its complex history.  The Valley of the Fallen surprised me. I didn't expect to be so moved by something created by a dictator, but the majesty and pain conveyed by the memorial, hewn into the rock, but I was. We had learned that 300,000 people perished in that 1936-1939 civil war, which was the first war covered by radio and photojournalists. The majestic cross, basilica and esplanade are amazing and so different than anything else I have seen in Europe. Mauricio, our wonderful guide, explained more of the history of the Spanish Civil War, noting that both Hitler and Mussolini supported Francisco Franco's movement to stop Stalin and the communists from having any power in Spain. The memorial was built over 18 years with the labor of convicts and political prisoners who chose to do manual labor rather than languish every day behind bars. Franco, who is buried at the site, wanted the memorial to be seen as a "national act of atonement" and reconciliation.  It remains controversial, according to Dr. Helena Knorr, a Point Park professor who has family in Spain and lived and worked here. One fun point:  As we approached the basilica, our group was joined by a large group of nuns, many of whom were very young and a good number of them were Chinese. Some took banned photos from their cell phones as we entered the basilica, which made me smile.
Our group took tons of photos on this beautiful sunny day. Not sure we can capture its somber, stark appearance. I'll never forget it.
Next stop, Segovia, nestled into the Spanish countryside and plains of Castile, a lovely town with an amazing Roman Aqueduct, cathedral and castle.  The aqueduct, built with dry mortar, was a civil engineering marvel, estimated by historians to be constructed around 50 AD. We climbed to the top to look over the town and take in marvelous views for miles around. We walked to the palace, the Alcazar of Segovia, which was overrun with school groups this time of year. Mauricio explained to us that the palace had burned to the ground in 1862 and was reconstructed. The palace had been a favorite residence of many Spanish kings and queens, particularly Ferdinand and Isabella.
We learned some interesting facts:
No water in the moat. That idea comes mainly from the movies.
The palace incorporates some Moorish design and style, much of which was reconstructed.
Tapestries were not just artwork but also helped insulate this palace and others.
Isabella and Ferdinand's daughters were married off to royalty in strategic countries – England, Holland, Italy. This enabled Spain to have friends against France.
We ended our trip with a delicious dinner at El Bernardino, and most of us chose the suckling pig. Serving the suckling pig is quite an event: The server takes a plate to slice it apart, largely to demonstrate how juicy and tender the meat is and then smashes the plate to the floor. Quite a spectacle! The Castilian soup and salad were delicious, and the Segovian tart with a creamy sauce and vanilla ice cream was almost to pretty to eat. But of course we did!
The coda to our evening was a fun concert by a funky brass band, El Puntillo Canaka, The song list included "She's A Bad Mama Jama." I don't need to tell you any more, do I?  David Fabilli recorded some of the music, expertly executed and a great ending to a great day.
From Toledo to Barcelona
May 16
Our group packed in travel and visits from Madrid to Toledo to Barcelona on Saturday, moving from bus to train to bus to start the second half of our journey. What a set of contrasts! We moved from visiting another medieval town to a modern train en route to a packed seaside bustling city.
Toledo surprised me. If Segovia is beautiful, then Toledo is exquisite. As our bus stopped for the students to take photographs, I found myself catching my breath and staring in disbelief at the expansive, gorgeous view. As Mauricio explained, Toledo – much like Segovia – is a natural fortress, and thus its importance to Spanish kings and queens and history. This city has a river, the Tagus, surrounding it, and its placement high on the hill met any marauders would have a hard time charging it without the inhabitants having an advantage. I wished that I had a Gigapan or wide angle camera to capture this gorgeous vista on a sunny Saturday.  Again, the city was just a breathtaking wonder set against a brilliant blue sky.
We took one of the largest escalator I have ever been on to reach the city and land right by a convent. Then we walked for what seemed like forever to get to the cathedral and the Goya paintings. The cathedral construction alone seems impossible for its time period. But this one with its priceless masterpieces in the sanctuary just stuns visitors. The cathedral was the setting for an organ concert that night, so we couldn't get close to the main altar. No matter. We loved it.  One unique fact: When the cardinals died they were buried here. The twist – High above their tomb, the church hung their red hats. I have never seen that before.
Prior to our visit to the cathedral we stopped at a sword shop and jewelry store to see local craftsmen. The two men working with gold thread to embellish the swords and more there didn't even look up as we watched them. Meticulous work. Beautiful craftsmanship. We all found it hard to stop buying items in the gift shop. And Mauricio bought delicious marzipan for us to sample.  Very smooth and very tasty.
Off to the train and our three-hour ride to Barcelona. Very smooth, very modern. Wish we had this type of train system near us! So much easier than an airport!
Patrick, our Barcelona guide, met us and whisked us to the bus for a panoramic tour of the city. We climbed to the top of the hill where the 1992 Olympics were held and the stadium and other sites stay intact. We looked out to the ocean and saw huge cruise liners – just two instead of the usual 10. We came close to the La Sagrada Familia church, still under construction, that we discussed in class. Sadly, no time to stop, but we hope to do so before we leave.
We had a crazy rush through the square to reach our hotel (much of the Ramblas area is closed to vehicles, including tour buses) and then to yet another delicious group dinner – wonderful fish and some of the best crème brulee I have ever tasted!
Free day in Barcelona!
Sunday, May 17
Today the group could explore any part of Barcelona it wanted to see, and a small group of us – Jan, Sara, Emily Kolek and me – headed out with our tour guide Mauricio to look around for a few hours. He has such an infinite knowledge of the history of this city, where his mother was born, and we enjoyed it all. We walked through the maze of streets and squares of the Old Town, based upon and sometimes re-created to its Roman or medieval state. Mauricio walked us through the city's museum, where we took an elevator down to its lowest level and walked upon what was uncovered of the Roman walls and foundations. Amazing! I love museums, and the bonus there included an exhibition of Jewish haggadahs. I was interested because of a common read book for our freshman class in 2014 by Geraldine Brooks, and also because I read this exhibit marked a return of these sacred books after their Catalan Jewish owners left with them in 1492. The intricate, illuminated drawings were actually collaborations between Jewish scribes and Christian artists. We couldn't see this, but an article about the exhibit pointed out the censorship of some of the books inflicted upon them by Catholic priests. The exhibit is part of a renewed interested in Judaism in Spain, and in particular Barcelona.
As we wandered about we saw a concert outside a cathedral, with groups of mostly elderly people joining in a circular Catalan dance (the same as a sculpture we saw in the Olympic area; a communist party political rally with rows  of people sitting patiently in the sunlight listening intently to a number of speakers; a procession by pilgrims from southern Spain, with men on horses, a carriage of religious mementos and statues drawn by oxen and followed by throngs of people, some in traditional Spanish dress. We popped quickly into several churches amid other groups of tourists to listen in to Mass and look at more beautiful stained glass windows and much, much more.
Jan and I shopped some and then took a cab to the home of her husband's cousin. The tiny apartment atop a building presented us with a wide panoramic view of the city. Craig teaches English at a private school, and his partner and now husband, Jose, is a former teacher and journalist, so we had plenty to talk about. They served us a marvelous lunch and extolled the virtues of Barcelona, telling us even more about the city, the upcoming election – Sunday, May 24 – and some of the real scoop on how the city operates. They walked us back to our hotel, stopping to show us the hospital where the famous architect Antonio Gaudi died after being hit by a streetcar and the stores, shops and restaurants that people of all ethnic origins patronize. They've been together for 23 years but were married just a few months ago, and both took great pride in showing us where the ceremony took place and the celebration at a restaurant very close to where we were staying. So gracious! So welcoming!
We finished the night with a light dinner and watched part of the soccer game that captured nearly everyone else's attention today – Barcelona versus Atletico Madrid in the La Liga final. We saw Lionel Messi score a goal in the second half, the winning goal as it turned out!  The Ramblas exploded as  cheering, happy people took to the streets under the watchful eye of the police. A beautiful May night with a victory as a perfect ending for residents here!
TV3, futbol and flamenco
Monday, May 18
Our final full day in Barcelona started early with a visit to TV 3, the public TV broadcast station in the city. We arrived at an amazing complex, more like a movie studio than any television station I have ever visited, and that has been many through my travels with students. This amazing facility serves the 7 million people of Catalan, broadcasting in the language of these very proud people. Part of the idea behind this public TV station – financed 70 percent by its regional government – is to keep the language alive. Teresa Guitart, head of international relations and sales, said that can occur with and through the mass media. All the other media are based in Madrid, and there are a total of six television channels in Spain.
TV 3 started broadcasting in 1983 on Sept. 11, the national Catalan holiday, with the objective of being the best in news, entertainment and sport broadcasting for its people. A big example? She said buying the rights to "Dallas" and having it dubbed in Catalan.
The programming is ambitious – TV 3 creates its own Spanish soap opera (TV novella), has children programming (Super 3), 24/7 news programs (Channel 3 24), and all the sports anyone can handle (ES Sports3) – mainly futbol. Cultural programming – music, arts, authors – is on the evening schedule.
Guitart said the channel uses its imagination and creativity to keep its audiences in the face of competition. For example, children can join a club, and the station holds a part for them in October that thousands attend. News is broadcast at 9 p.m., coinciding with the late dinners this country is known for and enjoys. A humor program is broadcast Monday through Friday, poking fun at politicians, celebrities and sports stars.
It's not without peril. The 70 percent of government funding is fragile, and the broadcaster is 6 million Euros in debt. Signs throughout the station's three buildings reminded employees that a 5 percent wage giveback is needed. Some other signs threatened a workers strike.
A broad of administrators oversees operations, and Guitart said the future may hold partners to provide some of the content. The station has just had a website overhaul this past year, but it does very little live streaming. It subcontracts dubbing from a firm in Barcelona instead of doing it on site.
We also heard from Ferran Molines, the head of image and the promotion and marketing department. He said the economic crisis has given the station n opportunity to redefine its products. The 25 to 30 people in his department complete 30 different program promotions each week and are currently at work on two special projects, one for the upcoming elections and the other, of course, around the futbol championship games. He doesn't see the logo, which mirrors the Catalan flag, changing much.
We took a very thorough tour of the studios, control rooms, scenery shop, and green room and more. A highlight – the total chroma key studio coming on line soon. The station has 12 live trucks, some large and some small. One big studio, where the station will hold its election program, has pull out stands that can accommodate 250 people. We watched part of a live morning six-hours news broadcast – two presenters handle three hours each with a variety of guests to interview, live shots and packages. Such a huge facility, with its 2,600 employees and an uncertain future. One thing different from other European countries we have visited – Residents do not pay TV license fees, something that helps other countries finance their TV broadcast operations. And very little cable here yet compared to other countries.
Next stop –Camp Nou, home not only to that champion futbol team but also 15 other sports teams. But of course, the 100,000-seat stadium is mainly focused on soccer, and Roger our guide told us the FC Barcelona has 85,000 season ticket holders. Another 5,000 tickets need to be set aside for the opposing team each game, so that gives others little chance – except for buying tickets on an exchange – a chance to see Lionel Messi and his mates play on this pitch.
Tickets are expensive. The cheapest seats average 40-50 euros and go up to 70 euros. But like American football, the price can vary for game. Championship play sets people back at least 85 euros and as much as 350 for those games. Sometimes, when the opposing team is not popular, Roger said tickets can be had for 20 euros.
FC Barcelona has 150,000 members of its private club. The organization plans to redo the stadium in two years to add more seats, a basketball arena and more luxury boxes.
Principal sponsors are Qatar Airways, Beko, Estrella Damm, la Caixa, Audi, Coca Cola and Nike.
Roger said more than 26 million euros in tickets have been sold to the museum and stadium tour, making this facility incredibly profitable.
He also pointed out that the team roster is very strong in Catalan players, although Messi is from Argentina. Many – like Messi – come from the team's academy.
He led us through most of the facility, down to the pitch where we could see the thick, well cared for grass, up to the top and to the media press box (the stadium can accommodate 350 media and has excellent radio and TV booths, he said), the visitors locker room and the tunnel where the players emerge and run out to the field. Right before they do, they can stop at the chapel there to pray to the Black Madonna, sitting atop an altar that has the team logo carved into it. And TV 3's sports channel has a small studio opposite it where players can be interviewed right away.
Futbol and that grass pitch are so important that very few concerts are held here. U2 and Bruce Springsteen were exceptions, and that was definitely in the off season, Roger said. Most concerts are held at the Olympic stadium instead.
The visit ended with a trip through the museum and a look at all the trophies won by the team. (Messi has his own section.) All of it is very nicely done, including a photo montage of Barcelonians and Catalans singing the national anthem. And of course we ended right at the gift shop, and many of us made some purchases to end the visit.
Our day wasn't quite done. We got back to the hotel to catch our breath and get ready for a flamenco show and dinner. Wonderful dancing, a lot of singing – wish I had more knowledge of the storylines behind the songs and dancing. Mauricio had dinner with us but excused himself. He's watched it many times …
Last day in Barcelona
Tuesday, May 19
Off to La Vanguardia first thing in the morning. I've been looking forward to this, as it is a family owned paper, much like the Post-Gazette where I work one day a week as a copy editor. Well, this one is owned by a count, unlike the P-G, and at 134 years old, it is alive and well with a healthy circulation. It has another major claim to fame: no debt, according to the editors we met. That is a major accomplishment in Spain, the U.S. or anywhere in these times that try newspapers' souls.
I also admit it: I am passionate about newspaper s. I can't help it. And I also see a bright future ahead for them with the digital age. And so are the journalists we met here in Barcelona.
Ishmael Nafria is the digital innovation director at La Vanguardia, and his pride in the paper and his team came through immediately. (And he has an impressive resume as a journalist, writer, author, speaker, radio commentator. His career included a year in Miami, and he holds two postgraduate degrees and also was a Knight Foundation fellow. Major journalism credentials!) He greeted us warmly, and deputy editor Miguel Molina was equally welcoming.
The paper publishes in Catalan, the official language of the province, as well as Spanish for its 150,000 daily readers, a number that jumps to 200,000 on Sundays, according to Ishmael. The same family – the Godos – has owned it since 1881. Miguel and Ishmael said the current owner, Javier Godo, 72, is actively involved in the paper, attending the daily news meetings but not meddling in the news coverage to the detriment of the paper. His son is the COO of the paper and the group, which includes a sports newspaper, Mondo Desportivo, and TV and radio. Right now it is the largest circulation paper in Spain right after El Pais, according to the latest statistics. Although many consider it a regional paper, both noted that it has 19 foreign correspondents, including two in the United States. So in other words, they believe it is a national paper.
We have heard so much about the Catalans wanting independence from Spain. Ishmael said the paper believes the population is split on this, and the staff wants to keep everyone informed, be influential. But they're careful. Ishmael showed us the day's edition with the president of Spain campaigning for some local candidates looking for a victory in Sunday's election. Tomorrow, he said, the front page will most likely feature the president of the region.
He termed the politics of the paper as conservative in economics, politics but more liberal in societal and cultural issues.
The real job right now is to bring the paper, its staff and its readers into the digital age. Mind you now, this is a paper bought mainly at newsstands. Print subscribers (400 euros yearly) have access to the digital platform. Digital only subscribers (200 euros annually) number 5,000, but every day 10,000 read the paper on an iPad. The big issue, according to Miguel, is that Spanish people don't want to pay for information or media or entertainment online. In fact Spaniards are noted for movie piracy, and this is the second time we have heard this during our visit.
Online or in print, Ishmael said the paper has occupied a central position because of the wide societal divide in Catalan. "It's very open in some areas, not so open in others," he said, explaining the wide income disparity. "We can't change much of this. We'll lose readers."
What he is proud of is the paper can look at issues and events differently because it is not located in Madrid. And he notes that while La Vanguardia doesn't have many readers or subscribers in Madrid, the political and business leaders read it. "It's important for them to know the Catalan point of view."
So he's working with a team of about 30 on the digital side out of 180 journalists employed at La Vanguardia. Eight to 10 people start very early in the morning to work with the digital team. The website was just updated, and the end goal is to get both print and digital to work together.
The digital side has an audiovisual team and a small TV studio (with green chroma key). Right now the site mostly posts video, not as many photographs.
Social media is important to get the information out, Ishmael said. Mostly the staff uses Facebook and Twitter but is active in other areas, too. People are responding – to the tune of 300,000 comments monthly. (Those comments are moderated by a team, too, both Miguel and Ishmael noted. That had to happen ….)
The print edition is 64 pages daily and can print up to 116 on Sunday with some supplements. It suffered with the recession, particularly in classified, which Ishmael said led to a 17 percent drop in revenue.
The Google News decision to close its service in Spain hurt, although its effects were small for La Vanguardia, Ishmael said because it only brought 3 percent of total traffic to its website. The real reason for the closure was Spanish law regarding intellectual property requiring that Google pay for the content. And it won't, although it has offered 150 million euros to the media in all of Europe over three years – not really much, Ishmael said. Google also has offered to help editors learn how to use digital tools, he said, and the staff is coming up with some possible projects.
We ended our visit with a tour of the newsroom – three floors of journalists with offices that were by turn reminiscent of our crowded and cluttered PG building and then cleaner and more organized desks than I see when I am working there! Sports was the liveliest area, of course, and the international desk was busy. For a morning newspaper, lots of people on at their desks before noon.
Just a very pleasant two-hour plus visit packed with information, honesty and a passion for the new and old journalism. I could've talked to Ishmael for hours. Such a bright, passionate young man!
For the first time since we've been in Spain the skies became cloudy and it rained. We had switched plans from visiting Park Guell to have time in the La Sagrada Familia, architect Antonio Gaudi's masterpiece that is still under construction and not expected to be completed until 2028. Deeply religious, he had taken on the project in 1883 and worked on it until his death in 1926 when only a quarter of the work was completed. Kariann Mano had introduced us to Gaudi during the course, and what we saw defies description.
This beautiful basilica, consecrated in 2010 by then Pope Benedict, is a marvel of art and glory to God. The Gothic and Art Nouveau structure has amazing pillars designed like trees, mirroring Gaudi's love of nature; eight distinctive spires that serve as an important part of the city's skyline; carved religious scenes and sculptures on the structure's exterior, that are among the most beautiful I have seen in the U.S. and Europe, and mosaics providing dots of color on external pieces, as well as a Christmas tree decorated with doves.
Then we walked inside. Jan and I were mesmerized by the amount of light inside from windows in the incredibly high ceilings and vaults. The color reflected from passing sunlight on the gorgeous stained glass windows brightened my spirits, laid low by the loss of my mother and some devastating health news from my brother-in-law. We sat for a time in the chapel for reflective prayer after listening to one of the most impressive audio tours and watching a video. Just a perfect, inspiring and uplifting end to our days in Barcelona! Thank you, Rachel, for adjusting our schedule to ensure we didn't miss this amazing place.
Charming Lisboa
Wednesday, May 20
A good night's sleep made all the difference in the world. We had had a last-minute hotel switch to a Holiday Inn, and it is just wonderful. I opened my eyes first at just after 6 a.m., and then decided to rest some more. Glad I did! We had a full day, starting off with a bus panoramic tour of this historic city.
We had an introduction to Portugal in the classroom, from Dr. Helena Knorr and my notes, and we watched several videos. Nothing can compare, though, to seeing it and experiencing it. Our bus climbed through the city's narrow streets and hills (more than Rome, our wonderful tour guide Odette reminded us) and landed atop the city in Edward VII Park. Gorgeous vista, and a wonderful statue marking the country's commitment to independence and freedom.  She told us the country has a strong allegiance with the United Kingdom, and evidence of that popped up again and again throughout the tour.
We passed through seemingly countless squares, statues of past kings, fountains, universities and districts. We saw the Alfama, or castle, the Parliament Building, several consulates. The Alfama District with twisted streets and alleys, site of the St. Anthony 's Day (June 13, shoot) celebration complete with roses and more flowers and music and fun, Odette said. We passed a Fado museum, set in the house of a famous female Fado singer who also has a park and a foundation named for her. Beautiful cathedrals and apartment buildings converted from other structures and covered in gorgeous tile and with pastel paint that complements this sunny, cloudless blue sky. Odette pointed out the areas devastated by the earthquake and tsunami of 1755. That led to wide highways and quake-proof buildings, a concept way ahead of its time.
We headed toward the river and the sea, our bus giving us a good look at the massive Cristo Rei statue on the hillside across from the Rio Tejo (which we also saw in Toledo). The 25th of April Bridge (designed by the same firm that created the Golden Gate Bridge and constructed by an American company) does indeed remind you of San Francisco. We stopped at the Belem Tower, which protected the harbor, and the Monument to the Discoveries, honoring Prince Henry the Navigator. The number of museums, reconverted warehouses turned into exhibition sites is staggering. So wish we had time to see more. That is always a lament of these trips. Never enough time!
We came back to the hotel to take a break and have lunch before heading to the afternoon lectures. Most of us tried a cafeteria called Vitamenas – amazing food at amazing prices. Then off to the New University of Lisbon's Research Center in Media and Journalism. Finally we got to meet Dr. Paolo Faustino who teaches media management, economics and marketing at Porto University. He is chair of the International Media Management Academic Association and has impressive academic credentials – author of a number of books, president of a consulting, research and publishing company and so much more.
He explained that Portugal has 10 main media groups – Nos, Impresa, Media Capital, Cofina, Global Media, Renascença, Rádio e Televisão de Portugal or RTP, Sonae Publico, Ongoing and Portugal Telecom. Most are Portuguese national companies, but Angola has been investing and becoming part of Impresa, a relatively new development.
RTP (which we will visit tomorrow) is the state-run radio and TV network of channels. RTP 1 is the generalist station, providing news and information, sports, domestic fiction and entertainment. RTP 2 broadcasts mostly cultural and "civil society" programs as well as alternative and children's entertainment series. It also provides TV channels for African nations, Azores, Madiera, and a pure information channel, Antenna 1, an international broadcast and a final one called Memoria (reruns of old favorite TV programs). Radio is divided into Antenna 1, 2 and 3, concentrating on information, culture and alternative. It also includes Lusa, a news agency that has some private partners.
Like the U.S. there is some government regulation of media, overseeing administrative issues and financial review. Mostly the ERC ensures nonconcentration of media ownership, free exercise of the right of information and press freedom, and that different points of view will be heard.  It works with other regulators, Faustino said, to make sure the media work with transparency and equity.
Ad income from 2006-2010 was concentrated in four major media groups, and he said it was 600 million to 800 million euros, most of which (70 percent) is spent on TV advertising. National daily newspaper advertising is controlled by two groups. Radio has no competition nationally.
A new trend, which was echoed by our final speaker, Joao Palmeiro, president of the Portuguese Press Association and a board member o the European Newspaper Publishers Association, was to reach out to the Portuguese diaspora, people living in Brazil, Angola, Mozambique and the U.S.
Faustino also ran through a case study of RTP, explaining it had been badly managed in the past. Inefficient management had a lack of strategy, lost leaders and suffered an audience decrease. The resulting financial crisis led it a technical bankruptcy. From 2005-2012 it has rebounded with new multimedia platforms, improved its programming, bet on cable and decreased costs. Important, Faustino said, as Portuguese citizens pay for it.  It still has challenges ahead, but it has the lowest operating costs in the Europe.
He sees great possibilities ahead, telling us that Portuguese ranks fourth in the world in terms of citizens who speak the language. The pioneer of globalization in centuries past may just be able to use its language as a valuable resource in an international context – politically, culturally and economically. That could include countries – notably Latin America – adopting Portuguese as a second language.
Lara Alameh, a senior fellow at the Foundation for Luso-American Development, explained to the students how the privately funded organization is working to foster relations between Portugal and the United States in a civil society. She has been in Lisbon for 10 months, and Lara has seen the foundation that has in the past promoted the culture, language and arts and provided scholarships to U.S. and Portuguese students to study in each other's countries change. For example, new initiatives include research to fight Huntingdon's Disease, the spread of ebola and energy security.
She said the U.S.-Portugal relationship is very stable, predictable, dating back to the fact that Portugal was the one of the first European countries to recognize the United States and the first U.S. consulate was in the Azores Islands. Some flare ups have occurred, notably the U.S. decision to drawdown its military bases in the Azores, which will have economic impact. The U.S. ambassador, Robert Sherman, has started a new program to promote female entrepreneurship.
She also explained some international affairs positions students can consider, including writing and communication positions in the State Department and other organizations in D.C. She urged students to learn another language and to consider studying abroad. She lamented the fact that only about 100 students are currently in Portugal.
Lara has been in Portugal for 10 months and would love to stay. "It's a very special place," she said. Despite the economic doom and gloom, there's a lot of entrepreneurial initiative here."
Palmiero explained why "we are so quiet" compared to Greece, in turmoil with its own financial crisis. "We've been at peace for 200 years," he said. "We're an old nation with people who've written a great deal of the world's story."
In his role he said the challenges facing the media are complicated and difficult. The 28 countries in the European Union don't have the capacity to regulate media, mainly because of a myriad of copyright and other laws. Net neutrality is an important problem in Europe, as is the issue of no regional telecommunication company to facilitate communications in among countries. Palmiero said it would have cost him three times the amount to place a call from Brussels to Lisbon using his own phone. For Faustino to call him to verify his attendance here today would mean a 10 percent additional charge just for placing the call. Vodaphone is trying to build a regional market, but it's a long way off.
Other issues include sharing knowledge, creating trust and quality and delivering to consumers on a number of media platforms.
The copyright conundrum is the main cause of the struggle with Google, which shut down its news aggregator operations rather than pay for content. He sees Google's point of view on this. It would be nearly impossible to negotiate and then manage all the different contracts. He also warned that China's Baidu system will become an international email and aggregator competitor for Google and predicted Google will change into an entirely different company in the future because of both of these situations. "Google has to decide what it will become in the future," Palmiero said.
Other major issues: delivering media on different platforms may cause imbalance of information access for those who pay and who don't pay; data protection of personal information; sustainability; and controlling piracy. For example, he said, 30,000 piracy sites throughout Europe were shut down and almost right away another 10,000 re-opened for business. We had heard the same issue raised in Spain.
Two final media visits!
Thursday, May 21
We've come to the end of our media visits, and our group had an amazing visit to the public radio/TV broadcaster in Portugal and a 150-year-old newspaper that is looking forward instead of backward.
We had an introduction to RTP the previous day, but Lopes de Araujo, director of international and public relations affairs, provided us with an in-depth look at its operations before we toured the TV and radio studios, stopping at the end to watch a live broadcast. Lopes, as he asked us to call him, has worked for 39 years at RTP. Talking to a U.S. student group is not usual for him, though. Most tours come from Portugal and other European countries. So we were a first.
As we had learned the previous day, RTP started as a government-sponsored broadcast facility. And although Lopes said RTP is friendly with our public broadcaster, PBS, it is very different. It began in 1957 under a dictatorship, and it grew to eighth TV channels and eight radio channels, mainly to broadcast information the government wanted to provide to people in its country and colonies. Now it has competition from private TV companies and is no longer the leader in ratings, but it strives to remain relevant. It moved to its present facility in 2005, and it is an amazing complex. Much like what we saw in Spain's public system, it reminded me more of a movie studio than the TV stations I have visited and toured with students.
Portuguese citizens pay 2.65 euros per month as a licensing fee along with their electric biils ot provide revenue to it. RTP is also permitted to broadcast six minutes per hour, and that it particularly important now that the government stopped supporting it last year, Lopes said. (And private TV companies are permitted 12 minutes of commercials per hour, putting them ahead in the revenue stream competition.) He said although the cuts hurt (the work force dropped from 2,013 people to 1,600, which really hurt, Lopes said), it has made it more independent from the government, a good thing.
RTP maintains its public service agreement with the government, and key among the objectives it needs to maintain is promotion of Portuguese cultural values and easy and better access to knowledge for citizens. An internal supervisory body, the Independent General Council, watches over it, although it has very little to do with its content, Lopes said.
It is important for RTP to provide its value to those who pay the licensing fee each month, and that can be difficult, Lopes said. And it needs audiences for its programs, many of which are cultural, and the competition with the private companies is tough. "We need an 18-20 share," he said, for at least some of its popular programs. "If we go below that, it's difficult to explain [our value]." Another big need is to attract young audiences, which has been difficult. Lopes said it strives for that with a late night humor show, which has been gaining in popularity. "In my opinion, public service doesn't need to be boring. It's not a gray thing, either. We need to be creative, provide new programming." He said he learned more about that by teaching part time at universities.
One fun note: A popular program is a game show based on the U.S. "Price is Right." RTP tried it 20 years ago and it didn't work. Trying it again to help explain the euro currency conversion worked, he said.
The bigger challenge for RTP, like the entire television industry, is the digital revolution. Ever-changing technology, change in consumer behavior, and a different production system for its website and multiple platforms, can be perplexing. "We need to go through the storm," Lopes said. We don't have a clear picture of what is going to happen [in the future]."
The revenue from citizens for RTP is 59 percent below the European average, and if revenue doesn't increase, Lopes worries that it may have to reduce the work force further.
Despite its financial problems, we saw a sprawling complex with five TV studios, including a multipurpose TV studio with two control rooms where two broadcasts can occur simultaneously. The newsroom shares the same space without any glass wall. Forty journalists work on the main floor; the rest are in the balcony. Space is provided also for scenery and sets
The radio complex is even larger, yet takes up a smaller space. The complex includes 26 radio stations, four conventional, eight self-operated and 12 editing studios, as well as a DJ studio and one for broadcasting live performances
Both radio and TV have digital capabilities, and six satellites are employed to reach Portuguese listeners in Angola, Azores and those interested in the two weekly futbol games (what else, of course?) it broadcasts.
We had a great tour of both the TV and radio area, led by an assistant director who was incredibly fun. He showed us a studio he called an aquarium as the other employees "look at us like we're fish." We learned that DJs don't have playlists, but they can select their own music, often bringing CDs from home. One thing – In classical they have a set time period.
Everywhere we traveled in the building staffers were friendly, letting us look over their shoulders and permitting us to watch tapings. Obviously, they enjoy their work. And in tough economic times, that has to be incredibly important.
We grabbed a quick lunch before heading to Global Media's Diario de Noticias. CEO Vitor Ribeiro greeted us warmly, and Dr. Paulo Faustino who had arranged our visit joined us. Vitor joked to us that he was sharing Global Media's 2015-17 strategy, but he showed us slides in Portuguese so we couldn't divulge its plan.
Global Media bought Controlinveste's media properties that were in financial trouble –t wo daily papers, the one we visited in Lisbon (more for the upper- and higher middle-class Portuguese, he said) and the Journal de Noticias (more for the northern part and the middle- to lower-class – economically speaking – citizens of the country), a sports newspaper, to travel magazines, two printing companies, a distribution firm, and two regional papers (one the oldest in Portugal). Vitor had to bring in a new management team to solve the financial issues, and that included reducing the staff by 20 percent (200 people lost their jobs, he said, which was not a pleasant task) and cutting costs by another 20 percent. The results: The company returned a profit this past March. It's goals are to be even more profitable, and he showed us how it plans to get there .
That means being the first media of choice for consumers and advertisers, being proactive and innovators in a difficult era, generate content young audiences will want to read and hear, and overall, be the one site of reference in Portugal for radio and newspapers.
The Global Media political stance is central social democrat, he said, and even years after the dictatorship lost its power following the Carnation Revolution, Vitor said "anything too far right will not be well received."
He also said that the company has to be concerned with its products' quality. "We can't trick the consumer, or we will lost listeners and readers," Vitor said.
He has four objectives for the company: increase market share of readers, listeners and advertisers; reach more earnings before taxes in both the newspaper and radio properties; increase operational efficiency; and reduce debt. "Your debt should never be bigger than three times your cash flow," Vitor said, adding that it's a ratio young people should recall as they start their professional lives.
What needs to be changed at Global Media? Customer management, innovation (Global Media needs to become a solution provider for its customers and look for additional sources of revenue and reinvent its digital business), and increase newspaper and radio coverage but still decrease costs.
To this end, the company sells watches, plans special events, and is looking for partnerships in Portuguese speaking countries such as Brazil with large populations.
"The biggest challenge," Vitor said, "to managing people is to motivate them and guarantee success." He is happy with 700 solid jobs in the company now rather than the prior 1,000 jobs in peril.
What is at peril is the current situation with Google News and even Facebook. "These big search engines steal your content," he said. "We're content producers who don't get paid [by Google]. When we do, we get pennies. It's not a good picture."
Figuring out how to monetize the digital products is a big issue, as he said right now it only brings in 10 percent of the company's revenue. He sees the answer possibly as Google and Facebook paying a tax on its advertisements in Portugal and then passing on that revenue to those who create the content. Combine that with a recent survey that reported 74 percent of Portuguese say they are not willing to pay for digital news, and the problem increases.
"So if you implement pay walls [on websites], your page views come down," Vitor said. "So for now, we don't have an answer. We may not be making much money [on digital] but you're generating awareness of your brand. So you have to be there."
He said at 53 and with children near our students age, he said he still thinks there are jobs for journalists and writers. "The world needs content," Vitor said. "There will always be a place for people who can write."
Final day in Portugal
Friday, May 22
It's a beautiful sunny day in Portugal and our final full day here. We took a drive up the coast to Sintra, a beautiful  town Portuguese royalty escaped from the politics in Lisbon centuries ago to relax and unwind. This beautiful little town, with a castle and a palace is a must-see for visitors, and we made the most of our short time there.
Jan and I took a guided tour of the palace with our guide, Odette, while the students ran off to shop and explore.  Built by Prince Ferdinand, it is a treasure of Portuguese style amid Gothic towers, Moorish elements and Manueline artwork, furnishings and carvings. Beautiful tile covers walls and floors throughout it. We arrived early enough to beat most of the tourist and school groups, and Jan and I loved learning about the magpie room, seeing the kitchen with its immense towers, checking out the chapel and the courtyard, and so much more. The prime minister still visits here to escape the stress of politics, much like the kings of long ago, and I can certainly see why. We made a quick stop for coffee, hot chocolate and the delicious cinnamon pastry with almond filling that looks like long pillows. Jan and I happened upon a boutique with amazing jewelry and scarves and so much more. We made the most of a 15-minute stop there. Wish we had more time.
We left there and headed to the Cabo de Roca, the westernmost point of Europe. Wind battered us as we made our way to take a group photo in our trip sweatshirts. The ocean slams up against the shore and rocky coastline, and Odette said  it can be incredibly dangerous for those who aren't careful. She told us a tourist couple from Poland, leaning back to take a selfie, fell over the railing and plunged to their deaths.  We roamed a bit, checked out a souvenir shop and took photographs of the lighthouse there. Back on the bus to our final destination for the day, Cascais, a bit cold and windblown but pleased we had seen this place, on the same latitude as Washington, D.C.
Odette called this sweet town the Portuguese Riviera. We enjoyed a delicious lunch (David and I tried the grilled octopus and shrimp!) and some great Brazilian music in a very festive atmosphere. Students checked out all the shops, lounged on the beach and sampled more treats. After the leisurely lunch with Odette and David, Jan and I looked for cork presents and gifts with Portuguese's trademark rooster. So much to chose from and so little time!
We traveled back to Lisbon along a coastal road, drowsy and tired. We had just time enough to pack before our final dinner and a Fado show at Cafe Luso.
The bus traveled up steep roads up one of Lisbon's 10 hills to reach our destination in the nightlife area of Lisbon. Traffic was heavy, a mix of people heading home from work or looking for a great place for dinner and some music. We were the last group seated in the packed club, and the show was a surprise to me. I expected all singing, but it was a mix of Portuguese folk dancing – representing every region, Odette said –as well as some beautiful singing and expert Spanish guitar and accordion playing.
Two women and three men took turns amid the dancing, and the second surprise was how joyful some of the songs were amid the more mournful, full of longing music. We didn't understand the context or song lyrics, but we enjoyed it along with a great dinner.
The best part? The dancers selected Alicia Green, Rilyn Gancia, Courtney Giles and Kim Prelosky to join them and brought them up on stage for a final number. They loved it and we love watching them!
As we left, another crowd gathered to enter the club for a final show. Odette said that final act would include a 92-year-old singer. I saw her nursing a glass of port wine singing to herself as we left the club. May I have that kind of passion and energy when I reach my ninth decade!
Time for some sleep …. Early day tomorrow as we head to the airport and begin our journey home.
Some final thoughts …
Back home and nearly recovered from jet lag (it always takes me several days ……), some last thoughts on our Spain and Portugal adventure!
• I expected to find the countries interesting and beautiful, but the warmth and interest everyone showed to us was incredible. I had more hugs and kisses on both cheeks than I expected from our media hosts in particular. They loved our students' interest in their work and responded in kind. I know those kisses took some of them by surprise, but that gesture speaks volumes.
• Passion about their work showed through all the lectures and visits. The students always are surprised by "how behind" the media there are with the social media aspect compared to what they know here in the states, but it's a European thing. It has definitely changed since our media visits started seven years ago. But the websites are really improving. I found more than some of the students digging around a bit deeper before the visits. Now I have to try to keep up ….
• I particularly loved La Vanguardia. Ishmael Nafria. He has done incredible work in his young career in journalism and particularly digital media. We had lots to talk about … wish we had had more time.
• The students picked up quickly that more women are in positions of authority in Spain compared to Portugal. Nearly everyone except the president and CEO in top posts are women, and we had the opportunity to hear from many of them. What an incredible visit! They were so gracious as well – lovely reception with drinks and small desserts and a take home package of all their magazines and a souvenir mug. Wish I could have read them – but I did look at all of them and loved the layout, the variety of content and the evident care taken with all of them. Passed most on to our Portugal tour guide Odette who wanted to practice her Spanish.
• And our guides …what can I say? Just two marvelous, incredibly gracious and intelligent people. Mauricio made sure the interest students got to see a bullfight in Madrid and accompanied them. His historical knowledge of Spain is deep and wide, and he gave us great insights into the culture. (The tour we (Jan, Emily and Sara) had with him on Sunday was unforgettable.) We hated to say goodbye at the Barcelona airport. And Odette who took over in Lisbon went out of her way to make sure our three full days there were chock full of historical and cultural insights. Amazing.
• Both Mauricio and Odette told us the story behind the story of Spain's and Portugal's struggles with the economic crisis and political battles. Mauricio said the media there don't give the whole story and says if a vote were taken for separation from Spain (particularly in Barcelona), it would fail. Just not the support and a new political party is coming into power. (And the local elections proved it from what I read and heard so far.) Odette has been personally affected by the economic crisis as her husband is underemployed and they have twin 5-year-olds. She says she has become an amazing shopper.
• We saw signs slamming the euro and the European Union. Both guides said those behind these movements need a dose of reality. We saw them last year in France, too.
• We had such great food that I should eat salads and not much else for a week. We sampled all types of Spanish and Portuguese food. I can honestly say that I never had a bad meal in any of the cities we visited. And it was all incredibly affordable. One note: At the small local restaurants in Lisbon that Jan and I found with the help of our hotel, the wait staff was slim – just one in each. It doesn't mean they were not helpful. And it helped that we couldn't wait until 8:30 p.m. for dinner! Americans ….
• The first restaurant Jan and I found in Madrid was so great we tried to go back a second night. The door was locked! So we thought they were closed and tried elsewhere. They weren't closed …. Didn't open until 8:30! We missed getting a chance at another meal.
• Speaking of food, two big hits: the suckling pig in Segovia (oh, so delicious and tender!) and the marzipan made by the Toledo nuns. Wish I had had time to buy more of that candy ……
• Time slipped away from us and affected my shopping. Just never enough time to really explore (I didn't buy a thing other than a magnet in Madrid), and I bought more jewelry than anything else. No ties for my son, which has been a tradition. So many clothing shops for women, and I only saw casual stores for men.
• I love castles, palaces, museums and cathedrals. Sadly, I couldn't get to the Prado or the Picasso museums (lines way too long and no good blocks of time to go back), but that gives me something to return for someday. I did love the Barcelona museum that had us below street level and close to the original Roman foundations.
• I will never forget La Sagrada Familia, Antonio Gaudi's cathedral that will not be completed for years. I need to read more and learn more about his creative, colorful and innovative architectural style, so rooted in nature and devotion to God. I have never been so overwhelmed when I walked into a historical place as I felt when we visited it. It is just a must-see.
• I can assure myself that selecting these two countries – so alike yet so different – ended up being such a memorable experience for the students and professors. Another amazing adventure, and I must thank Rachel Bourn of Cultural Connections for the great trip and the amazing Jan Getz who makes it all happen. I so enjoyed our time together, Jan, and it makes me realize each time how much I miss you at Point Park. Muchos gracias and muito obrigado, many times over.