Hi! My name is Alicia Green. I'm a junior journalism major from Queens, New York. I keep really busy during the school semester with my involvement with Student Life, The Globe and Printing Services. When I'm not working or going to class, I enjoy watching a lot of television. I'm so excited to embark on this adventure with my fellow peers. I've always dreamed of traveling and seeing the world. I got my first chance during my senior year of high school when I traveled to London, Paris and Amsterdam with classmates. So I'm not really new to traveling outside of the U.S., but I will be new to Spain and Portugal. I can't wait to experience all the culture in both countries as well as visit all the media companies. I know this is going to be an awesome experience and trip.
My First Day in Spain
Hola mi familia y mis amigos!
Day 1 (May 12, 2015): I can't believe as I am typing this blog post that I am currently in Madrid, Spain. It is such an exciting feeling to be in a new country for the first time. Let me catch you all up on my first day in Madrid.
Our plane arrived in Madrid at 8:30 in the morning. By the way, Spain is six hours ahead of the United States. Anyway, we arrived at the airport where we gathered as a group to get ourselves together before heading over to Passport Control. When we arrived at that area, I had my passport ready with a smile on my face. I was so excited to be in Spain for the first time. When it was my turn to get my passport stamped, I approached the counter. The guy behind the counter looked at my passport and called me Alice. I corrected him by saying Alicia, but he disregarded it, said that my hair was not the same as my passport picture (I had longer hair when I got my passport in 2012) and told me bye. It was a really weird experience because I couldn't tell if he was serious or joking, but I laughed it off anyway.
During our time at the airport, we had a few mishaps, which were sorted out eventually. We met our Academic Coordinator Jan Getz and our temporary tour guide Olga. Olga was a very sweet older woman with grayish-white hair, a wide smile and a Spanish accent. Olga had a sense of humor, which was good because we were all just coming off a six-hour flight across the Atlantic Ocean. She lightened the mood with her smile and energy. She told us that our plan for the day was to go on a panoramic tour of the city as well as get lunch and meet with our real tour guide Mauricio at Madrid's Royal Palace.
We loaded the tour bus that was waiting for us outside with our luggage. We didn't do it alone, however. We had the help of our wonderful bus driver Pedro, who stuck with us throughout the day. Once we got all situated on the bus, Olga began the tour. She told us all about Madrid. One thing that really stuck out to me was that she compared the financial district of Madrid to Manhattan. The financial district, better known as the Cuatro Torres Business Area, of the city has four towers. The towers are Torre Espacio, Torre de Cristal, Torre PwC and Torre Bankia. Another thing Olga mentioned that I thought was interesting was the cultural section of Madrid, which included museums such as the Museo National del Prado and the Museo Nacional Centro de Arte Reina Sofía. We also learned from Olga that Spain had six national roads. A specific road would take you to a certain place, which is kind of similar to how things are in America. Speaking of America, I also learned that Spaniards drive on the same side as we do. I don't know why that was such a shock to me. I thought that since the British drove on the other side that they might have too.
While Olga was giving the tour, I listened, but I also took the time to see everything that Madrid was about. I noticed a few things during the bus ride. There were things that I had heard before about the country prior to visiting, and there were some things that surprised me. For instance, there was a lot of graffiti along the walls and brick, which we learned was common in Spain. It's a way for the people to express themselves, which is why a lot of it is not painted over. I also saw a lot of brands that we are familiar with in America like Mercedes-Benz Madrid, L'Oréal and Honeywell. I saw people walking their dogs, reading the newspaper and talking on the phone. However, they all seemed calm and not in rush.
After driving for what seemed like a long time, we finally arrived at our first destination; the Bullfighting Ring or as they like to call it in Spain "Plaza de Toros." Plaza de Toros was enormous and beautiful. Olga told us that the plaza could hold 25,000 spectators. She explained to us that bullfighting was so popular in Madrid that tickets were often sold in the black market. We learned that three bullfighters usually have to kill two bulls each, which came as a surprise to me because I had no idea the bulls were killed. I was caught off guard even more when Olga told us that after the bulls died, they were used as bull meat. She described to us the best way to eat bull meat, which she said was eating it with honey. I was all up for trying out new things, but I don't think that was going to be one of the things I tried. Olga went on to explain to us that the purpose of the bullfighter was to "hypnotize the bull." She even showed us some of the common moves they did while bullfighting.
After our visit to the plaza, Olga took us to a small shop called "VIPS." This was our food stop for the day until dinner so we all stocked up on fruits, sandwiches, and a lot of drinks. I didn't want to spend too much money on the first day so I opted for a club sandwich with lettuce, tomato, bacon, and jamon (ham). It cost me 3,95 euros. When we were all done paying for our food, Olga suggested that we eat lunch at Parque del Retiro. I must say that it was absolutely a beautiful park. Just entering the park made me feel like I was in the garden of a palace. There were white stone statues lined up on each side of park. There was grass in-between the statues that were cut in designs. I was in awe as we walked further in the park. I think I was more taken aback when I saw the beautiful green lake in the center of the park. People were in rowboats while others were hanging out on the stairs of the Monument to Alfonso XII. We were allowed to split up for lunch and meet back up at 12:25. My friend Dana and I walked further into the park until we decided to sit on the grass and enjoy our food. Parque del Retiro reminded me of Central Park, but it seemed much bigger and even easier to get lost in.
By the time we left the Park, it was around one in the afternoon. Our next destination was the Royal Palace of Madrid. When we arrived at the palace, we bid farewell to Olga and met Mauricio. Mauricio, who is much older in age, was dressed as business causal as he could be in 90-degree weather. I didn't know how he was doing it. He introduced himself to us before we began our guided tour of the palace. The Royal Palace was absolutely magnificent. There were many statues, paintings and tapestries in the palace. The chandelier lights were beautiful and really added to the overall look of each room. The furniture in each room had similar patterns or colors to the walls. One of my favorite rooms in the palace was a blue room with gold. There two paintings by famous artist Francisco José de Goya and a fresco dedicated to the demi-god Hercules. I thought Carlos II's chamber room was also impressive because of its Rococo style. There was a room that was made of all porcelain. I wanted to get a picture of it, but no photographs were allowed. I thought it was cool that a lot of the rooms in the palace were still used today by the royal family such as the Gala Dining Room, the chapel of the palace, and the throne room. It was weird to think that some of the rooms I was standing in were the same places the royal family held special occasions throughout the year.
We had done so much after arriving off the plane that morning, but we had yet to rest. We finally reached Hotel Sterling, our hotel during our stay in Madrid. We each got to our respective rooms and did what we needed to do before we had to meet again at 5:45 p.m. Before taking a brief nap, I showered and washed my hair. I was extremely tired, but I knew that if I slept for too long that I might not get up when I was supposed to.
The group gathered when we were scheduled to discuss our schedule for tomorrow, and then we headed out for a walking tour of the area. It was great being immersed in the Spanish culture. It was obvious we were tourists, but I preferred being on feet than sitting on a bus and getting a tour. I saw so many beautiful shops, people, animals, and buildings. We walked past a movie theater that was showing the "Avengers," "The Last Ride," and "The Wedding Ringer." We saw a KFC, McDonalds, Dunkin' Donuts and Burger King. We passed street artists and performers as they were in their element. My favorite one had to be the hefty Spiderman who was very sassy, posed for my picture and welcomed us to Madrid. I snapped so many pictures during the walk it's ridiculous, but I wanted to make sure I captured all the wonderful things I saw.
I would say our night came to an end when we went to a local restaurant for tapas, which is a mixture of various Spanish foods. When I tell you we ate a lot, I mean it. Our first dish was ham and cheese. It was very simple and light. It was followed by a Spanish omelette, which was absolutely delicious. I went for seconds and thirds. The next couple of dishes were good until we got to the fried calamari. I have never eaten squid in my life until then, and it was gross. I hated it, but I'm glad I tried something new. We ended our dinner with cake as we celebrated one of our classmates birthday (Happy Birthday again Olivia!).
It was definitely a day to remember. I can't wait to see what the rest of the trip holds. I'm excited for all these new adventures that are coming my way during these two weeks. Tomorrow, we embark on our first lecture and media visit. I'm sure there will be stories to share about those experiences. Stay tuned for more.
Taking on the Media: Vogue Style
Day 2 (May 13, 2015): Madrid is a city of beautiful people, amazing food and breathtaking scenery. I'm already in love.
Our second day in Madrid started when we took the Metro (the train) for the first time. The train system here is quite interesting because you have to press these two buttons on the train door for it to open. They don't open automatically, which at first caught me off guard. However, It wasn't too overwhelming because I had a similar experience when I traveled to Europe in 2012.
Once we got off the Metro, we headed to our first lecture of the day at the Universidad de Navarra. Although the main campus of the university is in Pamplona, this location is for graduate students looking to pursue a degree in fashion business, law, and business management communication.
We met with Professor Gustavo Garcia-Mansilla who gave us a wonderful presentation on Spain's media landscape in the present and future. I was very interested in learning about the media usage in Spain. I learned that newspapers and magazines have seen a decline in Spain, which is very similar to the United States. Professor Gustavo informed us that while those media were facing dramatic drops that radio and television were growing and in demand. He made another point that was great. He talked about how radio and television flooded people with advertisements that they don't care about. This is why, he said, challengers like Spotify are stealing radio listeners from stations. Although Spotify uses excessive advertisements, it's a way for them to push people to purchase a membership while radio station's intent is not as clear. He said that radio and television do not have the consumer in mind nor do they respect them. Another thing I found interesting about Spain's media is that the most read newspaper daily is a sports newspaper called Marca, which has a daily readership of 2.5 million people. In terms of Spanish media in the next 10 years, I agreed with many of the points Professor Gustavo made. They were all quite similar to what could happen to the U.S. media in the future, such as the fact that smartphones are going to be the main source for content consumption and traditional radio will be in strong competition with streaming services. Those were just some of the things I took away from the presentation. I really enjoyed the effort he put into it as well as the energy he gave us. He was very charismatic and handsome.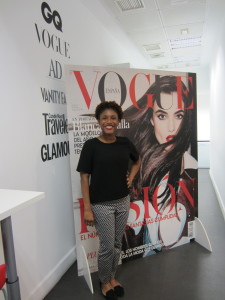 Although I loved Professor Gustavo's presentation, I think our media visit to Condé Nast Spain was the icing on the cake for today. Condé Nast is one of the biggest private communications group in the world, running Vogue, GQ, Vanity Fair and Glamour among many other brands in 26 countries. I'm not really into fashion (I'm a bit of tomboy), but being able to get so close to a company that runs magazines that I am familiar with was pretty cool. Before things even kicked-off, we met the president of Condé Nast Spain, Javier Pascual del Olmo. It was great meeting him because we learned that at one point in his life he lived in Pittsburgh. It was crazy to think that we would even meet someone from Spain that had stepped foot on Pittsburgh soil. Our time at Condé Nast was very long as we met with different people including Inès Lorenzo, editor at Vogue.es, Marta del Riego, managing editor for Vanity Fair España and Beatriz Sáchez Guillén, photo edition manager at Vanity Fair España.
During her presentation, Lorenzo told us that Vogue España had the second biggest Vogue website in the world after China. I thought the U.S. would be number one or two, but I was surprised to learn it wasn't. She also shared some great advice about being digital. She said when you're digital you have to have a voice, have a point of view and stand out. Lorenzo also gave us a tour of Vogue's newsroom where we got to touch some of the clothes they used in magazine issues, see where they take some of their photographs and experience what it was like to work for the magazine as we saw a lot of people sitting at their desks, hard at work. Riego who shared some interesting stories about Vanity Fair España also impressed me. She told us all about the work that goes behind covering stories, especially the cover feature. Vanity Fair España was the first medium to get an interview with Charles Manson in 20 years. It was also able to get an exclusive interview with Ricky Martin. One thing Riego said that stood out to me was that it was sometimes hard to find people to put on the cover. She said because Spain does not really have a Hollywood scene like in America, they have to often turn to socialites and royals to grace the cover. I also thought that Sáchez Guillén's presentation about photographs for the magazine was great. She was so lively and excited to share all the cover photos they had put together for different magazine issues. She shared with us something that she said a lot of people wouldn't, which was that magazines use Photoshop to achieve their goal.
And to end our time at Condé Nast Spain, we were presented with the May issue of every magazine as well as a mug. It was such a sweet parting gift.
After returning back to our hotel, we were given free time for the rest of the night. Dana and I went on our own little adventure around the area. We got to take a lot of pictures and see the neighborhood. We did a little souvenir shopping, enjoyed Sangria and ate helados.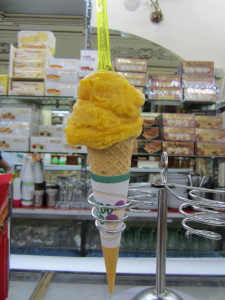 In my eyes, día numero dos was a success.
The New Normal
Day 3 (May 14, 2015): Did you know that most people would not care if 73 percent of brands disappeared? Apparently, it's the new normal. In America, only five percent of brands are important to people. Western Europeans only care about seven percent of brands while Asians care about 60 percent.
How can that be?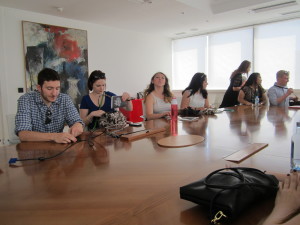 Niko Munoz and Olalla Castro of Havas Media in Spain took the time to explain this to us during our media visit with them today. With over 15,000 professionals in over 100 countries, spanning across three continents, Havas Media is one of the fastest growing agencies in the world. The mission of this global communications company is to make meaningful connections for its clients by collecting data, providing personal and collective value, sharing a brand stories, connecting experiences across all platforms and igniting conversation and action.
Havas Media manages 26 percent of Spain's advertising market so they definitely had an idea of why people have lost an interest in a majority of brands.
In 2013, Havas Media conducted a worldwide survey known as Meaningful Brands. They compiled data they received from 34 markets, 12 industries, more than 1,000 brands and 300,000 citizens. The purpose of the survey was to connect brands with human well-being by measuring the quality of benefits brands bring to people's lives.
What Havas Media took away from the survey is people don't think some brands are honest about their commitments and promises, which is why they don't care about them anymore. Based on the survey, some brands were at the top in certain categories while they were lower on other ones. It all depended on if people saw the brand as being positive or poison.
This past year, Havas Media concluded that enhancing people's quality of life and personal well-being has become increasingly relevant. It also concluded that half of the top 10 most meaningful global brands are technological (Google, Sony, Microsoft, Samsung) because people are really attached to these bands, which is due in part to the emotional strategy they push on people. Ollala said that consumer electronics is like food. It is now the first necessity.
Niko also touched upon a good point. He said that marketing people are lost. They don't know how to engage young people, which is why Meaningful Brands represents Havas Media's commitment to understanding how relationships in the world are changing.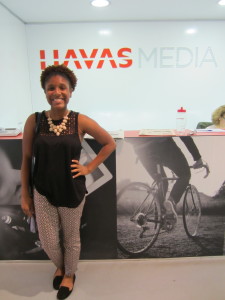 When I asked Ollala how Havas Media could try to get people in Western Europe to care about brands again like people in Asia do, she made a simple proposal. She said brands need to be functional, rational and honest. This, she said, is when they will become meaningful to people once again. And I couldn't agree more with her.
One Memorial, an Old City and a Stolen Heart
Day 4 (May 15, 2015): Although the Spanish Civil War ended 76 years ago, you can still feel the impact it left on the country of Spain at the Valley of the Fallen.
Traveling outside of Madrid towards the north and the mountains will bring you to the monumental memorial dedicated to the Spanish soldiers of the war.
And you won't be disappointed. Before reaching the memorial, you can see from miles away the beautiful Basílica de la Santa Cruz del Valle de los Caídos, which is the tallest memorial cross in the world. Once arriving at the memorial, the view up close is breathtaking. From the mountains to the monument, you're left in awe.
Do you think the churches in America are beautiful? You have to see the Catholic basilica at the Valley of the Fallen. Mauricio calls it an "outstanding work of engineering.
The inside of the basilica is huge. It's weird to think that such a magnificent church was man-made. You get this eerie feeling as you begin to walk through the church with its stonewalls, decorative arches, marvelous statues and amazing woven tapestries. The best part is the altar, which features Christ on a wooden cross. He is center stage. Standing there, you can see the chapels on each side where soldiers are buried and the holy sacrament is consecrated. There is also the burial site of former Spanish dictator Francisco Franco, who was also responsible for the building of the memorial.
And to top it all off, the sound of the organ playing while you stand in the basilica is absolutely wonderful.
Further in the north is Segovia, an old city full of art and history. Mauricio says that Spain was born in the castle of Segovia. He references that Segovia is known for its castle and almost 2,000 year-old Roman aqueduct. You can see and feel the life of the city as you walk through its streets. On the streets of Segovia, musicians and performers are putting on shows for the people. Little restaurants and food joints are giving people a taste of authentic Spanish food. A special festival brings vendors to the streets to sell handcrafted jewelry, art and other products.
In the heart of this city, you will find Segovia's city hall and the last gothic cathedral of Spain, which is quite stunning. If you make your way through the streets even further, you find the Patronato Rel Alcazar de Segovia, a beautiful castle with tapestries, decorative ceilings, stained glass and frescos. Pictures will do the castle no justice. It's an absolute sight to see.
Although Madrid captured my heart when we first arrived in Spain, Valley of the Fallen and Segovia stole it. We can definitely say that day four of this two-week trip has been my favorite so far.
Welcome to Barcelona!
Day 5 (May 16, 2015): The Cheetah Girls did not do justice to Barcelona when they filmed their second movie here. I will say, however, they did make me excited to maybe one-day visit here. And now, here I am in this beautiful city.
Our travel to Barcelona began when we took a three-hour train ride from Madrid. It didn't seem like that long of a trip, but the train did make three stops before our destination. I slept for a bit and caught up on my blogs.
We arrived in Barcelona at 4:40 p.m. Waiting at the station was our Barcelona tour guide Patrick, a cute older Spaniard with a friendly and hilarious personality. The sun was shining and a cool breeze could be felt as walked from the train station to our tour bus.
Our tour was short, but we got to hear a lot about the city where we would spend the next three days of our trip. I learned that Barcelona has a population of 1.7 million and that there are two official languages spoken in the region – Catalonian and Spanish. Barcelona also is a young and modern city because it has student population of 150,000. Yay young people!
We got to see the entire city from a hill called Montjuïc. I was just in awe of the beautiful skyline, the Mediterranean Sea and the fact I was in Barcelona. The city reminded me of paradise.
Things got really stressful when we had to walk a great distance from our bus to where our hotel. Patrick warned us that the hotel where we were staying was close to one of Barcelona's most popular streets, La Rambla. He said we needed to be careful with our belongings because pickpocketing was very common in that area. So walking through La Rambla with our suitcases, duffle bags and purses was a bit of an adventure. Some of us kept up while others trailed behind. I didn't want to get lost because there were so many people, and I was in a new place for the first time.
When we finally arrived at our hotel we were able to settle into our rooms, use the accessible Wi-Fi (finally) and prepare ourselves for our first dinner in Barcelona.
We ate at a restaurant called Consentida Cerveseria. It had a very cool vibe to it. Our waiter and waitress were quite friendly to us, especially our waitress. She was very funny and helpful. We even had a bit of a laugh with her even though there was huge language barrier between all of us and her. I opted out from eating our main dish, which was fish. Instead, I had this really delicious pasta. We also got to indulge in some Sangria as well before finishing off our meal with this delicious custard, which I'm not sure what it is actually called. It was one of my favorite desserts on the trip so far.
On our way back to the hotel, we got to chat and joke with Mauricio with whom we have all become really fond of. We found out that he would not be joining us in Portugal since he does not speak Portuguese. He's turned out to be one of the most amazing people I've met and someone I will truly miss. He really cared for my well-being and been such an enormous help throughout this process.
Once we returned to our hotel, a few of us decided to go out and experience the Barcelona nightlife. And let me tell you, it's quite interesting.
There are people literally offering free shots for you to enter some club or follow them to a beach party. We were smart enough not to get ourselves involved in that. Instead, we checked out a few Irish pubs in the area. It was fun. I got to bond with a bunch of other girls on the trip that I had small encounters with. They're all fabulous.
After our night out, we returned to the hotel in the wee hours of the morning since we were going to have a whole free day in Barcelona.
I'm glad I got to enjoy myself in such an amazing city. Barcelona, you're kind of great.
When in Barcelona…
Day 6 (May 18, 2015): After days of media visits and excursions, we finally got a free day to ourselves in beautiful Barcelona.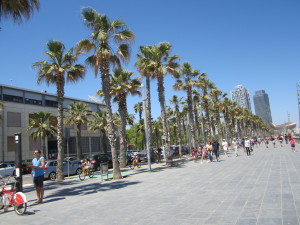 I really had no idea what I wanted to do on my day off, but I knew I wanted to explore the city.
The group of girls I bonded with the night before and I decided that we were going to visit Barceloneta Beach. It was a bit of a walk away, but in the end it was worth it.
The beach is on the coast of Barcelona, and it has the prettiest water I have ever seen in person.
When we got to the beach, it was packed. There were people everywhere. We found a nice little spot close to the water. Interesting fact: Woman here are often topless on the beach. It's the norm here in Barcelona.
I never planned to go swimming or anything like that, but just to get my feet wet. When I approached the water in my dress, I put my feet in the cold Mediterranean Sea for the first time. It was pretty awesome. I ended up getting half of my dress wet as the water splashed on me. But when in Barcelona, right?
We sat on the beach for about an hour or so just soaking up the sun, enjoying the scenery and catching some sleep. There were people on the beach who would stop by us to sell drinks, henna and even massages. It was a little weird, but it seems to be the norm in Barcelona.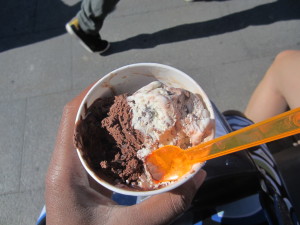 After we realized that time was slipping away from us, we decided to leave the beach and do a little shopping. But first, we stopped for some delicious helado, or ice cream as we Americans like to call it.
We stopped by some little markets on our way back. I didn't really see anything that I liked so I waited until we got to the shops closer to our hotel to buy some things.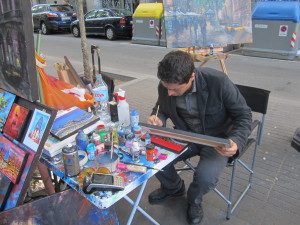 My favorite encounter today was with a Spanish artist named Edgard Márquez. We stopped by his little outside shop on the La Rambla because we were taken aback by his work. We were hesitant to buy anything because the prices were hefty. After much persuasion and the lowering of prices for us, we decided that we were going to support his craft. He signed the piece of artwork that I picked out, and handed it to me. He was such a sweet man. I was glad that I bought something of his.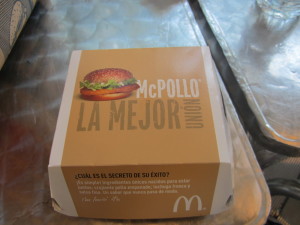 Ironically, for dinner we decided to stop at the local McDonalds. We were all realizing how much of a budget we were on so we had to go with the cheapest option we had. The food was fine, and it was the first time I actually finished my meal completely in a long time. I was not even mad that I spent my money on it.
The rest of our night consisted of meeting together as a group to discuss our trip so far, and returning to our rooms to end our day off.
I'm just glad we were able to see more of Barcelona on our own. I think we all needed it.
Getting a taste of Barcelona Media, Futbol and Flamenco
Day 7 (May 19, 2015): Today, we went on our first media visit in Barcelona. Our day started at TV3, a public Catalan television channel.
We got to meet with Teresa Guitart, head of international relations and sales, who started off her presentation by telling us that TV3 is not a usual television channel, but a special one.
Because 90 percent of people in the Catalonian region speak Catalan the government decided it was necessary to have a mass media in the language. Guitart told us that all the main networks in Madrid broadcast in Spanish and that a language like Catalan could not survive if it was not present in mass media. And this is why TV3 was formed.
Something Guitart said that stood out to me during her presentation was that TV3 doesn't do reality shows. She said they wanted to offer their audience more quality programs and try to educate the audience in a fun way that does not include reality show programming. Guitart said the most reality program TV3 has broadcasted was a talent show called "Oh Happy Day!"
During her presentation, she also discussed the economic crisis and how TV3 was affected by it. Their situation was very similar to what was happening in America. There were budget and salary cuts, layoffs and programming reductions. However, even with the crisis, the channel has remained number one in the region and number one in audience ratings as well as quality perception in the last five years.
I also thought it was interesting how Guitart stressed the importance of having a children's channel because they wanted to give children a chance to watch cartoons in Catalan. She talked about how popular anime was among children in the region as well as "Tom and Jerry," a program we all know and love.
After meeting with Guitart, we spoke with Ferran Molines, head of image and producing for the marketing department. Molines took the time to discuss his job, which includes developing image for all the channels and promotions. His job also includes being responsible for the channel's logo, which he said they were very proud of. He also works with companies outside of the station as well. I thought it was cool how he said he enjoyed starting from zero on projects because it is the most interesting thing for him even though it is also challenging.
Once we were done listening to Molines' presentation, we got a tour of the TV3's facilities. We got to see the newsroom where about 200 journalists do work, the sports studio control room, the sports studio, and the CPA building, which had four studios. I think the best part of the tour was getting to see a live show called "Els matins" in action. The presenter was on air with two additional people on this beautiful white, orange and gray set. We were told the show was on air for six hours with the hosts switching at a certain time of the day. We visited the biggest studio (800 square meters) where they were working on the set for Sunday's upcoming show about the elections. However, we didn't get to visit the two other studios because one was broadcasting a cooking show and another one was taking pictures for election promos. We also got to see the characterization factory where they make the masks and wigs for programs as well TV3's public hall where we took a group picture.
As if the day couldn't get any better, we took a tour of Camp Nou, the home of futbol team FC Barcelona. We learned that the stadium could fit 100,000 people. I don't think I've ever been in such a huge stadium. It was overwhelming, but cool at the same time. We got to see the pressroom where journalists are separated by newspaper, television and radio. Then, our tour guide Roger led us to the main press conference room. Roger also showed us the visitor locker room at the stadium where some of the best players in the world have been. There was also the chapel where some of the players went to prayer before their games, which had the Black Madonna. Our final stop on the tour was the cabin for commentators, which was all the way at the top of the stadium. From there, we got to see where the media conducts their coverage of FC Barcelona games.
To end off our wonderful day, we got to experience our first flamenco show. Flamenco is a popular form of music, singing and dance in Spain. Not only did we get to see the show, but we got to enough a delicious meal with it, I was so impressed by the soul and passion in each dancer's movement to the music and singing. I loved how the women were wore these beautiful long dresses as they moved across the stage. When the performance was done, I wanted to be a professional flamenco dancer. I was reenacting it all the way back to our hotel.
If I could sum up today in one word, it would definitely be "epic." I got to know different, little pieces of Barcelona.
Farewell Mauricio
Day 8 (May 20, 2015): I hate goodbyes. They're awful. I can't believe we had to say goodbye to our wonderful Mauricio. He's been with us for eight days, but it feels like we've been with him for much longer. I've gotten so used to having him around with his humor and sincere concern for all of us.
At first, he was supposed to be with us during our entire trip, but things changed. We were all bummed when we found out he wouldn't be joining us in Portugal because he doesn't speak Portuguese and didn't know his way around the city. It literally broke our hearts.
I had become fond of Mauricio. When I first met him, I wasn't sure how I felt about him. He seemed very serious, but I would soon find out that wasn't the case. He was sweet and caring. He had a great sense of humor, and I think he really held the trip together.
When he found out that I was allergic to certain foods, he made sure to contact all the restaurants we would eat at during the entire trip. He would check-in on me to see if I was okay with certain meals. I was really appreciative of how much he cared.
Not only was he a great person, but he also was quite knowledgeable. He was the best tour guide while we were in Madrid and Barcelona. The amount of things he knew about each place we visited was amazing. He was full of facts like our own personal encyclopedia.
If you were ever around most of us, you could hear us talking about how much we loved Mauricio. We learned so much about him. He was married and lived in Madrid with his wife. They never had children, but he still had this dad vibe to him. When he was younger, he got arrested because he talked politics with a group of peers. And he attended tourism school to be the awesome tour guide he is now.
He had such a distant voice and laugh.
Saying goodbye to him at the airport was absolutely sad. I got very emotional as he said bye to us. A lot of people hugged him while some of us just stood there with tears building up in our eyes. We had all gotten attached to him that it hurt to say goodbye.
Mauricio, we miss you. Thank you for making the first half of our trip such a wonderful and life changing experience. You're one of kind. I will always remember you.
Welcome to Lisboa
Day 9 (May 21, 2015): We arrived in Lisbon last night after taking a flight from Barcelona in the evening. We are now five hours ahead of the United States (just for your reference).
Anyways, when we arrived last night we went straight to our hotel since it was getting late. Since our hotel is the Holiday Inn Lisbon, I sung "Hotel. Motel. Holiday Inn" when we got here. We also met our new tour guide Odete. She's no Mauricio, but she's very sweet and seemed very excited to have us here in Lisbon.
So, technically today was not our first day in Lisbon, but it's the first day we got to see the city.
Around 10 a.m., Odete took us on a panoramic bus tour of the city. I was kind of used to it by now since we did it in both Madrid and Barcelona.
We got to see a lot of the historical sites in Lisbon. One of the sites was the Torre de Belém (Belem Tower), which is a symbol of the Age of Discovery. We also saw the Padrão dos Descobrimentos (Monument to the Discoveries), which is also dedicated to the Age of the Discovery and the maritime explorers. The monument's detail was quite impressive.
I think I was most excited to see the Ponte 25 de Abril, (25th of April Bridge), which is very similar to the Golden Gate Bridge in San Franciso. The same company constructed both bridges, which is why they are called twin sisters. Another big part of the Portuguese landscape is the Cristo Rei (Christ the King) statue that overlooks the whole city of Lisbon. According to Odete, the Cristo Rei was inspired by the Cristo Redentor (Christ the Redeemer) statue in Rio de Janeiro, Brazil. She also said the statue was embracing the town and blessing Lisbon, which I thought was wonderful. In a way, I felt protected because of this. I felt like Christ was watching over me in this beautiful city.
I was also surprised to learn that 250 million people speak Portuguese in the world. It wasn't the only time I heard that fact today. During our lecture at the New University of Lisbon, we were told that Portuguese is the fourth spoken language in the world.
Another thing that stood out to me about Lisbon is the amount of graffiti I saw around the city. I thought there was a lot of graffiti in Spain, but around Lisbon I feel like there is so much more. For some reason, I saw it as a wonderful form of art. In America, I don't think I would of given it a second look. It's seems like graffiti in the states is more looked down upon then it is here. I feel like the people of Spain and Portugal have embraced graffiti and use it to tell their own stories.
Also, if you didn't know, Portugal is known for its cork and port wine, which I got to taste during our trip to the New University of Lisbon. I am not usually a huge fan of wine, but it was surprisingly good even with its strong taste.
Our visit at the New University started with a very kind gesture by Professor Paulo Faustino. There were delicious pastries as well as the port wine. I really noticed during our most of our visits in both Spain and Portugal how hospitable our hosts were to us. Many of them offered us water and snacks while some even had gifts for us.
During his lecture, Professor Faustino discussed the Portuguese media system. He gave us a broad idea of the 10 main media groups in Portugal, which he said were owned by national groups and investors. One of the things I found interesting about the 10 main players was that the Catholic Church owns Renascena. Faustino even said that the group's main assets are three radio channels whose audiences' standout in Portugal. In America, we are not really used to religion playing a huge part in media. It seems like the Catholic Church has a strong influence in Europe.
Another thing that stood out to me about Professor Faustino's lecture was when he discussed regulating the media system in Portugal. I noticed that not many of other speakers touched upon that during our trip so far. Professor Faustino talked about how there was a specific entity for regulating media known as ERC. He said the purpose of the entity was to ensure the free exercise of the right to information and press freedom as well as the independence of the media activity towards the political and economic power. He also said its purpose was to ensure the non-concentration of ownership of entities pursuing media activities in order to protect pluralism and diversity. And finally, it was also established to ensure the effective expression and confrontation of different points of view while also respecting the principle of pluralism and the editorial line of each media. He really stressed the importance of regulation as a way to promote creativity.
Not only did Professor Faustino discuss the main media groups and regulation, but he also touched upon a new trend in Portugal. This new trend, he said, was national media companies working to develop internationalization, namely to Portuguese diaspora in countries like Brazil, Angola and Mozambique. He said that there is a general consensus that Portuguese companies, including media and creative industries, need to be more alive to find opportunities in foreign markets.
I was also impressed with the Portuguese language and how there are nine Portuguese-speaking countries around the world. Professor Faustino also believes that the Portuguese language can be a valuable resource in an international context as well as in a political, cultural and economical perspective. Faustino said the main issue in Portugal right now is going outside and maximizing the Portuguese language.

Our visit at the university also included a presentation by Lara Alameh, an American who has been living in Lisbon for 10 months as part of a fellowship. She gave us an interesting perspective on being an American living in the city. She said the lifestyle here is different, but she appreciates the social life she has gained while living here. She told us she wants to permanently stay in Portugal. She's also been learning Portuguese through her Portuguese friends and taking language classes. She said something I have always agreed with, which is that many people in Europe speak more than one language and that if you can, you should learn a new language. I've tried to learn Spanish, but honestly it's too time consuming when there are so many other things going on in my life.
And our final presentation was by João Palmeiro, president of the Portuguese Press Association. He shared a lot of historical information regarding Europe and the issues the media is facing in regards to sharing knowledge and insights, creating quality content, regulating content and delivering to consumers on all platforms. He was very intelligent. He discussed a Chinese search engine called Baidu and how it is making a huge impact. He compared it to Google, which I thought was interesting.
I feel like we absorbed so much information today, which I am quite grateful for. We've learned so much during our trip so far. It's crazy to think that tomorrow is our last day of media visits.
Journalists: There Will Always Be A Place For Us
Day 10 (May 21, 2015): It feels like a lifetime ago when we arrived in Europe. Now, we are done with media visits and almost on our way home. It's such a weird feeling. It's like Spain and Portugal has become my new home.
We started off our morning at Rádio e Televisão de Portugal (RTP), a state-owned entity with radio and public television. We were welcome with pastries and drinks once again, which I thought was awesome. I grabbed another pastel de nata. I swear by that time I had eaten at least six since we landed in Portugal.
Lopez de Araújo, director of International and Public Relations at RTP, welcomed us and said how pleased he was to have us there because it's not very common to have U.S. students visit the company.
I thought it was remarkable how people in Portugal paid for their public television through their electricity bill. Araújo told us that 2,65 euros were paid by each household per month. It's funny because I thought of America and how people there would probably throw a fit if they were told they had to pay for their public service. Araújo did say, however, that the Portuguese people do want to know why they have to pay for public television. He told us that they have to explain to people what they're receiving from having public service.
In all, RTP has eight television channels and eight radio stations. The corporation not only has a mass audience in Portugal, but it also has an audience abroad internationally with channels dedicated to the Azores, Madeira and Africa. RTP broadcasts to 200 million Portuguese speakers worldwide.
One thing I've also noticed about Spain and Portugal is the need to attract the younger audience in the media. I've heard multiple times during presentations and lectures how important it is to keep to young people interested. At RTP, Araújo said that public television needs to have a young public audience because if it doesn't it becomes only a service for older people. He said, "Public service doesn't mean boring." He informed us that RTP has been working to its young audience by starting a late night talk show called "Five to Midnight," which is kind of similar to "The Tonight Show Starring Jimmy Fallon" and a lot of the other late night shows we have in America.
After hearing Araújo's presentation, we were taken on a tour of RTP where we got to see a live show called "Agora Nós." We watched as they prepped for the show and stayed a little while after the cameras started rolling. It was awesome. We also saw the newsroom and studio where a presenter was reporting live. Our visit to RTP's radio studios was pretty great too. As we walked by the studios, we saw the number one fado singer in Portugal being interviewed in studio 11. We also got to see one of the best Portuguese composers in another studio.
It was definitely an experience for the books.
Our day didn't end there. We visited the newspaper "Diario de Noticias" to speak with Vitor Ribeiro, CEO of Global Media Group. He gave us insight into the company's 2015-2017 strategy plan, which included goals for its press and radio. I thought it was interesting how Riberio said, "If you don't please your listeners or readers, you don't make money." I thought he had a strong idea about what it takes to be profitable as a media company, but also how to please an audience. He said how much of a constant balance it is between increasing advertising and producing good quality content.
He gave me a lot of hope to be a journalist in this day and age because he said there would always be a place for journalists. He said, "The world needs content," which is why journalists will always remain relevant in the world.
I think it was perfect ending off our final media visit with Ribeiro because he was modernized and had a great insight into the future of his company. He also left me a great impression on me, especially because he hadn't given up on journalists. He remained confident in their role and impact on society.
It's Been Real
Day 11 (May 22, 2015): What do you do on your last full day in Portugal? Explore, of course.
In one day, we visited the town of Sintra, saw the Atlantic Ocean from the westernmost point of continental Europe, explored beautiful Cascias and watched a fado show.

On our first stop in Sintra, we had a little free time to roam the town on our own. Dana and I walked around snapping pictures of the beautiful palace, colorful buildings and anything that really caught our eye. My favorite photograph was actually one of me posing in front of praying hands. After walking around for a few, we stopped at this little shop to get pastries. Of course, I got another pastel de nata. I swear I could turn into one after all the times I've eaten it already. They're just so darn good with its custard filling.
We left Sintra via motorcoach to Cabo da Roca, where we took pictures of the Atlantic Ocean. I remember Odete told us that just on the other side of the ocean was the United States of America. Home felt so close, but so far at the same time. I was in awe of how beautiful the Atlantic Ocean actually is. From there, I got see the water in its most bluest form. There were also massive waves even deeper from the shore. I was a little nervous being so close to the edge because Odete told us that people had died falling over the cliff. But everything turned out good in the end.
My favorite part of the whole day was visiting Cascias. I was like a kid at the candy store when we first drove through the town. I loved seeing all the little boats by the water while people relaxed on the beach. There were so many shops and restaurants that specialized in seafood. I'm not a huge fan of fish, but I thought since it was my last day in Portugal that I would try some for the heck of it. Dana and I went to this restaurant where we both ordered fish and chips, Portuguese style. I was quite surprised when it actually tasted good. I finished the whole entire plate. I mean I guess a little adventure never hurt anybody.
After spending a couple of hours in Cascias, we returned to Lisbon to get ready for dinner. We were going to be seeing a fado show later on that night.
On our way to the restaurant, Odete told us that fado meant fate. She said that fado wasn't music that you danced to, but rather listened to. She said it touches the heart and soul of people with its nostalgia about love and other things going on in our lives.
The highlight of my night was when Rilyn, another classmate of mine, and I got to dance on stage with the folklore dancers and singers. My face lit up when one of the ladies approached our table and called on me to join them on stage. I was saying earlier that night how great it would be if I could help bring diversity as well as my talent (jokingly) to the performance.
It was definitely a night to remember. I'm glad I got tot end my time in Lisbon and in Europe being a part of Portuguese culture.
I've had the time of my life these past two weeks. I've been blessed with the opportunity to meet so many new people, try amazing new foods and step out of my comfort zone. I'm sad that this is all coming to an end, but I'm happy that I am on my way home to the states.
Thank you Spain and Portugal for showing me new parts of the world. Thank you for the kind people, the beautiful scenery and the wonderful food. It's been real. Goodbye for now.