Story and photos by Kariann Mano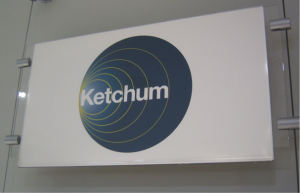 International Media students visited Ketchum Spain in Madrid as one of eight media visits. Female professionals highlighted various public relations campaigns from different disciplines in a multiple case study presentation for them.
Helena Borrás, Human Resources and Change Management director, greeted the class in the Ketchum lobby on the third floor of the building. She led the students and professors into a nearby room, the Training Room as it was titled.
The Training Room had one large window one the one wall, overlooking some houses and buildings in the city. Borrás offered many students a seat at an angular table, while others gathered chairs from around the room, sitting in a semicircle.
Borrás set the stage for the morning as she recited the history and key information about Ketchum Spain.
Ketchum Spain was founded in 1989 by its three CEOs: Teresa García, Tony Noel and José Ramón Caso, who had owned their own agency. It is a top-three full-service public relations agency, and it offers a number of services such as public affairs and lobbying, crisis management, publishing services and special event planning. Some of its clients include Procter & Gamble, Kodak, IKEA and McDonald's. An agency is a collective noun, so the pronoun agreement is it or its.
Borrás took questions before the first speaker arrived. After being asked what a usual background is for employees, Borrás let the students know many of them have a background in journalism.
Lourdes Bustamante, a senior account executive in Brand Marketing, spoke to International Media students about Rochas, one of her accounts, which is a French perfume line.
Using the EDR Trio from Rochas, Bustamante explained, "Each fragrance has a different value." She presented the entire campaign to the room, complete with PR objectives, strategies, actions and tools. She showed how her team would use TV and other media to promote Rochas, explained the "Press Day" where their celebrity ambassador would bond with bloggers with one-on-one interviews and a meet and greet. The ambassador would pose for photos for their bloggers as well. To create even more buzz, they would send out creative coverage for Christmas and Mother's Day, two important holidays for fragrance purchases.
Carlota de Lucas, an account supervisor in Brand Marketing, chatted about her campaign: Hugo Boss' "Man of Today," which remains in progress until summer 2015.
She began her presentation by showing the four steps her strategic communications plan was built on: creativity, exclusivity and timing, digital and a 360-degree execution that has the campaign touch in the marketing plan.
She discussed objectives and strategies as well, but also described the campaign phases and assets, along with the celebrity international ambassador, Gerard Butler, who embodies the "success, style and ethics of a 'Man of Today,'" de Lucas said.
Ludi Garcia, director of the Digital Department, did not take the usual path for one of her social media campaigns, "Guti Talks Trash."
A controversial Real Madrid futbol player, José María Gutiérrez Hernández, or Guti as most commonly referred, was recruited by Ketchum Spain to help make citizens recycle; Spain has a low rate of recycling. It all started with one single tweet made by the party-animal that caused a slew of 19 million impressions in only four days. Guti also posted a video about recycling, and there was media coverage and presence throughout the campaign that helped support eco vidrio, a private, nonprofit organization that manages recycling in Spain.
Teresa García, one of the CEOs and a former journalist, stopped in for a quick meeting with the class. She started at Ketchum in 1992. She told us that Spain has stricter media laws than the U.S., so they aren't able to do as much as the U.S. She also reiterated what so many Point Park students hear every day in class.
"This industry is about close relationships. You need to be professional but have a social connection," she said.
Before she left, García empowered many by stating 80 out of 100 people working at Ketchum Spain are women.
Guadalupe Saez, another former journalist and a senior executive in health care, spoke about Allergan, a brand of Botox, for migraines.
Difficult as it may be to not mention the word "Botox" due to Spanish laws, the campaign was filled with how to inform audiences and approach them by appealing to their emotions along with real data.
Allergan was endorsed two years ago for migraines. Creating an event with a "Migraine Square," an artist stood in the middle drawing activities on a giant head that many people miss out on due to suffering from chronic migraines. Doctors were on site to answer any questions about Allergen, where they were allowed to use the word Botox.
Lara Vilarino, the next speaker presenting her case study on client Abbott Nutrition, works in public affairs and lobbying. Part of her strategy was to create awareness about malnutrition related to illness. Over a few years, there was a different objective, whether it was to introduce national nutritional plans or creating a website.
The last speaker, Elena Gomez, has worked in the Brand Marketing department for the last 15 years. She presented a brand of laundry detergent pods as "Ariel: The Ropantic Show."
For her client, she strived to maximize Ariel PR and create awareness to avoid waste. She showed us her challenges, strategy, idea and plan. The event brought together people and their old clothes, in which they were either exchanged or made into a necklace or other sort of useable object to maximize the use of garments. There were over 2,000 garments exchanged and the event had the largest media impact of any Ariel product.
Borrás took the students on a tour of Ketchum Spain after all questions students had posed were answered and speakers returned to their offices. A one-floor spread, the agency reflects a layout similar to other Pittsburgh agencies.
Students and faculty agree that Ketchum Spain showed hospitality and shared valuable information to a group of students who attend school in the city where the Ketchum enterprise was founded in 1923.
By Elizabeth Meckel
The Ketchum Spain office was founded in 1989. It offers a full range of services including public affairs, lobbying, digital media, mobile marketing, editorial services, training and event planning.
Ketchum Spain covers a wide range of topics for its clients, including technology, health care, corporate communications, as well as experience in brand marketing.
The team is a part of the Omnicom Group and the Ketchum Global Network, which included over 100 different offices around the world. Ketchum was founded in Pittsburgh and is the largest communications consultancy in Europe. It is one of the most diverse in the world, which is why it is ranked in the top three agencies.
"Women are more prominent in this field because they seem to be better at it," stated Teresa Garcia, when asked why so many employees at Ketchum Spain are women.
Some of its major companies include Procter & Gamble, Ecovidrio, Kodak, Mcdonalds, Ikea, Hugo Boss, and many others. It also help with smaller companies as well.
Luvi Garcia, director of digital, recently came up with an ingenious campaign to encourage public to r recycle. Guti, a famous soccer player for Real Madrid, was the main focus of the campaign.
"Guti is known for being controversial, and we wanted to use that to our advantage," Garcia said.
On Guti's Twitter he tweeted that he didn't care about recycling and this led to a lot of unhappy responses from those on social media. They were able to spin the story into something positive for the audience and make them think that this was a real scenario even though it wasn't. Through the campaign they were able to gain quality press and to encourage people to recycle.
Ketchum Spain has also done several other great campaigns for the community, specifically one regarding chronic migraines, in which they had to overcome many rules and regulations set by the government. Through different types of campaigning tactics as well as lobbying, they were able to figure out a way that people could get help without breaking the rules and guidelines set.
The main focus mostly was to boost Botox sales for Allergan, considering Botox has a positive effect for those struggling with chronic migraines. However, they were not allowed to use that brand name in the campaign, a definite drawback. They paired the product with Chronic Migraine Disease Awareness, and they were able to properly promote the product without breaking any laws.
"The issue is that most patients don't know that they have chronic migraines, so we had to figure out a way to get the patients to the right place," senior account executive Guadalupe Saez said.
Through the campaign, they were able to organize events that allowed them to spread awareness and eventually get patients the treatment they need. This campaign released a video that was nominated for an award at Cannes Film Festival.