Story and photos by Marissa Rayes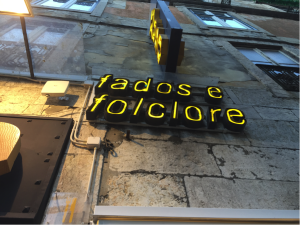 Fado is a certain type of genre of music that is very popular in Portugal. The song can be about anything from love to despair or just about Lisbon in general.
People in Portugal will first attend a Fado show, go for drinks after the show then head to the discotheque. Fados e Folclore was dimly lit when we arrived, which added to the mood of the show. People aren't allowed to smoke in the place because it could affect the singers' voices.
First things first: something to eat while we waited for the performers. Appetizers including plates of cheese, sausage and olives were served before the performers began. After they finished their part of the performance, the next course was served. The meal that night included bean soup, chicken and potatoes and a bowl of flan for dessert. Port wine and water were the beverages of the night.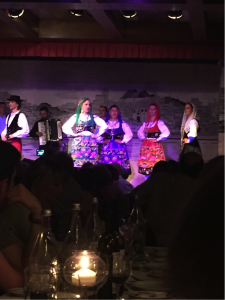 Dancers in classical Portugal costumes —  women in colorful, peasant-like dresses and men in vests, bright-colored trousers with suspenders, and flat black hats — filled the stage.
The male singers and female singers, dressed in formal outfits, all performed three songs each accompanied by three male musicians. Some songs that were performed seemed to be upbeat, while others were more depressing. It was hard to tell the actual meaning of their songs because of the language barrier. While a man was warming up on his instrument, he played a cord or two from the United States' "The Star Spangled Banner."
The crowd seemed enamored with the final gentleman who performed. He raised a white napkin and began waving it in the air. The crowd joined him in the action as if it was a normal thing to do. As a finale, they chose people from the crowd – including Alicia Greene, Rilyn Gancia and Kim Prelosky from our group – to go on stage and join in a wedding dance with the performers. The people chosen danced and carried flower covered hoops in a circle on the stage, passing by a professional photographer who captured the experience for them.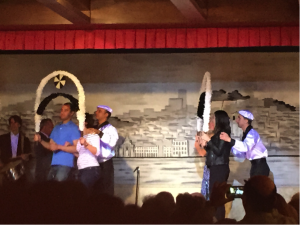 "The Fado Show was a unique experience. Although I couldn't understand what was being sung by the beautiful singers, the folktale/storytelling part of the show was a bit clearer," Kariann Mano, a student on the trip, said. "I liked how the show blended music, dancing and singing. It was awesome seeing some of our students dance in the "wedding" — What a treat!"
Finally, all the performers came back on stage to take their final bow. They seemed to be wellknown by the crowd as they went crazy over this Fado show, and the Point Park students considered themselves lucky to experience the event that unfolded before them.