Story and photos Kimberly Prelosky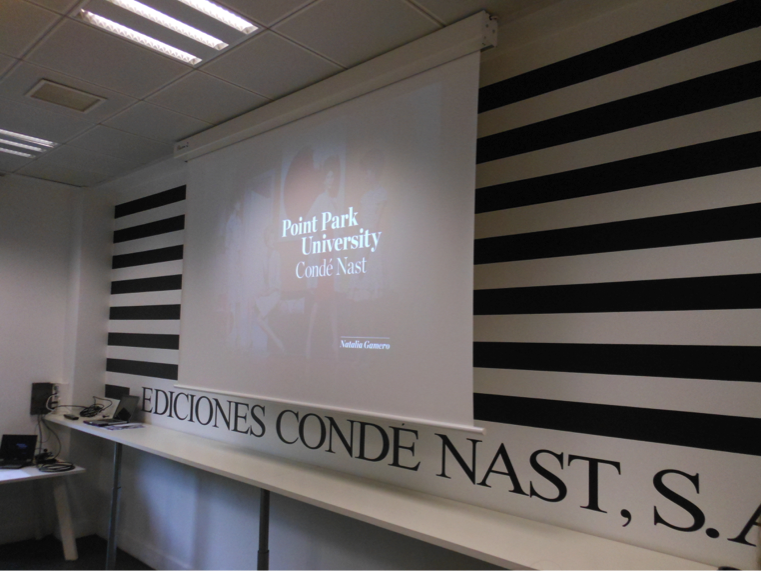 Conde Nast Spain is a publishing company based in Madrid, Spain. It is one of the largest companies of its kind to be privately owned, which is reason for the unique value propositions and attention to consumer-oriented details that the group so diligently follows. Those employed by Conde Nast Spain all seemed to have similar qualities — passion being the most evident.
Chief Executive Officer Javier Pascual del Olmo met with us first to welcome us to the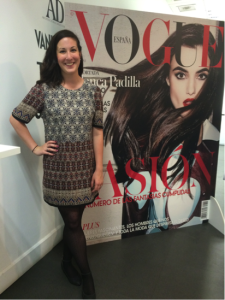 offices and explain a little bit about the company. Conde Nast Spain is owned by the Newhouse family, just as all other branches of the company are, but it was launched in Madrid in 1988. Vogue was the first publication brought to the Spanish forefront and has been followed by Architectural Design, Conde Nast Traveler, Glamour, GQ, and Vanity Fair. His pride in the company was unmistakable as he explained that Conde Nast Spain is one of the largest companies in terms of revenue and the success of their operations is often attributed to the fact that they are privately owned and free to make creative decisions in accordance to the owner's wishes.
Natalia Gamero del Castillo, vice president of Corporate Development, took us further into understanding the mission of the company. Conde Nast Spain reaches 16.3 million users every month, and for a company that large, managers have high standards in place. The focal points of Conde Nast Spain's mission are quality, integrity, long-term vision, local autonomy, innovation, talent, learning and influence. They strive to achieve excellence in these areas because a certain value has been placed on each of these areas for reasons determined over the last 27 years. Gamero del Castillo declared that the motto around the company tends to be, "Innovate even at the risk of failing."
Conde Nast Spain is also forging a movement in what Gamero del Castillo referred to as consumer empowerment. It wants its readers to feel in control and give them the content they expect from publications like Vogue and GQ. This company goes to great lengths to research the consumer and stay in touch with interests and expectations. It also recognizes the challenge of staying relevant in an increasingly competitive market. Knowing there is always something to improve on is half the battle and continuously improving is the other. Conde Nast Spain likes to try new things and be analytic of them, Natalia explained. While a magazine used to be centered on its writers, photographers, editors, adverting teams and so on, now things are turning toward digitally driven content.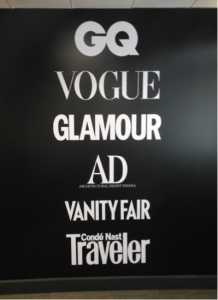 This company stays with the times and now looks for people who can strategize, analyze, manage content and juggle to create new digital platforms. The profile of an employee is changing and a company will only survive if it adapts with its market.
Ines Lorenzo has worked at Vogue for 11 years in every department. She described her experience with enthusiasm about the brand and told us one of her biggest challenges as its editor of Vogue.es (we need to explain her position) has been to take the brand to a digital format over the years. She explained that she wishes to see Vogue shift into a news source, and that she wants to bring the whole experience to the Vogue universe in terms of digital content.
One thing that runs through all of the employees who spoke to us is their concern and passion for their work. These attitudes left many students feeling as though they would like to work in a company similar to Conde Nast Spain if not actually pursuing an internship there.
"Visiting Conde Nast was probably one of the highlights of the trip. Not everyone gets to See Vogue's newsroom let alone see it in Madrid, Spain," Sophomore Marissa Rayes said. "We got to learn the ins and outs about how their company operates and also got to see how certain pictures make it into their magazines. It would be such a great experience to get an internship there; it's definitely something I will strive for." 

By Anthony Mendicino
With magazine titles like the storied Vogue, GQ, Vanity Fair and Glamour just to name a few, Condé Nast continues to lead the way for magazine companies in Spain.
Established in 1988, Condé Nast Spain is currently headed by President Javier Pascual del Olmos and Natalia Gamero del Castillo, vice president of Corporate Development.
"The company is still family owned, privately owned," Pascual del Olmos said. He then alluded to the stability that comes with a family owned company. This helped Condé Nast Spain stay relatively secure during the economic crisis that began in 2008.
"Condé Nast is the biggest privately owned media company in world," Gamero reinforced. The same family has owned the company since 1905 when Condé Montrose Nast founded it in New York. Its international headquarters remains in New York, but the company branches out into 28 different countries.
In Spain, innovation is a mainstay of the company's goals.
"We must remain innovative to remain relevant," Gamero said. The company is well aware of the ever-changing consumer. "The challenge is to remain relevant, the consumer is increasingly demanding. Personalization and hyper efficiency is key."
Condé Nast has seemingly recognized the wants and needs of the new consumer, outlining the incorporation of print and digital forms of the magazine. According to Gamero, the company has integrated its print and digital teams. All told, the company's magazines reach 16.3 million consumers.
After Gamero finished her presentation, she introduced Ines Lorenzo, an editor at Vogue.es. Lorenzo worked on the print magazine side of the business for 11 years and came to the Web side of the business during the assimilation of the two teams.
"The fact that we are a family business means we can take a long-term approach," Lorenzo said.
She described the need for the website to reflect the "quality and integration" of the print magazine.
"We want Vogue.es to be looked at as a news reference; (Comma splice) we want to tell the whole story," Lorenzo said. She noted the differences between working in an online format versus the print version. Mainly, the online version must stay updated, constantly posting on every form of social media, whereas the print magazine is once a month, giving writers and editors more time to work.
Next up was Marta del Riego, managing editor at Vanity Fair.
"At Vanity Fair we are devoted to journalism with a storytelling focus. We cover everything from actors, royals and socialites to wars and other conflicts," del Riego said. She also said Vanity Fair looks at glamorous people with a different spin.
After del Riego, Beatriz Palomo began her presentation. As Vanity Fair's photo edition manager, Palomo has access to archives of past photos and helps choose current ones for the magazine.
"Working here is great because we have unlimited access to a huge archive of photos," Palomo said. She told the group about the Tiger Woods exclusive the magazine ran last year, the only feature to run in both the U.S. and Spain at the same time.
Finally it was time for Beatriz Sanchez Guillen, deputy vice president for Business Development. Guillen spoke to the change in the consumer and how the company must itself change to stay relevant.
"The old times were the good times, and now we must employ more emotional marketing to draw consumers," she said. She also alluded to how the Internet was seen as a threat but has now become "a tool that makes us stronger."