Photos and story by Marissa Rayes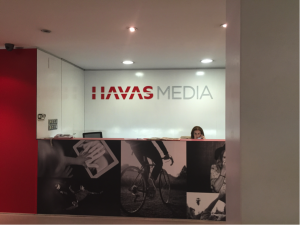 Havas Media is made up three main media brands, Havas Media, Forward Media and Arena Media. One of these businesses focuses on brand marketing, which developed and gave birth to the "meaningful brands" research and project.
Head of Global Development Niko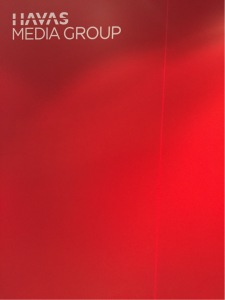 Muñoz discussed how it is important to build the financial value for the client. He said personal information is being used against us in target marketing. Our data is stored on the Internet, and Muñoz said that Havas has yet to find what to do with all the information it has. Other companies can see what consumers bought on a certain date and advertise products like that to them on Facebook or just in their Web browser.
Then the discussion of meaningful brands began to unfold. According to their research, 70 percent of consumers don't care if certain brands disappear. This statistic was rather hard for the students to take in. Havas Media has a mission to make this statistic disappear with its launch of "Meaningful Brands."
Online users participate in a survey as part of the research. The survey is made up of 25 short answer questions that ask the user about the strengths and weaknesses of brands. They can tell if the person is taking the survey seriously just by the user's pattern in answers, he said.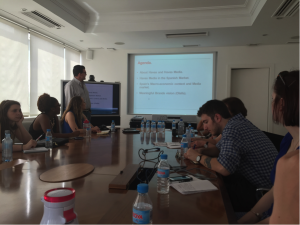 The survey also gauges how the product supports society and how the product helps the individual using it. So far the survey has resulted in that the Top 10 most meaningful global brands, most of which are technology-based. Havas Media wants brands to raise more conversations in the world because there is a disconnection between people and brands in this generation.
The top global performers in Havas' 2015 study: Samsung, Google, Nestlé, Bimbo, Sony, Microsoft, Nivea, Visa, IKEA and Intel. Following these leaders are HP, Dove (Unilever), Walmart, Gillette (Procter & Gamble), Knorr (Unilever), Kellogg's, Amazon, PayPal, Honda and Carrefour.
By Courtney Giles
Havas Media is in the middle of a breakthrough research experiment in which the company discovers what brands really mean to people. The study is the company's most comprehensive to date, studying 300,000 people worldwide, 34 markets and over 1,000 brands.
Havas, one of the leading global communications and marketing groups in the world, focuses on personal well-being by asking: How do brands improve people's lives? The company also focuses on collective well-being by studying the role brands play in society.
Meaningful Brands is defined by Havas as "The only global study to connect the role brands play in all aspects of people's lives, including their impact on our collective wellbeing (the role brands play in our communities and the communities we care about), in our personal wellbeing (self-esteem, healthy lifestyle, connectivity with family and friends, making our lives easier, fitness and happiness), and marketplace factors, which relate to product performance such as quality and price."
Olalla Castro, who works in global research (we never did get a title for her … unless you picked up her business card?), explained what Havas has found, and the data gathered so far speaks for itself – 74 percent of brands could disappear, and no one would care.
Havas gathered this data through a thorough questionnaire that took about a year to put together. The survey is divided into three parts: Well-being and personal insights, brand insights and attributes.
According to meaningful-brands.com, meaningful brands see their marketing key performance indicators (KPI) perform 100 percent better overall compared with less meaningful brands. With every 10 percent improvement in meaningfulness performance, individual brand KPIs grow by 2.5 percent for familiarity, 4.9 percent for overall impression, 6.6 percent for purchase intent, 3.2 percent for repurchase intent, 4.8 percent for advocacy and 10.4 percent for premium pricing.
On average, meaningful brands gain 46 percent more share of wallet and outperform the stock market by 133 percent.
"Havas Media has a long client list, but I believe what they are trying to do with meaningful brands is one of the best, most innovative ideas yet," Kariann Mano, an advertising and public relations major, said.
Castro was asked how celebrity endorsements affect how people feel about brands. they were more useful in the early 2000s.
"Celebrity endorsements are not as meaningful as they used to be because celebrities now endorse many different products at once," she said.
Aside from Meaningful Brands, Havas Media is focusing on being one voice and one team. The media team and creative team will work together to reach the most important goals. Nice transition here. Good way to move into Niko's presentation. I am just moving in some of the background in case someone unfamiliar with this needs to know …
Havas Media, headquartered in Paris, was formerly known as Media Planning Group or MPG. MPG started out in only eight markets, including Spain and Portugal. It is made up of three media brands, Havas Media, Arena Media and Forward Media, all of which work alongside Havas Sports & Entertainment, the industry's largest global brand engagement network.
Niko Muñoz, head of global corporate development, told the class to research programmatic buying as it is the future of how the media will be traded.
Programmatic buying is "The use of technology to automate processes and the use of math to improve results. It is the future of marketing, available now," according to Joe Zawadzki, CEO of Media Math. Muñoz also told the class not to go into the field of marketing if students aren't good at math or statistics because that is the future of marketing. (I wouldn't switch voice here to we, Courtney. An easy fix …)
"Coming on this trip as a business student was disorienting at times. Before this I would never be able to tell you what exactly a media group does and after visiting Havas Media, I not only understand, but I can value the importance of data analytics in any workplace that I enter after college," said Kim Prelosky, a sports, arts and entertainment management major. "Niko changed my perspective about the world of advertising and because of this visit I now understand where major industry giants focus their efforts and why."