Photos and story by Dana Bohince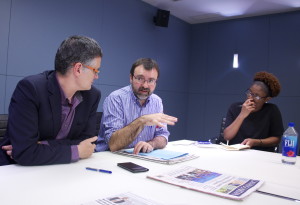 Having been around for 134 years and surviving two world wars and the Spanish Civil War, La Vanguardia has seen it all and continues to communicate to a loyal audience.
La Vanguardia is a Spanish daily newspaper ranked with the fourth-highest circulation among other popular newspapers. It prints editions in both Spanish and Catalan, and circulates almost 150,000 copies daily.
Point Park University students had the chance to visit the headquarters in Barcelona, Spain and receive a tour of the newsroom.
Journalism major Ashley Kolumban was especially captivated by the visit.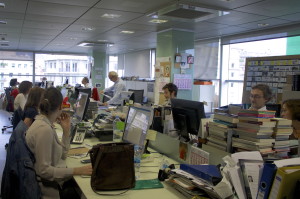 "One thing that really stuck with me was that no matter what country you're in, every newsprint office has desks flooded with papers and stacks of books. Even though we all speak different languages, the way of going about collecting and telling the news translates just about the same," she said.
Although the newsroom looked about the same as an American one, something was missing — the writers. Even though it was around 10:30 a.m., most workers either had not started the day yet or were out on an assignment.
The writer deadline is 11 p.m., and some teams work until 3 a.m. to provide any last changes to the stories.
Throughout its history, the same family has owned the newspaper, an unusual situation in Spain. Yet, La Vanguardia is keeping the family business tradition alive. In fact, the 73-year-old president of the company, Javier Godó, is active in the day-to-day decision making of the newspaper.
"He comes into the office to debate with deputy editors and give his opinion, and then he allows us to do what we want," Ismael Nafría, digital innovation director, said.
When making decisions, the paper tries to keep a balance between what readers want and what it as an influencer should do.
"As a student I thought it was good to have total freedom in the newsroom and not have owners involved, but now having seen it I don't think it's a bad idea," Deputy Editor Miguel Molina said,
La Vanguardia currently has no debt. It did, however, lose 70 percent of advertisers since Spain's economic crisis in 2008.
"It has been very difficult to cope with this situation," said Molina.
While thinking about costs, La Vanguardia formatted the size of the paper to be smaller.
One way the paper has been able to make more money is by owning its own printing press. It even publishes some of its competitors' papers.
La Vanguardia employs 180 journalists, including staff abroad and in Madrid. There are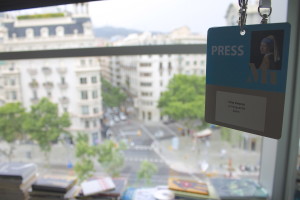 around 30 people working under the digital newsroom. The innovation section has five to six people in video production and a design and analytics team.
The transition to digital technology has been difficult because citizens do not want to pay for content, according to Nafría. Yet, every day 10,0000 people read the paper on an iPod or tablet. Half of the website visits are mobile. For this reason, La Vanguardia is improving the website to make it easier to use. This site should be completed in October 2016.
The way people consume news on the website is different. Right now, the content is all the same in the newspaper and on the website, but the paper is in the process of merging the newsroom with the 24-hour digital team to work together. This way it can create new content specific for the mobile site.
Digital team members will be assigned to different sections.
"At the moment, we have to decide who's going to be chief of each section, who's going to balance the work of different ideologies," said Molina.
Readers of the paper are the high and middle classes of Spain, and these people tend to fall into a certain area of ideology.
"We have always been trying to adapt to that, and if we changed that … we'd lose everybody," said Nafría.
La Vanguardia is known for gravitating to the center of politics and not being radical with its opinions.
"We are in the middle, and we are influencers. We try to balance and explain things as they are and not to be influenced by politicians on both sides," said Molina.
There are around 5,000 digital subscribers. About 3,000 comments are published on the website every day, and there is a small team of moderators who monitor it all day due to problems with offensive comments.
"We have been improving tools for moderating, and it's getting better," said Nafría.
As far as social media goes, La Vanguardia is a little bit behind its competitors. The digital team is trying to catch up and hopes to eventually be fully active on social media. Many people are now getting news from social networks, and La Vanguardria realizes it has to be there for this reason.
"We are behind other papers in Spain but at the end of the day have just as much traffic," said Nafría. "The proportion of traffic and interaction is exactly the same."
It will have a social media team within the digital newsroom to implement daily strategies for Facebook and Twitter accounts. Nafría and Molina believe Twitter is good for conversation but view Facebook as best for news. Yet, the digital team does publish more stories on Twitter.
The team selects stories every day for Facebook and also uses social media as a way to try to give stories a second chance.
The team is starting to use Instagram and hopes to do something with LinkedIn because it is seen as professional.
"Even though La Vanguardia wasn't the most advanced with their website or online, what they do in print makes up for that. They print in two languages to appeal to a wider audience," Kolumban said. "Sometimes everything isn't all about going digital."
By Alicia Green
Over the last 134 years, La Vanguardia has survived two World Wars, the Spanish Civil War and the Francisco Franco regime while also being controlled and run by the same family for five generations.
And within the last two months, it has managed to become the second biggest newspaper in Spain, following El Pais with 150,000 copies sold daily.
The newspaper is also facing a "very exciting time," according to Digital Innovation Director Ismael Nafria and Deputy Editor Miguel Molina. Right now, Catalonians are pushing for Catalonia to become an independent. This puts La Vanguardia in the middle because half of its readers are Catalonian.
"We're just in the middle," said Nafria. "We are important. We are influential."
With 180 journalists, including staff in Madrid and 19 foreign correspondents, La Vanguardia deals with all political parties, cultural influencers and major sports teams. And although Nafria and Molina said the newspaper is "more conservative with liberal views in culture," it does not have a hard time keeping a balance between what its readers want and what La Vanguardia is supposed do to as a newspaper.
For La Vanguardia, it is also all about balancing things out for its Spanish and Catalonian readers. Nafria and Molina pointed out that if one day there is a photograph of Spain's president on the front page, the newspaper must publish a photograph of Catalonia's president the following day. Such a good point to make! It illustrates their situation perfectly.
Molina said they get help along the way from group President Javier Godó who is "very active" when it comes to the newspaper. (Let's add group before his name or people will think he is one of those two other presidents!) He said Godó visits the newsroom often and debates with editors and deputy editors, giving his opinion while still allowing the newspaper to make its own decisions.
"[The president] keeps us in the right way," Molina said.
Molina said it is "not so bad" to have an owner that willingly comes to debate on day-to-day issues.
Another advantage that comes with being owned by the same family for more than 100 years is lack of debt. According to Molina, while other newspapers are facing money trouble in Spain, La Vanguardia is in decent shape as it is the only newspaper company with no debt.
"In our case, it is so easy," Molina said. "There is one owner. [There] are constant rumors of Spanish newspapers merging."
While the newspaper is not in the same state as most Spanish newspapers, it was affected by the economic crisis. As a result of the crisis, La Vanguardia lost 17 percent of its advertisers and had to change its business model. (Now I have seen this in your fellow students' papers as 70 percent. Your fact here – 17 – is the same as mine. If it were 70 percent, it would be out of business!)
However, the newspaper has managed to bounce back. Molina and Nafria said that most advertisers appear in La Vanguardia's 116-page Sunday paper, which also happens to be the "main paper."
Recently, the daily and Sunday newspapers have been filled with politics as elections in Spain were taking place. And while the newspaper is known for its politics, its general news, economics and international sections are also popular.
According to Nafria, they have been pushing for a section in the newspaper that is dedicated to data journalism. He said it has been working "really well" for the last two months as readers appreciate the profound analysis of subjects with different kinds of graphics.
While the print edition of La Vanguardia is making changes, there are also going to be changes for the newspaper digitally.
"We're focusing now on the new website," Nafria said, which should be operating by next October.
Nafria said La Vangaurdia has 62,000 subscribers for both print and digital. While most subscribers are print subscribers, there are 5,000 digital subscribers.
With half of its visits coming from mobile devices, La Vanguardia is also in the process of improving problems with its mobile applications.
"Clearly, there is room for improvement, but we try our best" Nafria said.
Even though La Vanguardia's website is in the process of changing, the newspaper is still working hard to provide 24-hour digital original content for the website with videos, a line of different television programs and instant analysis on a variety of subjects.
"It's very exciting, but at the same time it's very worrying," Nafria said of the major transition.